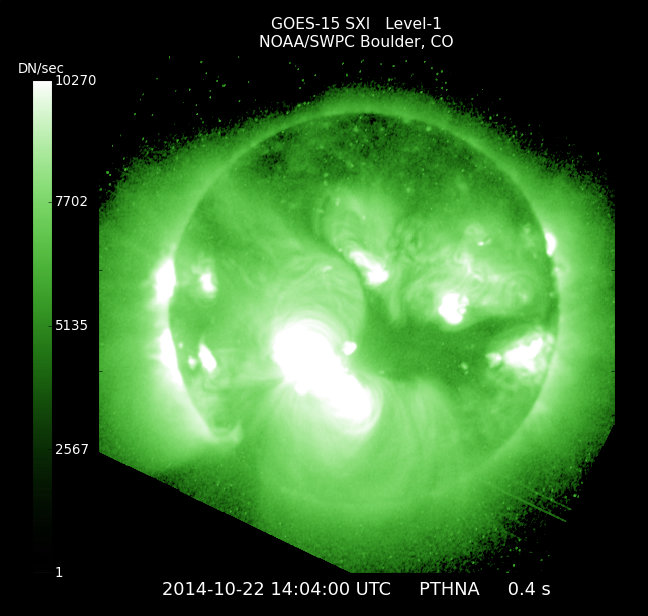 I've heard from several of you this morning that the shortwave bands are dead.
It's not your radio…it's our sun. We're currently experiencing an X-ray event exceeding X1 on the NOAA Space Weather Scale. This equates to wide area blackout of HF radio communication and loss of radio contact for about an hour on sunlit side of Earth.
SWLing Post reader, Richard Langley, shares this space weather alert from NOAA:
Space Weather Message Code: SUMX01
Serial Number: 105
Issue Time: 2014 Oct 22 1454 UTC

SUMMARY: X-ray Event exceeded X1
Begin Time: 2014 Oct 22 1402 UTC
Maximum Time: 2014 Oct 22 1428 UTC
End Time: 2014 Oct 22 1450 UTC
X-ray Class: X1.6
Optical Class: 2b
Location: S14E13
NOAA Scale: R3 – Strong

NOAA Space Weather Scale descriptions can be found at
www.swpc.noaa.gov/NOAAscales

Potential Impacts: Area of impact consists of large portions of the sunlit side of Earth, strongest at the sub-solar point.

Radio – Wide area blackout of HF (high frequency) radio communication for about an hour.
Fear not, this shall eventually pass and SWLing will return to normal. Indeed, you might even catch a few rare band openings between event. I believe you can expect overall unsettled conditions near term, based on recent solar history.