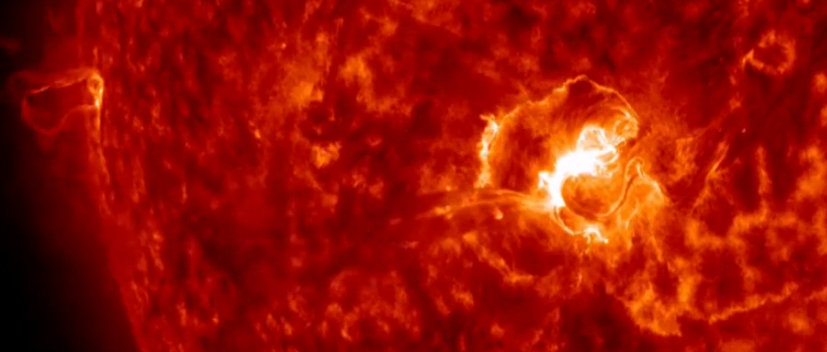 Many thanks to SWLing Post contributor, Michael Guerin, who shares this article at CNN by Dr. Don Lincoln, a senior physicist at Fermilab and researcher at the Large Hadron Collider:
Earth dodges a cosmic bullet — for now

Solar flares and related phenomena could cause tremendous damage to the Earth's electric grids, writes Don Lincoln Read the full story

(CNN) Mother Nature has had a hectic past couple of weeks of hurricanes, an earthquake, wildfires and flooding. But while our attention has been turned to these humanitarian crises, Earth ducked a cosmic bullet the likes of which could have crippled human technological civilization.

Over the last week or so, the sun has experienced a series of solar flares, including the most energetic one in a decade. A solar flare occurs when magnetic energy in the vicinity of a sunspot is released, resulting in a bright spot on the sun that takes place over a time scale of perhaps 10 minutes — or even less.

[…]While solar flares can interfere with satellites, an even more dangerous phenomenon is called a coronal mass ejection (or CME). CMEs often accompany a flare and occur when some of the sun's highly ionized material is ejected into space. Because a CME consists of matter and not the electromagnetic radiation of a flare, it can take a day or even more to travel from the sun to the Earth. Indeed, last week's flares were accompanied by a CME, but it didn't hit the Earth with its full fury.

If a CME happens to be aimed directly at Earth, the ionized particles can slam into the magnetic field that surrounds the Earth and distort its shape, a process called a geomagnetic storm. That's when things can get dangerous. Moving magnetic fields can induce electrical currents on the Earth's surface and damage equipment.

In 1989, a CME hit the Earth and knocked out power in Quebec and the northeast United States for nine hours. And in 1859, an enormous CME hit the Earth. Called the Carrington Event, after Richard Carrington, who observed and recorded it, this geomagnetic storm caused telegraph pylons and railroad rails to spark, shocked telegraph operators and was responsible for auroras visible at least as far south as Havana, Cuba, with some claims of auroras being observed near the Earth's equator.

[…]A report by Lloyd's of London in 2013 estimated that the damage to the US grid from a repeat of the Carrington Event would be in the range of $0.6-$2.3 trillion dollars and would require four to 10 years to repair.

"The total U.S. population at risk of extended power outage from a Carrington-level storm is between 20-40 million, with durations of 16 days to 1-2 years," the Lloyd's report said.[…]
Many thanks as well to Mike Hansgen (K8RAT) who also shares the latest space weather news from Tamitha Skov, reiterating how fortunate we were to miss this last barrage from our local star:
Click here to watch on YouTube.
EMP article incoming…
One additional note: I'm currently in the process of writing a lengthy article about how to protect your gear from an EMP (Electromagnetic Pulse) emanating from an event like this. In the past two weeks, I've had an uptick in inquiries about this, so I thought it best to consult an expert and produce a post. I'll hopefully have this article published within a week or so. I'll post it with the tag: EMP.