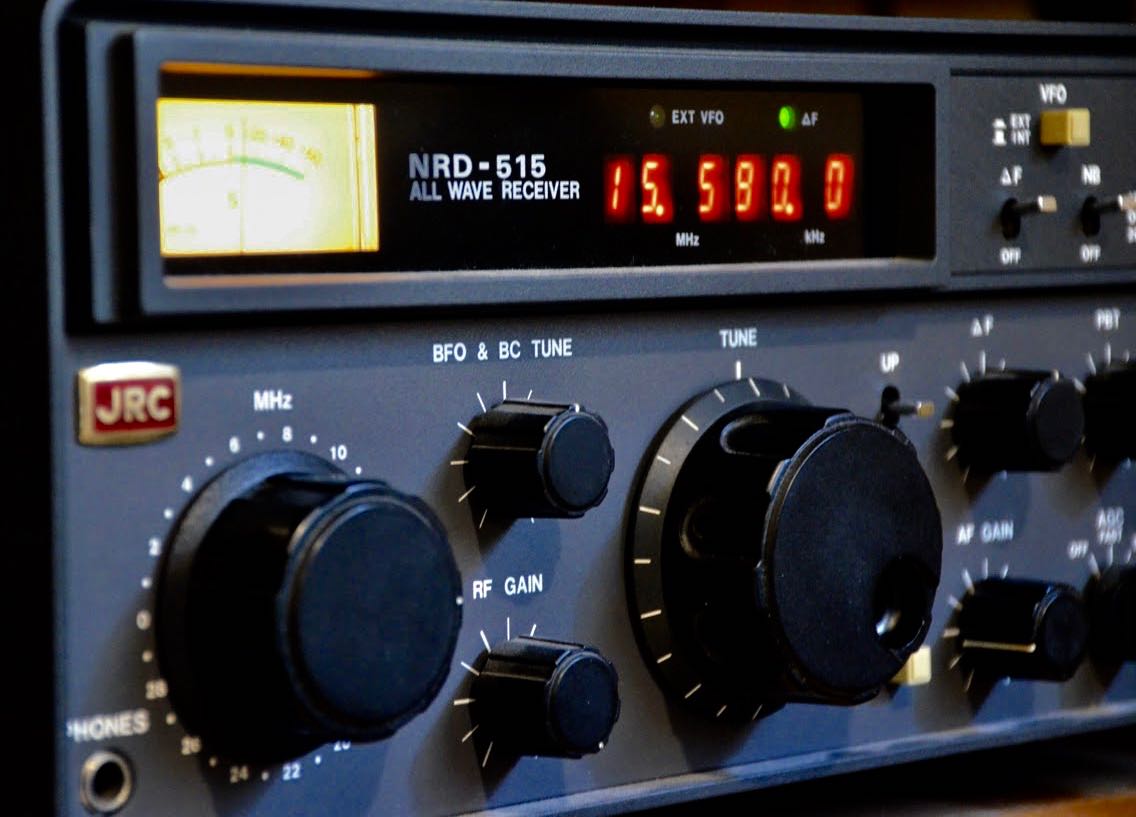 Radio Waves:  Stories Making Waves in the World of Radio
Because I keep my ear to the waves, as well as receive many tips from others who do the same, I find myself privy to radio-related stories that might interest SWLing Post readers.  To that end: Welcome to the SWLing Post's Radio Waves, a collection of links to interesting stories making waves in the world of radio. Enjoy!
Many thanks to SWLing Post contributors Tracy Wood, Bill Patalon, Dennis Dura, and Mike Agner for the following tips:
---
Ham radio hobbyists will test their emergency preparedness skills alongside All Day Radios' Grand Opening celebration in Ramona next weekend.
The Amateur Radio Field Day, a national emergency preparedness activity sponsored by the American Radio Relay League (ARRL), will be held in Ramona from 11 a.m. Saturday, June 26 and continues for 24 hours until 11 a.m. Sunday, June 27.
All Day Radios co-owner Peter Von Hagen will coordinate his Grand Opening in sync with Field Day from Friday through Sunday. The store is at 2855 state Route 67 between Dye Road and Hope Street, and Field Day will be held next door.
Von Hagen said the object of Field Day, held annually the fourth weekend in June, is to communicate on as many stations on amateur bands as possible to test the capabilities of communications equipment. Operators will be using backup sources of power such as solar power and batteries, he said.[…]
The demand for software defined radios, especially in the commercial applications, such as telecommunication, transportation, and commercial aviation, has been affected to a great extent. Due to precautionary measures undertaken by many countries to stop the spread of COVID-19, several public/private development activities have been stopped, resulting in a drop in demand for software defined radios. However, this trend seems to vary from country to country. For instance, the demand for software defined radios in Europe and the Asia Pacific has been affected by the pandemic owing to the stoppage of development activities.
Based on application, the commercial segment of the software defined radio market is projected to witness the substantial growth during the forecast period
In terms of application, the market is segregated into commercial and defense. The rising usage of SDRs in commercial applications including aviation communication, marine communication, transportation, telecommunication is supporting the segment growth. Software defined radios are predominantly used in Air Traffic Control (ATC), transportation, and telecommunication applications. They are easily upgradable and provide high data transmission rate that further enhances its usage for commercial segment.
Cognitive/ Intelligent radio sub segment of the software defined radio market by type is projected to witness the highest CAGR owing to increasing improvements in cognitive radio products.[…]
The FCC has sent another reminder to licensees of analog low power television stations regarding the July 13 drop-dead date. If an analog LPTV has not applied for a digital CP by that date its license will be cancelled and those that have Construction Permit's but will not be ready to broadcast digitally will need to file a waiver request but still will be required to turn off their analog signal on the 13th and cease operation until ready to begin operating with their digital facilities.
This will of course affect the thirty something LPTV's on analog channel 6 operating as radio stations on 87.75 MHz. While some of these signals will be moving to other channels, many will be remaining on channel 6 and have spent the past few years seeking loopholes to continue to broadcast an analog audio signal past the digital conversion deadline. Venture Technologies Group, which owns five affected stations, threw the door wide open this week with the grant of a six month STA for its KBKF-LD San Jose CA. KBKF-LD, which is leased to Educational Media Foundation to air its "Air 1" network, will be permitted to continue to offer an analog audio signal on 87.75 FM in its ATSC 3.0 digital video signal.[…]
Introducing: Hard-Core-DX Slack Chat (Hard-Core-DX)
From: Risto Kotalampi
Hi all,
Hard-Core-DX has been a pioneer in connecting shortwave listeners for nearly 30 years now. In its core it has been emailing lists and web sites and some other experiments which have either spun to become popular on their own (e.g. various ham related spotting sites or Online Log which is very popular in Finland) or not. Today we wanted to try to branch out into chat using Slack.
This is not the only chat there is… IRC, Facebook, Whatsapp etc have small circles for shortwave listeners but they have all been closed systems and not enabling an environment that can be used across devices and have conversations about any topics we choose. In the corporate world Slack has revolutionized communications amongst colleagues and partners in different companies. Much of work in U.S.A. small companies happens nowadays in Slack and not so much in emails.
Hard-Core-DX has signed up and created it's very own Slack service.
If you want to join the HCDX Slack, please click this link and create your own HCDX Slack account:
https://join.slack.com/t/hard-core-dx/shared_invite/zt-rn83gamf-_UCfo9LYUVmoIBhb0~3cSg
Some basic rules of the Slack service:
When you join it, you will see some channels that have been created already. You can join them or if you can't find the topic you'd like to chat about, please create your own.
HCDX will not be in the business of moderating what people are creating or discussing. If you create a channel, you will choose the policies of the discussion.
This can naturally invite some abuse. We will deal with it with Slack's policies as time comes.
You are welcome to invite your DX friends to the HCDX Slack and grow the community. Invite happens from menu in upper left corner and link "Invite people to Hard-Core-DX"
Let's keep subjects within shortwave radio, broadcast, utility, pirate DXing & ham radio if possible to keep the service relevant to us
This is an experiment… if it doesn't gain popularity or becomes a burden, we will shut it down. But for now, if you want to experiment and see if this is where you want to chat with your DX friends, join the fun.
---
Do you enjoy the SWLing Post?
Please consider supporting us via Patreon or our Coffee Fund!
Your support makes articles like this one possible. Thank you!