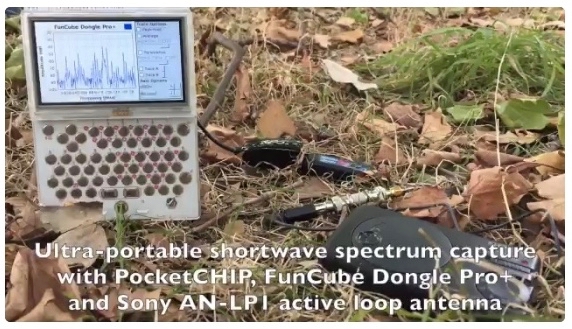 Many thanks to SWLing Post contributor, London Shortwave, who recently shared his latest SDR project: a field-portable, ultra-compact, SDR spectrum recording system based on the PocketCHIP computer.
London Shortwave has built this system from the ground up and notes that it works well but is currently limited to the FunCube Dongle Pro+ at 192 kHz bandwidth. There is no real-time monitoring of what's being recorded, but it works efficiently and effectively–making spectrum captures from the field effortless. The following is a video London Shortwave shared via Twitter:
Ultra-portable #shortwave spectrum capture using #PocketCHIP, FunCube Dongle Pro+ and Sony AN-LP1 active loop antenna @nextthingco @hackaday pic.twitter.com/NC3VPr7PRN

— London Shortwave (@LondonShortwave) September 17, 2017
Click here to view via Twitter.
The PocketCHIP–the device his system is built around–is a $69 (US) handheld computer with color display: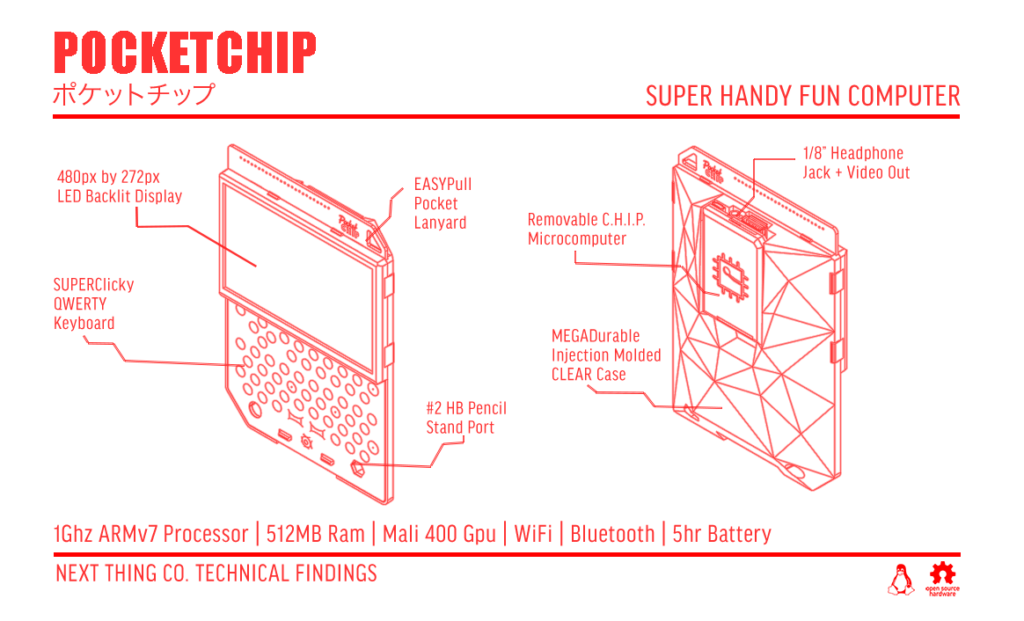 Click here to view the PocketCHIP website.
I think this field portable SDR system is absolutely brilliant!
Homegrown innovation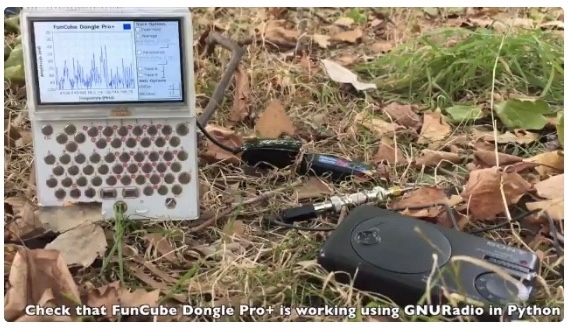 London Shortwave has done all of the coding to make the FunCube Dongle Pro + work with the PocketChip computer. Even though live spectrum can't be monitored in the field, the fact that it's making such a clean spectrum recording is all that really matters.
All London Shortwave has to do is head to a park with his kit, deploy it, sit on a bench, read a good book, eat a sandwich, then pack it all up. Once home, he transfers the recording and enjoys tuning through relatively RFI-free radio.
A very clever way to escape the noise.
The kit is so incredibly portable, it would make DXing from any location a breeze. You could easily pack this in a carry-on item, backpack or briefcase, then take it to a park, a national forest, a lake, a remote beach–anywhere.
What I really love about this? He didn't wait for something to be designed for him, he simply made it himself.
Thanks again, London Shortwave. We look forward to reading about your radio adventures with this cool field SDR!