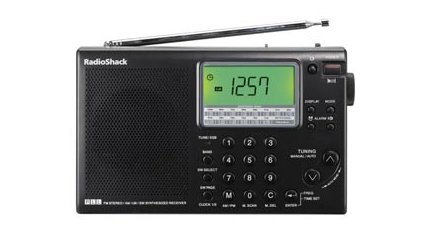 eBay seller reforger is selling "open box/used"  RadioShack model 20-629 (DX-402) portable shortwave radios for $31.95 US including shipping.
The RS DX-402 is essentially a rebranded Sangean ATS-505.
I purchased a DX-402 earlier this year and find that its AGC circuit is one of the best found in sub $100 radios. As a bonus, the DX-402 has SSB mode; at $31.95, it must be the least expensive portable with SSB currently on the market.
At time of posting, this eBay seller claims to have 7 units left and 48 units sold. I don't expect the remaining stock to last long. Again, these are used/open box units, but all are claimed to have been tested. The seller has a total of 162003 rated transactions with a 99.8% positive rating: if interested, I believe you can buy with confidence.