Many thanks to SWLing Post contributor, The Professor, who shares the following review of the RFA200 external ferrite antenna:
---
A Quick Review of the RFA200
The Professor
I've considered saying something here about RFA200, as I bought one of these not long after its existence was announced on this blog a few months ago, but I've been hesitating because I didn't have much good to say about it. A couple of times I've placed it up snug up against the the top of the two Tecsun sets I have handy (the PL-310ET and the PL-880) and found that despite a lot of knob turning it had little or no effect on improving signal on medium wave stations. I was not impressed.
But I guess I've kind of changed my mind on that. And oh yeah, I bought another radio. It's funny how you can talk yourself into things when you're talking someone else into something. But after I had mentioned to a reader here the other day that the very inexpensive Tecsun R-9012 was a worthy analog DX portable, I decided to drop twenty and pick one up for myself. After all, it was about the same price as a fancy Brooklyn hamburger. It arrived a couple days ago.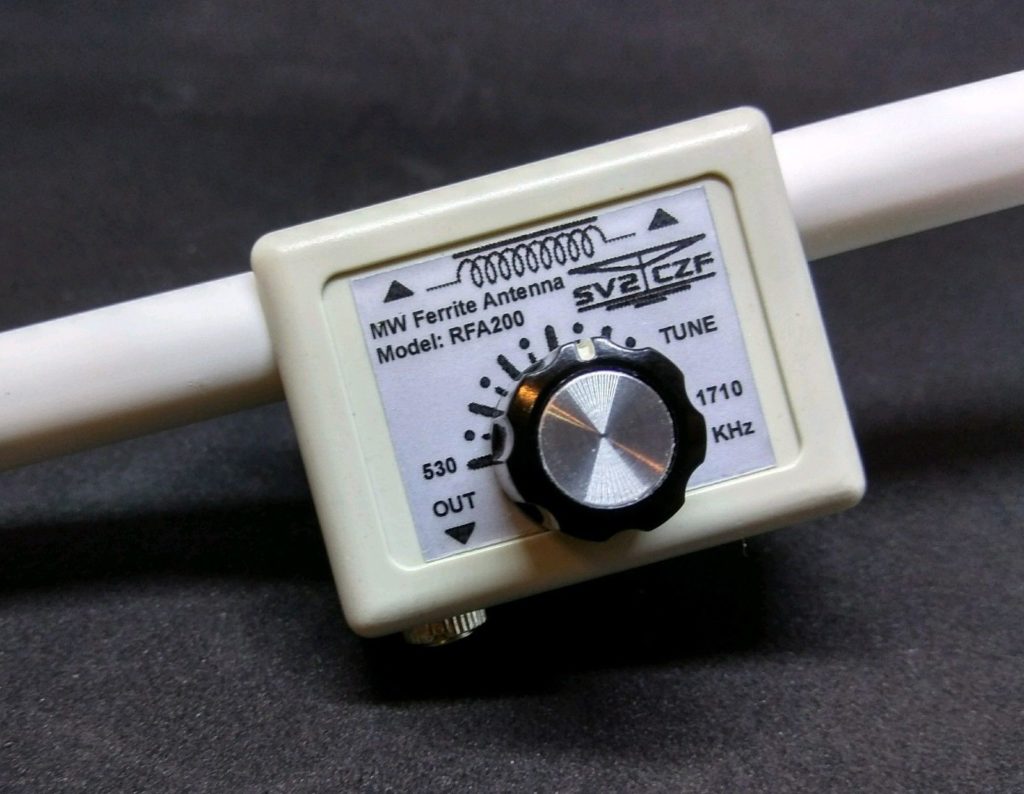 So, I have been playing with it a bit over the last few days. It's as good as the other ones I've had which are the same basic radio (I'd mentioned that the bandswitch slider broke in a couple of mine). It's single conversion. The bandwidth is a little wide, but it's a very sensitive and simple analog set.
Yesterday I was going through the AM band and remembered that ferrite from Greece, and I pulled it out recalling that in my experience some radios are more susceptible to reception improvements using passive loops than others. Maybe this ferrite bar might be similar. And sure enough, the antenna made a notable difference this time. By placing it up against the R-9012 and tuning the thing I could certainly increase signal a bit. And I could even see it in the slight brightening or steadiness of the tuning light.
So, not a total waste money after all. I would emphasize that the difference in reception doesn't seem to be as dramatic or sustaining as you might hear with a tunable loop antenna next to your radio. But it's not junk either. Then again, for fifty dollars shipped it is a little pricey. Twice as much as a Tecsun tunable loop antenna, and two and half times more expensive than the R-9012 itself.
I found the best way to use this antenna is to tune the radio separately first and when you find a weaker signal you want to improve physically go ahead and rotate the radio until the signal is strongest and THEN put the antenna along the top of the radio and adjust the tuning knob on the antenna. Focus in on strengthening the signal you actually hear, going back and forth until it gets strongest. If you seem to be pulling up other stations it's because the antenna adjustment will bring in adjacent stronger stations if you move it too far either way.
I'm surely not able to pin down the science involved in exactly how these things work, but perhaps somebody can chime in on this. I'm wondering if analog radio tuning in particular is better suited to the use of these tunable passive antennas, as opposed to PLL and DSP radios?
If you buy one of these be prepared to wait. At least mine took weeks to get here from Greece. And don't expect miracles. But it seems rather well constructed, and will probably work with some radios. The seller has a 100% rating on eBay and has all sorts of interesting antennas for sale. I'm glad to see people succeeding in that business.
---
Many thanks, Prof, for sharing your fine review of the RFA200! Thanks for also mentioning the Tecsun R9012–I purchased one a couple years ago with the intention of reviewing it, then gave it to teenager who expressed interest in shortwave. I don't think I actually put it on the air myself. I do enjoy simple old school analog radio–especially when making band scans.