[UPDATE: Read the full review of the IC-7300, along with listener survey results, by clicking here.]
Many thanks to all of you who participated in our last survey comparing the new Icom IC-7300 with the WinRadio Excalibur SDR. We had over 100 responses (!!!)–the results will be posted in the forthcoming IC-7300 review.
Before completing my review, I thought I might fit in one more quick comparison–this time, comparing the Icom IC-7300 to my Elecraft KX3 and focusing on SSB and CW reception.
Recording notes and disclaimers
The Icom IC-7300 offers native digital audio recording, which means that it records both transmitted and received audio to an inserted SD card.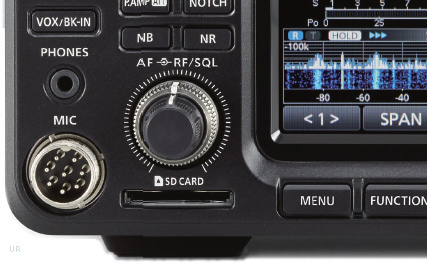 The Elecraft KX3 does not have a built-in recorder (indeed, most transceivers do not) thus I made in-line recordings using my Zoom H2N digital recorder.
I did no post-processing of the audio other than converting .wav files to .mp3.
Both receivers shared my large outdoor omni-directional horizontal delta loop antenna for each test.
To keep the comparison on as equal footing as possible, the receivers shared the same antenna through my Elad ASA15 antenna splitter amplifier. Though the ASA15 has both 12dB amplification and –15dB attenuation, I employed neither.
The ASA15 allowed me to make the following recordings simultaneously.
In each case, I tried to set up both radios using the same filter widths, AGC settings, and (as much as possible), audio level. I didn't engage a noise-reduction feature on either rig.
I also didn't employ any type of audio equalization on either rig–still, you'll note that one radio produces a more "flat" response than the other.
Please vote!
At the end of this post, I have an embedded a survey in which you can vote for the sample recordings you like best. Each recording is clearly labeled to denote that it's either from "Radio A" or "Radio B" (chosen at random).
And now…here are the recordings:
---
Audio Clip 1: CW (20 meter band)
---
Audio Clip 2: Weak Signal CW (20 meter band)
---
Audio Clip 3: Weak/Strong SSB
(Sable Island working Asia/Pacific on 20 meter band)
---
We want to hear from you!
Use the form below to vote for the recordings you prefer in each section.
I'll close voting at 12:00 UTC on Wednesday April 27, 2016. Thank you in advance for your participation in this survey!