Many thanks to SWLing Post contributor, Sandipan Basu Mallick (VU3JXD), for sharing the following guest post:
---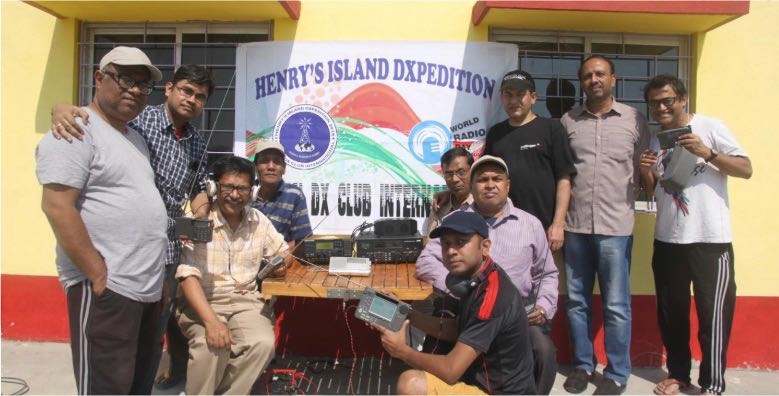 Henry's Island DXpediton 2019
World Radio day is observed by the UNESCO on 13th February every year. This year is the 8th year world day being celebrated with theme "celebrate radio and how it shapes our lives".  In recent times there has been a sea change in radio listening and radio broadcasting. More and more radio broadcasters are shifting to FM which radiate over a small distances and require low power transmitters. Medium wave broadcasting and shortwave broadcasting which is used to reach audience over larger distances is gradually becoming less important with the growth of internet connectivity. Broadcasters are increasingly streaming their content over the internet to reach their audience via the PC, Laptop and now via the mobile phone.
DXing is the hobby of listening to the faraway and distant signals and the hobbyist are called DXers. DXers would switch on their radio set, connect it to the piece of wire which is the antenna and turn the dial to search and listen to the far away and sometimes feeble radio signals. For these radio enthusiasts challenge is becoming greater. The big names of yesteryear such as BBC, Voice of America, Radio Moscow and Deutsche Welle, the German radio are all gradually shifting their content from shortwave broadcasting to the internet. Now with data connectivity to the mobile phone available to everyone, the shortwave broadcasters find a more reliable and popular route to reach their audience through the internet rather than troublesome "bounce" through the ionosphere. Then with the rise of household electrical devices which radiate "radio noise" such as the LED bulb or the TV, the radio signals from distant lands have to rise over this local noise to reach the ear of the audience.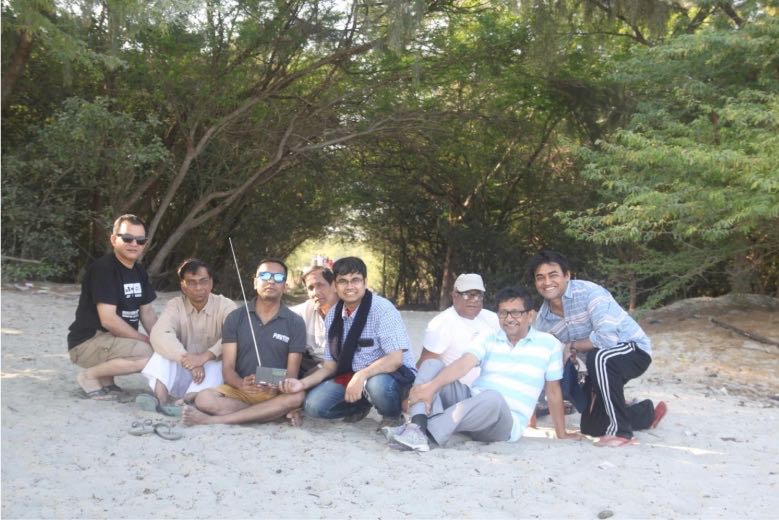 That is why a band of radio enthusiasts from all over India have travelled to the listening camp set up at a resort in Henry Island at Bakkhali in the state of West Bengal, India. This year the listening camp ran from 10th – 13th Feb, which celebrated World Radio Day and the hobby of radio. The dedicated radio enthusiasts who have been drawn into this radio listening camp, are drawn from different parts of country varying from New Delhi to Tripura. Kolkata the home of the Indian DX club International (www.idxci.in), has been promoting the hobby since 1980 has naturally most participants in this camp. They were very upbeat while worldwide radio enthusiasts have to cope up with bad news for the hobby. In the last few years, stations after stations have closed down and so have iconic radio clubs like Danish Short Wave Club and periodicals like Monitoring Times. Broadcasting mega corporations like VOA and DW have reduced their presence in the airwaves to a faint whisper compared to their former roar.
Sandipan Baus Mallick (VU3JXD), who is the principal in organizing this year's DXpedition from IDXCI says that the appeal of radio is still there among the various age groups. These camps are set up in remote locations, which enable the radio enthusiast to come together with likeminded people to exchange ideas and experiment with their equipments and brush up their skills with conventional radio. People from various races of life participated in this years camp.
Among the participants Sudipto Ghose (VU2UT) who just retired from a job with the Ministry of Finance is drawn by the technical part of the hobby and toys with new radio receivers and accessories such as antennas and preamplifiers.
C K Raman (VU3DJQ) from Delhi whose job incidentally involved professionally monitoring broadcast stations, has narrowed his interest down to the medium wave stations and the tropical band stations such as stations from Brazil, Colombia and Indonesia and has come down looking for such exotic signals.
Suvendu Das (SWL), who professionally managed ship communications has suddenly become interested in the hobby of broadcast band listening.
Pradip Kundu (SWL) of Tripura who after retiring as a Principal has more time to pursue his childhood passion and is an avid QSL collector.
Babul Gupta (VU3ZBG) an interior designer still spends time to seek those rare signals at the wee hours and has to his credit listening to some of the most rare to hear stations from India such as Cross Radio, an evangelist radio station broadcasting from the Carribean.
Alokesh Gupta (VU3BSE) has flown in from Delhi for the radio camp is an avid enthusiast who also served to coordinate the Listeners association of Radio Taiwan and runs the website radioactivity.org which disseminates information related to radio broadcasting.
Kallol Nath (SWL) is among the newest entrants in the DXer squad. Armed with XH Data D-808 receiver, he logged a number of pirate stations on the MW band.
For Sandipan, a marketing professional worked to set up this camp and bring together radio enthusiast from various parts of India. He is also drawn by the technical aspects of the hobby and can flaunt many a radio gear just like his friend Debanjan Chakraborty (VU3DCH) who is a radio collector and has radio sets.
Accompanying them is Eye Surgeon Dr Supratik Sanatani (VU2IFB), who has key interest in home brewing various radio equipment, and a veteran in DXpedition also came together explore the airwaves from the Bay of Bengal.
Henry's Island is at the tip of the Bay of Bengal which for the radio listener gives a good opportunity to hear distant signals from Australia, New Zealand, Oceania, Indonesian archipelago and Papua New Guiniea.
DXpeditioners strung long wire antennas aimed in their favorite direction and then connect their modern digital radio receivers to try to catch the feeble signals from exotic radio stations. During their whole night listening sessions, some would exclaim at 2.30 am that the Phillipines medium wave station was opening with a greeting its local audience in the local language Tagalog–or someone might simply record the Maldivian medium wave station from Male ending its transmission with their national anthem. The fisheries ground also has the advantage of low noise from electrical devices. To run away from local noise, the hobbyist might even have to pitch a tent in the middle of nowhere and use their advanced radio receivers with battery power.
What is the pinnacle of success? Just like the bird watcher catching a glimpse of the rare migratory bird, for the DXers it is the thrill of listening to exotic signals such as from the American Forces Military Base at Diego Garcia to the barely audible Papua New Guinean station from Port Moresby. Then there are others like that Peruvian station Radio Tarma with excited football commentary which comes through to India only during a short window in the very early morning before day break and only on few days in a year. Even though the 11 year old solar sunspot cycle which influences radio transmission, is at its favorable " low", we can still confirm that DXing as a hobby is still alive and kicking!!!
---
Thank you so much for sharing this report, Sandipan! It appears that you not only enjoyed some excellent DX on Henry's Island, but you also strengthened friendships that will last a lifetime. Well done!
---
Do you enjoy the SWLing Post?
Please consider supporting us via Patreon or our Coffee Fund!
Your support makes articles like this one possible. Thank you!