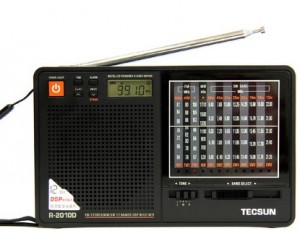 [UPDATE: Click here to read my full review of the R-2010D.]
I just ordered the Tecsun R-2010D–a SiLabs DSP-based shortwave radio with an analog dial and tuning mechanism–on eBay.
The Tecsun R-2010D is very similar to the Degen DE321, DE32 and the Kchibo KK-9803. I hold out hope though that the Tecsun will lead the pack of these small radios as Tecsun tends to do a better implementation of the SiLabs DSP chip.
Honestly, I had only recently decided that the R-2010 would never come to fruition.  I first was tipped off about it in 2009; then in 2011, a Tecsun representative told me that they were planning to re-design the R-2010. I suppose that's how the R-2010D came about.
As soon as I receive this little radio, I'll share my first impressions and a full review.
Click here to search for the Tecsun R-2010D on eBay.
Thanks for the tip, Paul!