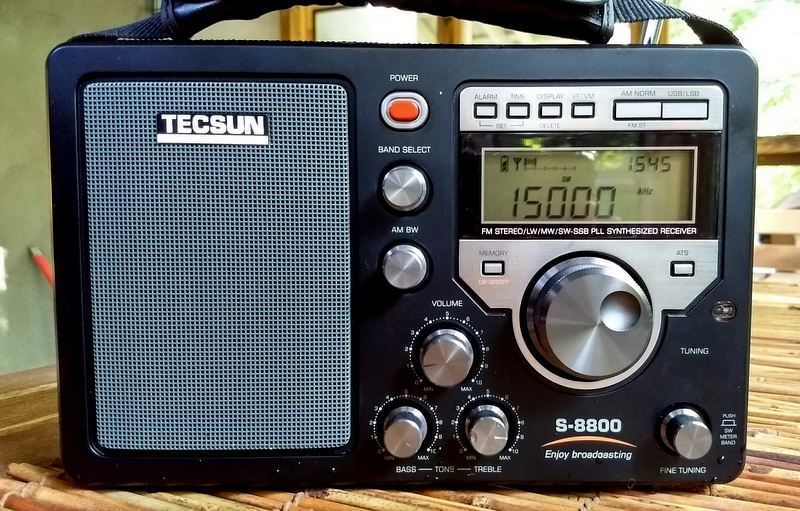 Many thanks to SWLing Post contributor, Dan Robinson, who has recently been in touch with Anna at Anon-Co and discovered a few Tecsun S-8800 hidden features we haven't mentioned in the past.
Anna notes:
There are some hidden features for this model that are worth mentioning, and are available on all S-8800 radios, also the pre-2021 ones.
Backlight setting
In power-off mode, press and hold [ 2 ] on the remote until the display shows "ON" or "Off", this to change the backlight setting to always-on or auto-off. In the auto-off setting the backlight turns on after pressing a button or using a tuning knob, and turns off automatically after a few seconds.
DNR (Dynamic Noise Reduction
In the AM band (LW, MW, SW), first press and hold [ 4 ] on the remote to activate the possibility of this feature. The display will show "ON" or "Off". Make sure that it is turned on. Subsequently, press and hold [ 6 ] on the remote until the display shows "ON" (DNR activated) or "OFF" (DNR deactivated).
FM De-emphasis Time Constant
While receiving FM broadcasts, long press [ 5 ] on the remote to adjust the de-emphasis setting to 50?s or 75?s.
Adjusting the signal indicator sensitivity:
1. Enter FM, LW, MW or SW band
2. Select a weak station.
3. Press [ 7 ] on the remote for about 0.5 seconds.
4. Rotate the main tuning knob immediately to adjust the bars of the signal indicator.
5. Press any button for confirmation or auto save after 2 seconds.
While making the adjustment in step 4, the value in the top-right corner of the screen changes. The factory default value is supposedly around "6" for FM and SW: 6, and around 16 for MW. The adjustment range is -99 – 99.
Add Seconds to the Clock
With the device turned off, press and hold [ 8 ] on the remote to add seconds to the clock. Press and hold [ 8 ] again to hide the seconds from the clock.
Adjust the FM soft muting threshold
While in FM, press and hold [ 9 ] on the remote for about 2 seconds until the current level (probably around level 5) appears in the main display area. Then adjust it by rotating the tuning knob and then press [ 9 ] again to confirm the setting.
Many thanks to Dan and Anna for sharing these tips!