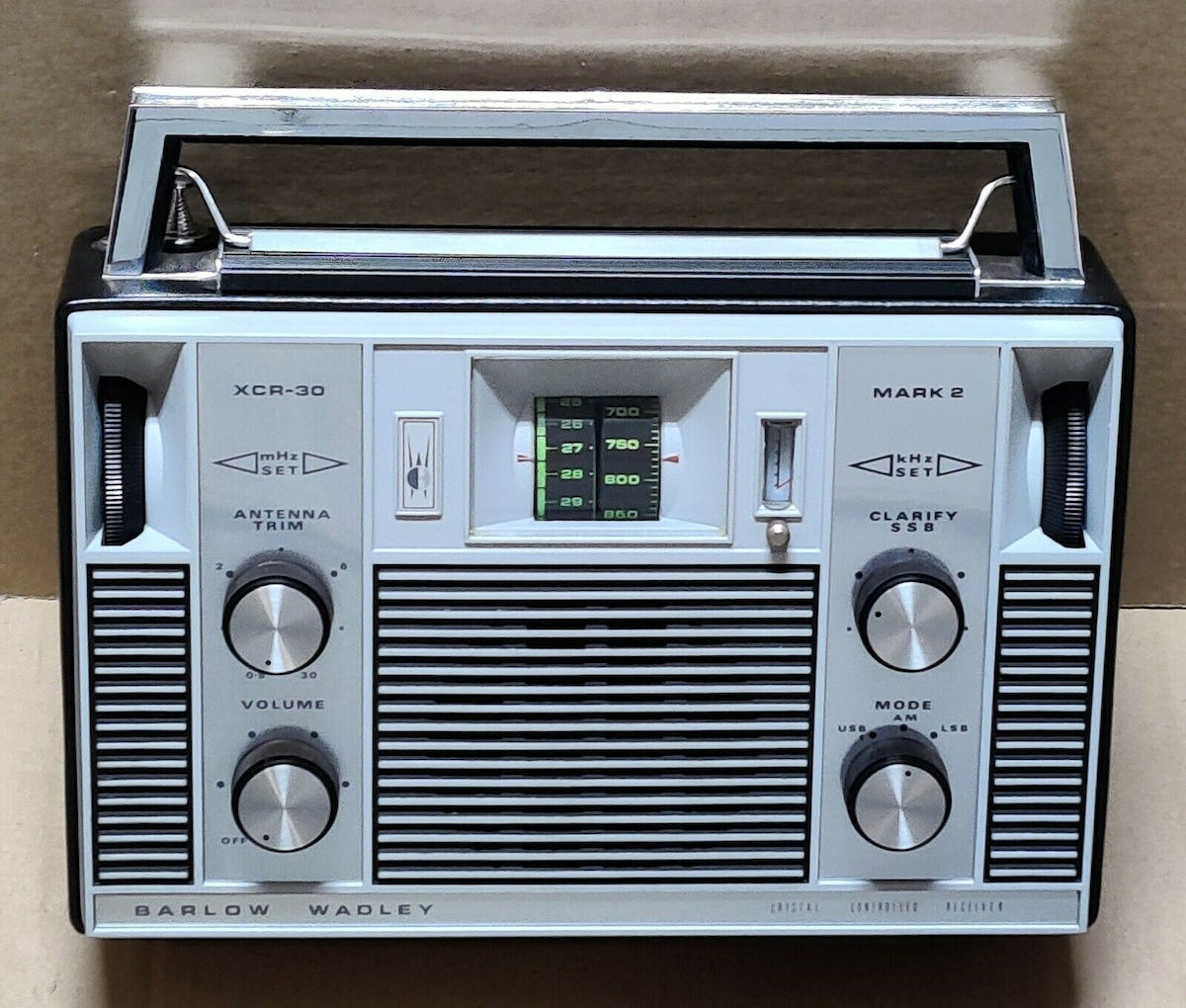 Many thanks to SWLing Post contributor, Robert, who writes:
Thomas – Check out this NOS Barlow Wadley XCR-30 on eBay. I have never seen one of these in this condition!!
Photos
Listing Description
Offered is a MINT condition, brand new Barlow-Wadley XCR-30 Mark 2 receiver manufactured in 1974. This particular unit is in the original box, has never been used and is in pristine shape. It's just like someone would have received it when buying it new nearly 50 years ago. Until a few months ago, it was still sealed in the original plastic and my initial intention was to leave it like that. However, the tape on the plastic had become brittle with age and no longer was adhering to the plastic. I therefore decided to remove the receiver long enough to get a series of photos and carefully placed it back in the plastic. All original accessories and documentation are included: one bag with the operating instructions, original warranty (guarantee) card, and extra log cards; another bag with the the plugs for the user to make the following items: grey plug (earphone), red banana plug (external antenna), black banana plug (grounding/earth), and grey plug (external power supply).

If you are searching specifically for an XCR-30, it's most likely you know that this receiver was considered state-of-the-art and rather famous when first manufactured. The receiver uses what is known as a Wadley loop which is a clever method of obtaining frequency stability. There are various articles online which go in to greater detail regarding this receiver as well as the theory and significance of the Wadley loop. This receiver has a frequency range of 500 kHz to 30 MHz and which is covered in 30 separate bands of 1 MHz each.

Due to the age of this receiver it is being sold as-is with no guarantee of its operability in the future. Also, it is very much recommended that it be properly serviced prior to any attempt at powering up. At a minimum, all electrolytic capacitors should be replaced.

This receiver will be well packaged with extra layers of cardboard and packing peanuts around all sides, top and bottom for protection during shipping.

On Sep-20-21 at 18:39:31 PDT, seller added the following information:
Please note: I have NOT installed any batteries into the receiver. That's what "never used" means in the title and description.
Wow! What a find, Robert. Thank you for sharing it with us. I bet this listing will go much higher in price–it's rare to see a mint NOS Barlow Wadley XCR-30 on eBay. I would love an XCR-30 some day, but this will surely go beyond my bidding comfort level! Indeed, I'm very curious how high it will go!