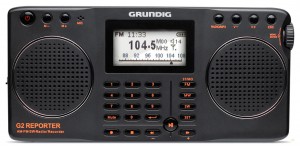 Joshua Goldman, with CNET, has written a review of the Grundig G2.  What's more, he offers a fairly thorough review of the Grundig G2's features and design.
First of all, I'm very impressed that CNET would bother reviewing a shortwave radio at all.  Typically, I look to CNET for reviews of portable hi-tech like cell phones, iPods, cameras, computers, and the like; to see them review a shortwave seems like a broad-minded effort.
However, the focus on the G2's actual shortwave performance was glossed over, at best.  The reviewer merely writes:
If you're most concerned with pulling in FM stations, you'll be happy with the G2 Reporter. Even some stations that I've found difficult to tune with other portables came in strong. Tuning of AM and SW was good, too, but less reliable than FM.
And…that's it. So much for the G2's shortwave.
So, though this is not a review of the merits of the Grundig G2 as a shortwave radio, it does cover the radio's recording features, battery, .mp3 and .wav file playback, battery, design, and similar features.  Which, at least, is a step in the right direction.