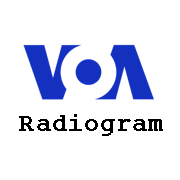 (Source: VOA Radiogram)
In this weekend's VOA Radiogram, one VOA News item will be in the MFSK22 mode (80 words per minute), a mode we have generally not used for complete VOA News stories.

Another "feature" in this weekend's program will be five seconds of silence whenever modes are changed. This might improve the performance of the RSID.

The Flmsg-formatted VOA News story in this weekend's program is 9 minutes, 6 seconds long. That might seem unusually long, but it includes 4 minutes, 20 seconds for a VOA logo in SVG format as part of the html. This was created for us by Mark Hirst in the UK.

Here is the lineup for VOA Radiogram, 10-11 August 2013:

2:30  MFSK16: Program preview

3:26  MFSK22: VOA News re import of Apple products

3:12  MFSK32: Greetings to l'Associazione Italiana Radioascolto

2:10  MFSK32 image: AIR logo

9:06  MFSK32/Flmsg*: VOA News re one year of Curiosity on Mars

2:26  MFSK32 image: Curiosity tire tracks

1:10  MFSK16: Closing announcements

2:20  Surprise image, text, image of the week

*To make Flmsg work with Fldigi (both can be downloaded from w1hkj.com), in Flmsg: Configure > Misc > NBEMS — Under Reception of flmsg files, check both boxes, and under that indicate where your Flmsg.exe file is located.
VOA Radiogram transmission schedule
(all days and times UTC):
Sat 1600-1630 17860 kHz
Sun 0230-0300 5745 kHz
Sun 1300-1330 6095 kHz
Sun 1930-2000 15670 kHz
All via the Edward R. Murrow transmitting station in North Carolina.

Please send your reception reports, audio samples, screenshots, comments, ideas, suggestions to[email protected] .