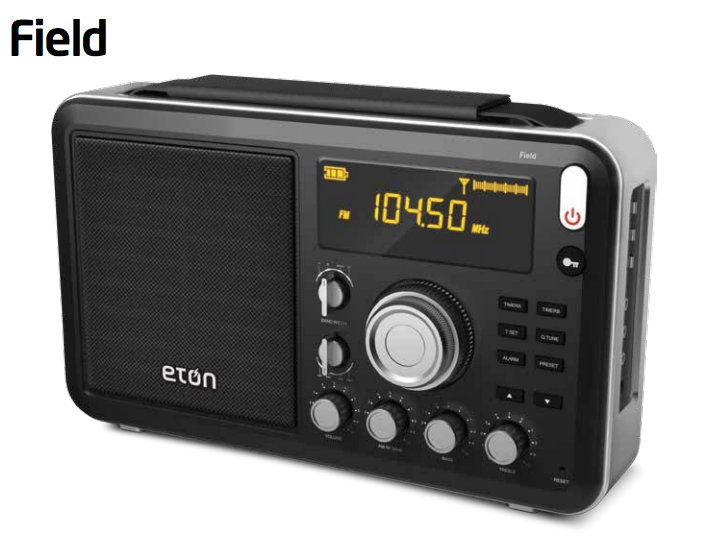 Many thanks to The Herculodge and SWLing Post reader, Gary, for pointing out these two new portables from Etón Corp: the Etón Field and Etón Satellit.
The Etón Field, pictured above, looks like an updated version of the Grundig S450DLX. Etón mentions the following features on their website:
Frequency coverage:

AM: 520 – 1710 kHz (selectable 9/10 kHz spacing)
FM: 87.5 – 108 MHz
SW: 1.711 – 30 MHz

FM with RDS (Radio Data System)
Dial-in-Dial coarse/fine digital tuning
Treble/Bass control
RF gain control
Wide/Narrow bandwidth selection
50 memory stations
External AM/FM/SW antenna connections
Local/DX switch
Rich orange LCD display
Line-in/Line-out and headphone jacks
FM telescopic antenna
Carrying strap
Reset/Lock button
Power supply: 6V DC Adapter or 4 D Batteries (sold separately)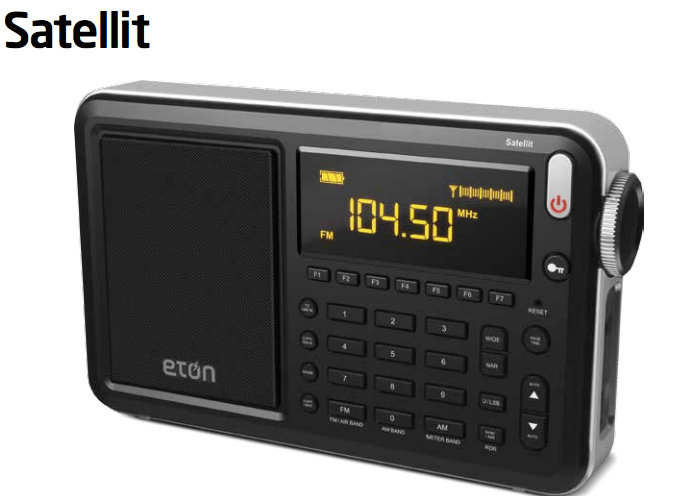 Frequency coverage:

AM:  520 – 1710 kHz (selectable 9/10 kHz steps)
FM:  87.5 – 108 MHz
LW: 150 – 285 kHz
SW: 1.711 – 30 MHz
AIR: 118 – 136 MHz

FM with RDS (Radio Data System
Single sideband (SSB) with +/1 kHz tuning
VHF Aircraft band
Automatic or Manual Digital Tuning
FM stereo/mono selection
Electronic/volume/treble/bass control
Sync detector with selectable sideband
Direct key-in meter band for SW
700 memory stations
PLL synthesized dual conversion receiver
Local/DX switch
Local/world time zones
Clock/Alarm/Sleep Timer with time backup
Rich orange LCD display
Reset/Lock button
FM telescopic antenna
Power supply: 6V DC Adapter or 4 AA batteries (sold separately)
If you're interested in the Satellit and would like to participate in open and active discussions, join this newly created Etón Satellit Yahoo Group.
It's interesting to note that FM RDS has become a feature on both the Field and Satellit and that they sport a unique orange LCD display.
Update: Also note that Etón has introduced the Traveler III and the Mini 400 travel-sized shortwave portables.
A note about Etón
For those of you not familiar, Etón Corporation (based in Palo Alto, California) is also known as the Grundig brand throughout North America. Throughout the company's history of designing and manufacturing shortwave radios, Etón has either branded their radios as "Grundig" or "Etón" (indeed, some models were branded with both, for example the Grundig G5 and Etón E5).  I find the news of the Etón Field and Satellit very exciting as I feared the exit of the venerable Grundig G3 from the market might have also marked the departure of the company from the shortwave radio market altogether. Apparently not!
This is quite important for the SWLing hobby (in North America, at least) as Etón and Grundig products are unquestionably some of the most accessible shortwave radios on the market. Nearly every corporate or franchise retail store of RadioShack (Tandy) carries Grundig radios, as well as Universal Radio and a number of independent electronics/hobby stores throughout the continent.
By and large, I have always liked Etón/Grundig radios–I have purchased nearly everyone they've produced in the past six years. I also like the corporation, and it's founder/CEO Esmail Hozour.
Indeed, Mr. Hozour and Etón Corp generously support global humanitarian efforts–they've donated and distributed thousands upon thousands of their self-powered radio/lighting products in the wake of disasters in Japan, the Philippines, Haiti, and even more.  Regular SWLing Post readers will also know that Etón Corp generously supports my radio-based charity, Ears To Our World (a disclaimer that will be prominently mentioned on any future Etón/Grundig radio review here.)
It's also quite simple to get in touch with Etón product support–a live human being is only an email or phone call away. Numerous times, I've directed readers to Etón support and their problems have been solved.
Bookmark this tag for more information on the Etón Field and Satellit.  I have a hunch that they won't be available until after the 2014 Consumer Electronics Show (CES).