Sean Gilbert, International Editor at WRTH, writes:
I have completed my season-on-season analysis of the top 18 languages used by SW broadcasters. I chose 18 because it is the number we use in our bargraph file (odd number I know, but 18 just fits nicely and it is difficult to find many more colours that are sufficiently different from one another to be easily distinguishable in print).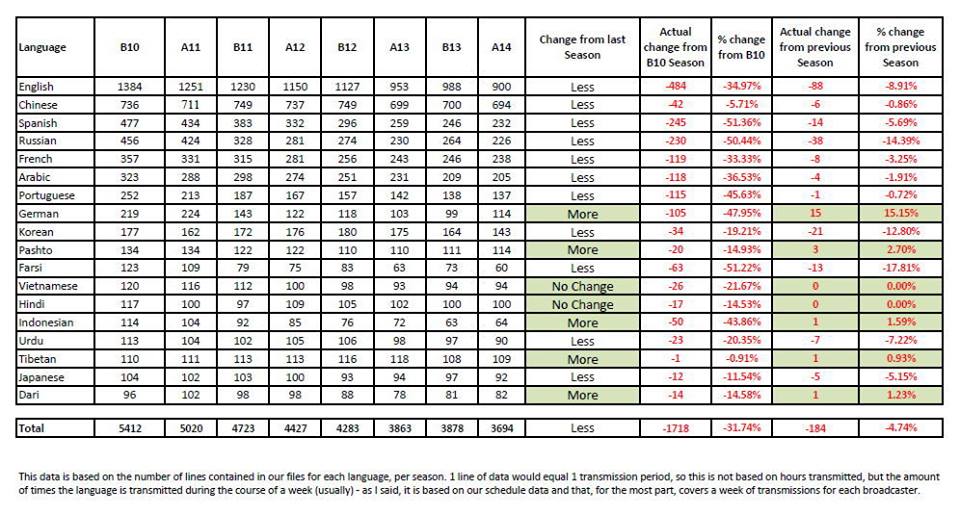 If you study the image [click to enlarge], you can see the how the output of various popular languages is declining with each passing season. There are a few surprises, like the 15% increase in German output this season over B13 (but the bigger picture is that it has reduced by nearly one half since B10 -when I first started this analysis). English output has been cut by over 1/3, Spanish, Russian, Farsi, Indonesian, Portuguese and German have all reduced by about 50% from B10.

A couple of languages, however, stand out as being fairly static – Chinese and Tibetan. Chinese (that is mainly Mandarin and Cantonese dialects) has reduced by a mere 5.7% since B10, and Tibetan output by less than 1%.

There can be no doubt that International Shortwave Broadcasting is in its 'twilight years' now, but there is still a goodly amount of different programming to listen to, from a large number of stations.

To emphasise that point, for the A14 season, we have the full schedules of 196 international and clan/target broadcasters in our A14 schedules pdf file (which can be downloaded for free from the WRTH website).[…]

I may, at some point in the future, delve in to my archives and see if I have any usable data that will allow me to go further back with this study.
Many thanks to Sean Gilbert and the WRTH for making this analysis available!
You can pick up your copy of WRTH at Universal Radio or Amazon.com.