This morning, while scanning the 31 meter band, I noticed a DRM (Digital Radio Mondiale) signal on 9,890 kHz. Normally, I ignore most DRM signals because the amount of signal strength needed to properly decode the mode (here in the US) is simply too low for pleasant, artifact-free copy.
Still, I thought I'd give the new Elad FDM-S2 a try, so I changed mode from AM to DRM.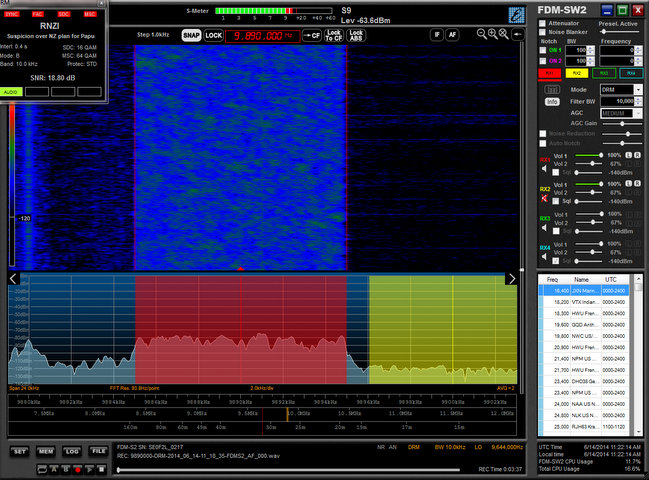 To my amazement, the FDM-S2 quickly decoded the signal and produced excellent audio from Radio New Zealand International.
I assumed the decoding lock would not hold, but I was wrong; indeed, I believe there were only one or two significant drops in the 40+ minutes I listened. This may be a very good sign from the FDM-S2, even if propagation was above average.
I'm not a big DRM listener, but that's mainly because there is so little to hear on the bands. The real test will be All India Radio in DRM–I've never managed to get a consistent lock on them from here in eastern North America.
Still, I'm pleased as punch that I can so easily copy RNZI–one of my favorite international broadcasters–in DRM.
Here's a recording of the broadcast starting at 11:18 UTC on June 14, 2014. Click here to download the the recording as an MP3, or simply listen via the embedded player below: