The highly anticipated AirSpy HF+ Discovery SDR has been in the hands of early adopters for about two weeks–and I've seen nothing but positive comments!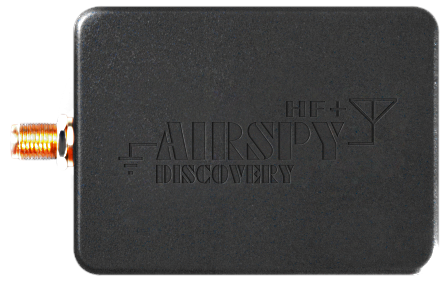 After a long run (2007-2013) with a Microtelecom Perseus, my SDR of choice became the Elad FDM-S2, and more recently an Elad FDM-DUOr "hybrid" SDR receiver. The two Elads have the same core processing components and identical performance when the DUOr is connected via SDR software.
This week I've compared the HF+ Discovery ($169) against the FDM-DUOr ($899) using Studio 1 software and identical modes & settings. The following video features the radios' performance on a crowded daytime medium wave band from suburban Seattle-Tacoma USA.
Click here to view on YouTube.
Notes:
Software used is two "instances" of Studio 1, version 1.06e
Antenna is an east-west oriented Wellbrook ALA1530LNP Imperium loop
Mode, filter bandwidth, AGC, etc. are the same for each radio
768 kHz sampling bandwidth used for both receivers
Stations tuned are:
1320 KXRO Aberdeen WA, 74 miles @ 5 kW (in-line with antenna)
1110 Oak Harbor WA, 78 miles @ 500 watts (in antenna's null)
1040 CKST Vancouver BC, 147 miles @ 50 kW (in antenna's null)
1430 KBRC Mt. Vernon WA, 85 miles @ 5 kW (in antenna's null)
750 KXTG Portland OR, 118 miles @ 50 kW (in antenna's null)
I purposely sought out signals difficult to hear in the presence of powerhouse stations. Only 1320 kXRO (in-line with my antenna) and 750 KXTG are what you might consider average or fair quality signals. Headphones are recommended for most of these, particularly 1040 kHz.
You'll note that the pass band has been "pulled" over the edge of the carrier frequency by a few hundred Hertz. This is an excellent trick that can often reduce noise and/or improve intelligibility. It's a feature unique to Perseus, Studio 1, and SDRuno software; it works in sideband modes and in selectable sideband Sync AM (SAM) mode.
After listening to the signal comparisons, what are your thoughts on the HF+ Discovery? Please leave your comments below.
Guy Atkins is a Sr. Graphic Designer for T-Mobile and lives near Seattle, Washington.  He's a regular contributor to the SWLing Post.