The AirSpy HF+ is the new SDR on the block, but how does it compare to the Elad FDM-S2 which is more than 2-1/2 times its $199 price? My main interest is finding out how they compare in a very RF-quiet DXpedition setting, but today I compared the two briefly from my home in Puyallup, Washington (near Seattle).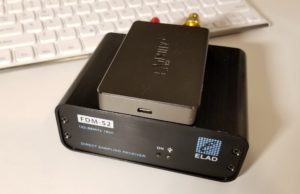 The receivers were connected via a two-way antenna splitter to the output of a Wellbrook ALA1530S+ loop antenna. I monitored during mid-afternoon local time to ensure that all my MW locals in my suburban location would be at full power, for the best test of the radios' overload performance. The Wellbrook active antenna is rather "hot" and sometimes overloads receivers during the daytime unless attenuation is added to the signal chain.
I noted there were no truly weak medium wave signals available during the session so comparing sensitivity wasn't appropriate. However, the band was full of strong daytime MW signals.
It became apparent quickly that the upstart HF+ provides strong competition to the Elad SDR. Clearly, the AirSpy's trade-off is bandwidth for raw performance at lower cost–approx. 660 kHz alias-free coverage versus about 6 MHz maximum for the Elad.
Using the same center L.O. (local oscillator) frequency, short recordings were made with both receivers on the same receive frequency, same bandwidth, AGC setting, etc.  To approximate the 660 kHz coverage of the HF+, I set the FDM-S2 to its 768 kHz sampling rate, the closest available setting to 660 kHz wide coverage.
Here are the results on 1540 kHz, just 10 kHz away from a strong signal on 1550:
AirSpy HF+ – 1540 kHz

Elad FDM-S2 – 1540 kHz
What's wrong with the above audio picture? The FDM-S2 is clearly overwhelmed by the strong RF on the upper end of the MW band. Visually, the spectrum looked like this with the Elad:
Elad FDM-S2 waterfall/spectrum (1540 kHz)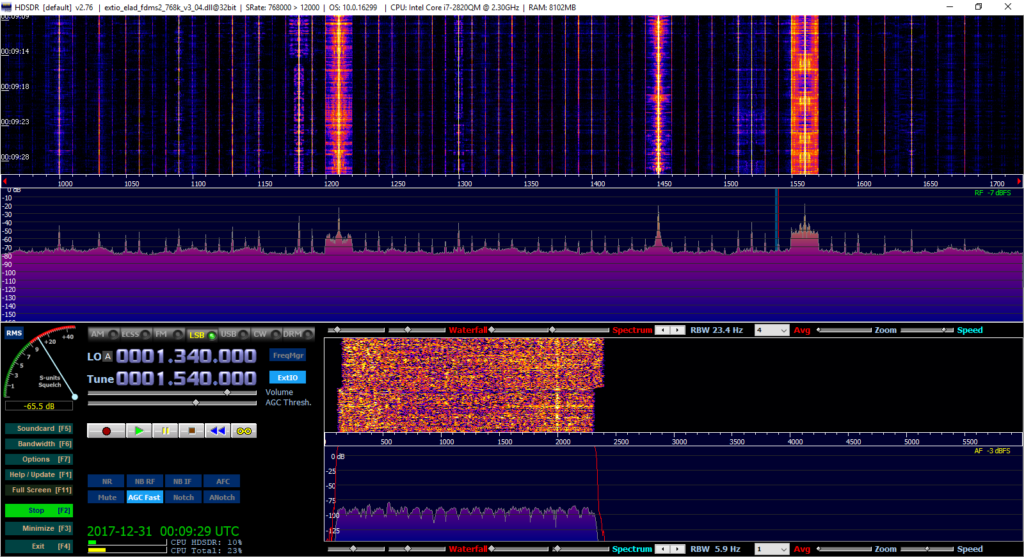 The noise floor rose by approximately 20 dB due to the overloading. The HF+ showed a normal waterfall and spectrum display while tuning 1540 kHz:
AirSpy HF+ waterfall/spectrum (1540 kHz)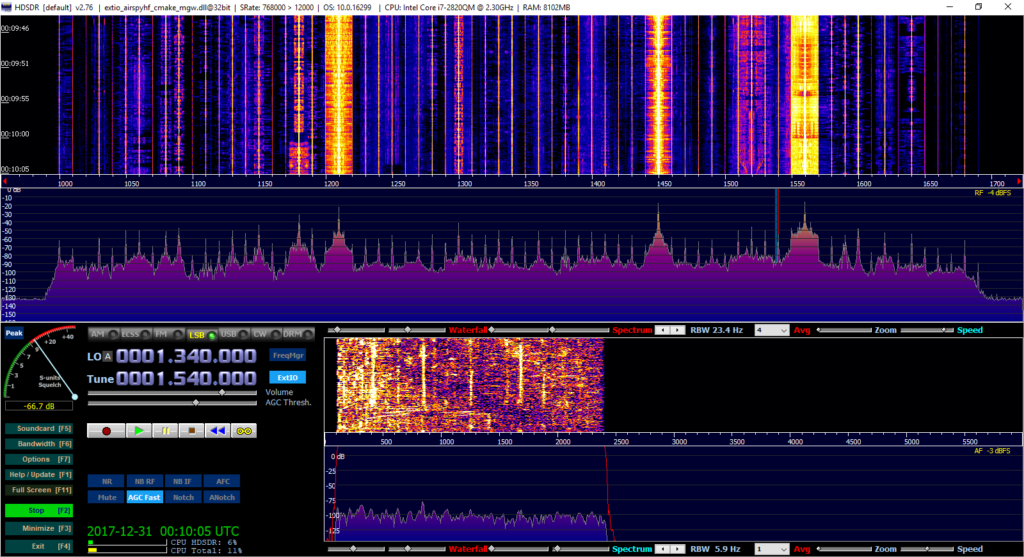 Let's listen to two more audio clips, this time from 720 kHz which is adjacent to very strong 710 KIRO, the ESPN affiliate in Seattle:
AirSpy HF+ – 720 kHz

Elad FDM-S2 – 720 kHz
This time the difference is subtle, but I think you'll agree there is a greater amount of "crunchy" background distortion noise on the FDM-S2 recording. I found this to be the case in each instance where I compared receivers on frequencies adjacent to strong locals.
I no longer own a Perseus SDR, but that receiver handles the entire MW band at this location without overload using the same Wellbrook ALA1530S+ loop.
I'd like to emphasize that these were brief, somewhat casual AirSpy HF+ vs. Elad FDM-S2 tests. I expect that in a more forgiving RF environment, both receivers will be equally adept and digging out weak weak and challenging DX signals. I plan to investigate this very scenario in a few weeks at a quiet location on the Oregon coast.
Side note: I have two HF+ units and they can operate concurrently without problems for full medium wave band coverage with HSDSR software, even when both are recording IQ WAV files.
Guy Atkins is a Sr. Graphic Designer for T-Mobile and lives near Seattle, Washington.  He's a regular contributor to the SWLing Post.