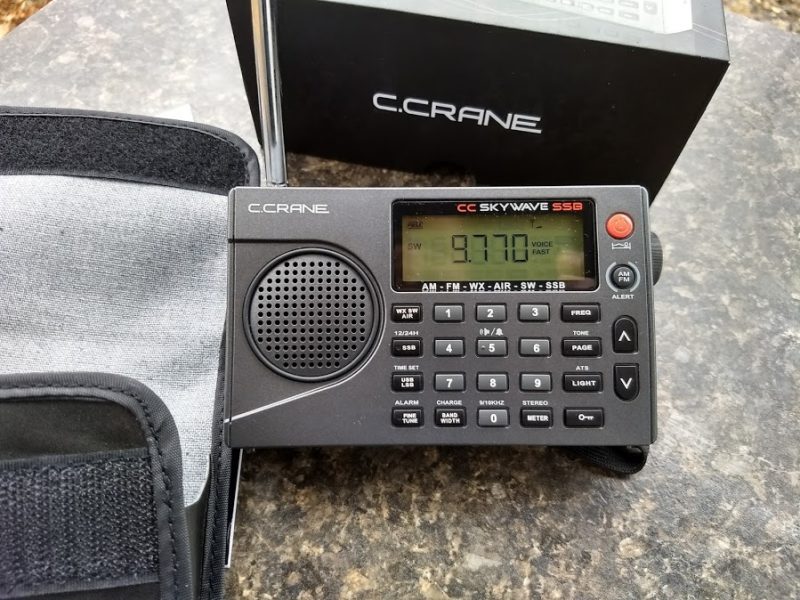 Many thanks to SWLing Post contributor, Michael (N9YZM), who writes:
Hi Thomas,

I took the plunge and purchased the Skywave SSB. It was under the tree on Christmas morning.

It was with some trepidation that I unwrapped it and installed a pair of AA batteries. I had read all the reviews regarding whistles and whines and had decided to give it a go anyway, particularly with the knowledge of the manufacturer's excellent reputation for product support.

I am pleased to report no whistles or whines so far!

This morning I was listening to the breakfast club net on 3973 kHz. Reception, with just the whip, was not quite as good as my Commradio CR1-a with the W6LVP loop, but still very readable, and good enough to put a smile on my face and remove any thoughts of returning the radio to the manufacturer.

Air band, Weather Channel, FM, AM all seem to work great. I bought the radio primarily to throw in the bag when travelling, and can't wait for the next business trip! I will still take the PL-880, and do some comparisons.

If I could change anything on the Skywave SSB, It would be to soften up (or remove) the detent on the tuning knob.

Holy Grail definitely comes to mind !!
Excellent, Michael! It sounds like your Skywave SSB is one that received a proper calibration and quality control run! I think you'll find it makes for a superb compact travel radio.
Thanks for sharing your review!
As a side note, my full (4,300 word–!) review of the Skywave SSB has been published in the January 2018 issue of The Spectrum Monitor magazine.  You can purchase and download the issue for $3, or (better) purchase a one year subscription for only $24. As I've said before, TSM is one of the best values in our radio hobby!