Before I start talking Youloop, I have a little confession to make up front:
At the Winter SWL Fest when I gave a presentation about Portable SDR DXing, not only did I give attendees the wrong name of the Airspy Youloop antenna, but I also configured it incorrectly, hence the poor performance via my Miscrosoft Surface Go tablet PC.
I had assumed the the crossover component of the antenna was the transformer component. I realized the mistake I made when I saw some of the first promotional photos of the Youloop antenna a few weeks ago.
Doh! I'm trying to forgive myself for making such an obvious mistake, but in my defence–and in the spirit of full disclosure–my antenna was a very early sample prototype without instructions, diagrams, etc. so I set it up imagining it being similar to the homebrew loop Vlado and I built. (FYI: When I say "Vlado and I built" it, I really mean, "Vlado built it.") 
So obviously I made a poor assumption.
Once I assembled the antenna correctly? Wow. Just. Wow!
Youloop: The ideal travel antenna for high dynamic range SDRs
The Youloop is truly the travel antenna I've always wanted for portable SDR DXing. Here's why:
It's incredibly portable and can be rolled up to fit in a small travel pouch
It has all of the low-noise characteristics of other magnetic loop antennas
It's wideband unlike many passive loop designs
It requires no variable capacitor or tuner
It's made of quality components
It requires no external amplifier nor power source
It takes one minute to assemble
It's affordable (~$35 USD shipped)
The only caveat? To take advantage of the Youloop, you must use a high dynamic range receiver.
I can verify that this antenna works brilliantly with the Airspy HF+ Discovery.
It will also pair well with the Airspy HF+  if you shortcut R3 via the R3 modification.
I've also used it numerous times with the new SDRplay RSPdx while using SDRuno in High Dynamic Range (HDR) mode. With the RSPdx, I can make spectrum recordings of the entire AM broadcast band. Note that HDR mode is only available on the RSPdx at 2 MHz and below, using the SDRuno app.
I have not tested the Youloop with other SDRs yet. I will soon test it with my WinRadio Excalibur.
So how well does the Youloop perform?
Listen for yourself!
I'm doing a little cargiving family members today. Their home is swimming in RFI (radio interference/noise). In the past, I've struggled to make good mediumwave recordings at their home–certainly an ideal situation for a mag loop antenna.
This morning, I wanted to record one of my favorite local AM stations (WAIZ at 630 kHz), so I set up the Youloop in the middle of a bedroom, hanging off a large bookshelf set against an interior wall. In other words: not an ideal situation.
When I plugged in the Airspy HF+ Discovery and loaded the Airspy SDR application, I fully expected to see a spectrum display full of broadband noise.
Instead, I saw signals. Lots of signals: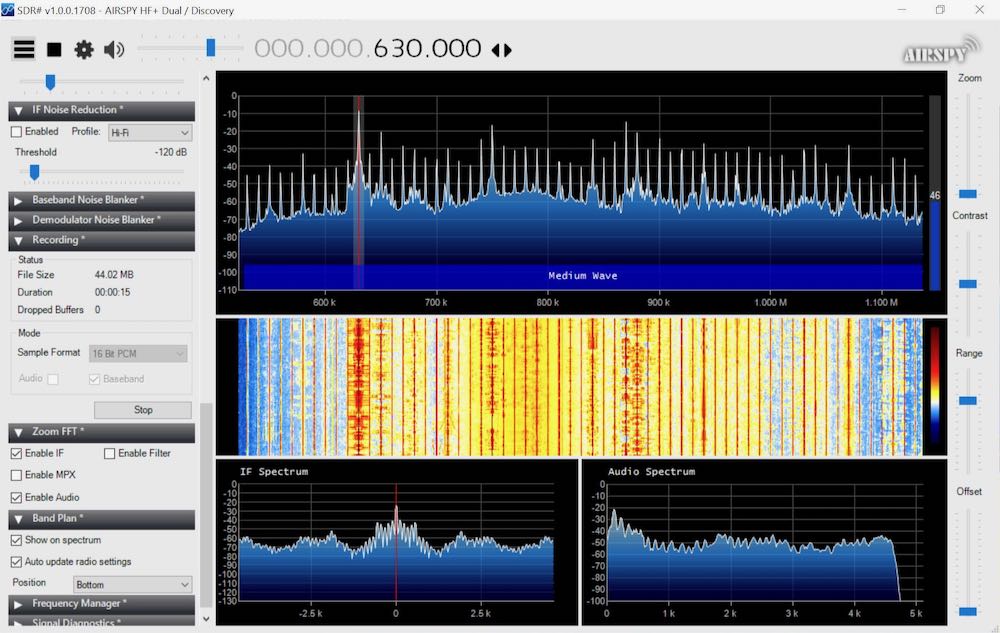 Sure, there's some noise in there, but it's low enough I could even do proper mediumwave DXing on most of the band if I wished.
In fact, if you'd like to experience the HF+ Discovery/Youloop pairing in this compromised, less-than-ideal DXing setup, why not tune through one of the spectrum recordings I made?
Click here to download the spectrum file [885.7MB .wav].
The recording was made on March 30, 2020 starting around 10:50 UTC. You'll need to open this file in AirSpy's free application SDR# or a third party SDR app that can read AirSpy .wav files.
I can't wait to try the Youloop in other locations. Since we're in lock-down due to Covid-19, I won't be able to try the Youloop in a hotel any time soon. Almost all of my 2020 travel plans have been canceled.
Highly recommend
If you have one of the SDRs mentioned above, go grab a Youloop. At $35 USD, it's a fantastic deal.
Click here to check out the YouLoop at the RTL-SDR.com store ($34.95 USD shipped).
Click here to check out the YouLoop at Airspy.US ($29.95 + shipping).
Click here to search for AirSpy distributors in your region/country.
If you don't have a high dynamic range receiver, note that Airspy is exploring the idea of making a pre-amp for the Youloop. If interested, you might drop them a note of encouragement!
Do you have a Youloop? Please share your comments!
---
Do you enjoy the SWLing Post?
Please consider supporting us via Patreon or our Coffee Fund!
Your support makes articles like this one possible. Thank you!