My buddy, @K7al_L3afta (on Twitter), posted this interesting recording of the US Air Force High Frequency Global Communications System on 15,016 kHz USB at 18:01 UTC yesterday: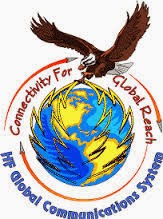 I don't believe I've ever heard or noticed this type of USAF HF-GCS transmission before.  Sounds almost like a numbers station.
Update: SWLing Post reader, Daniele, comments:
It's an EAM, "Emergency Action Message":

http://en.wikipedia.org/wiki/Emergency_Action_Message

http://mt-milcom.blogspot.it/p/what-is-emergency-action-message-or-eam.html
Thanks, Daniele!
As I've mentioned before, @K7al_L3afta lives in an urban area of Morocco and his shortwave radio listening is plagued with radio interference (RFI). Still, he seems to snag some interesting catches on the shortwaves just like this one which he said he caught by "turning the tuning knob randomly."
Serendipity is, indeed, the best type of SWLing!
You can follow @K7al_L3afta on Twitter by clicking here.