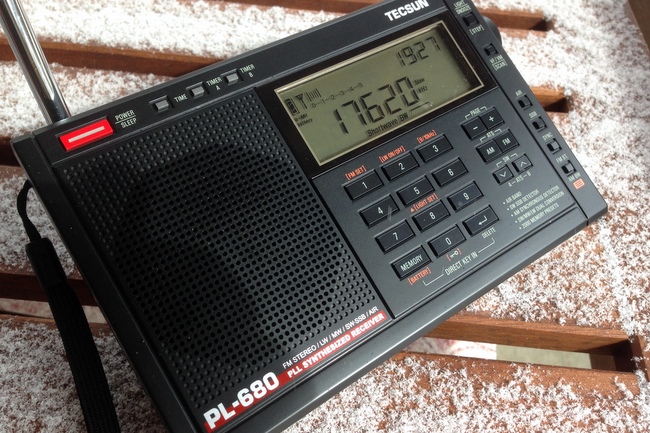 [Update: Please note that this survey has been closed, but the audio samples–labeled Radio A and Radio B–will remain to allow others the opportunity to make an evaluation prior to reading the PL-680 review.]
[Update 2: The PL-680 review and readers' survey results have now been posted! Check it out here.]
I've been spending a little time with my new Tecsun PL-680 today, and it's been most interesting. Of course, I've already begun to form a few opinions about the radio and am taking notes. Yet I never believe a shortwave radio can be judged in one sitting; there are simply too many variables to account for, such as minute changes in propagation, fading, local radio interference, all of which can have a temporary effect on performance. It's better to judge a radio after having used it over the course of at least a week or so, in diverse reception conditions.
Still, as I tuned the PL-680, I was already wondering how it compared with its predecessor, the PL-660–? And since I've received at least ten emails from readers curious about the same thing, I thought I might start a series of blind audio tests in order to let our readers decide for themselves.
So…ready for some fun?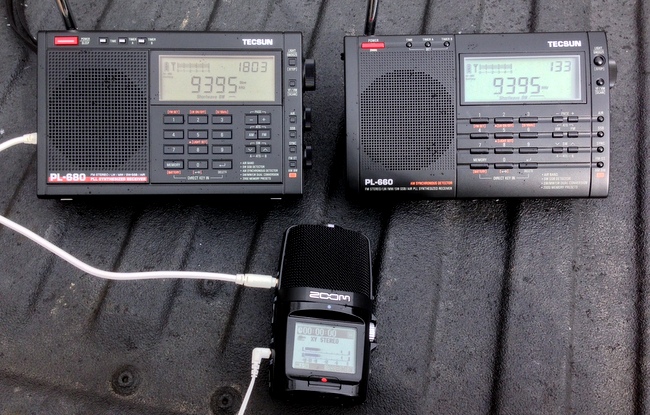 Below, I've embedded eight recordings comparing the PL-660 and PL-680 on shortwave. All of these are recordings of broadcast stations, no SSB yet (I simply didn't have the time today).
To participate, just listen, then fill out the form that follows with your choice of "Best Radio" for each broadcast. But do note the following:
I've attempted to set the audio levels equally on both radios. Iused the broadcast in the first recording to set the audio levels; they remain at this level for the remainder of the recordings. Nonetheless, you'll note that one of the radios seems to have lower audio on a couple of the higher-band recordings; this is not due to any change in the incoming volume nor adjustments to the audio levels.
As seen in the photo above, I used a Zoom H2N digital recorder to make these recordings on the tailgate of my truck.  Any time you hook a digital recorder up to a radio on the medium wave or shortwave bands, you most likely will inject a little noise. When I listened to each radio without the recorder in-line, I determined that the Zoom injected very little audible noise.
The assignment of "Radio A" and "Radio B" was chosen by a coin toss–so pretty much at random!
I included two recordings of WWV on 25 MHz. This is because the reception conditions from WWV change in a a matter of minutes, which would provide recording variation. I thought it would be best to include two such recordings.
Both radios have the gain set to "DX" and bandwidth set to wide. None of these recordings employ synchronous detection. The telescopic antenna was fully extended on both units. Additionally, both radios had the tone control set to "bass."
No less relevant: it was 32F/OC with strong wind gusts and blowing snow in my face when I made these recordings. But I knew our readers would understand (and likely appreciate) this dedication to the absorbing art of  SWLing…just as I appreciate your participation in judging this head-to-head radio showdown!
Audio Samples
9,395 kHz – Radio Prague via Global 24 (strong signal example)
25,000 kHz – WWV Fort Collins, CO
17,620 kHz – Radio France International (weak signal example)
---
Submit your response
Click here to use our response form to vote on your favorites, or simply use the form embedded below: