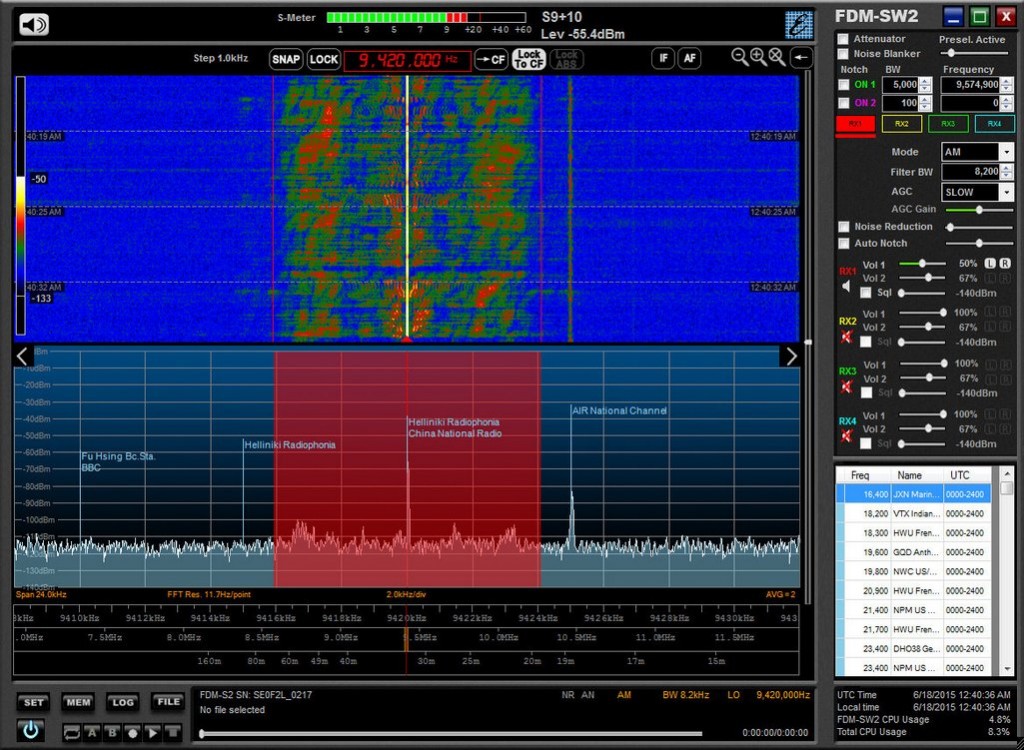 Early this morning, around 01:14 UTC, I tuned to 9,420 kHz with the Elad FDM-S2 and heard the Voice of Greece for the first time since the Greek national broadcaster, ERT had been restored.
SWLing Post contributor, Richard Langley, also noted the strong signal from Greece.  He has kindly shared the following information which he also posted in the DXLD Yahoo group:
"Greece is back on 9420 kHz this evening after being absent for some days and is now carrying the Voice of Greece […] program and not ERT from Athens or Thessaloniki. Noted with good signals in eastern Canada at 01:40 UTC. Radio audio is about half a minute delayed with respect to Internet stream: […](http://www.ert.gr/i-foni-tis-elladas/?). Not noted on other frequencies.

[…]9420 kHz signed off just after [02:00] UTC. Internet stream continued. And I should correct myself when I mentioned "not ERT from Athens or Thessaloniki." Should have said not ERA from Athens or Thessaloniki. ERA is the abbreviation for Hellenic Radio […], as opposed to ERT which stands for Hellenic Radio-Television […]. ERT1, ERT2, etc. are TV stations while ERA1, ERA2, etc. are radio stations. This is a bit like BB1, BBC2, …, and BBC Radio 1, BBC Radio 2, and so on."
Richard followed up a few hours later:
"I continued listening to the Internet stream after the SW transmission ended, and at 02:57 UTC, the station identified itself in both Greek ("Edo Athina, I Foni Tis Elladas") and English ("This is Athens. You are listening to the Voice of Greece") several times, followed by the traditional interval signal and then what I believe to be the Greek national anthem at 03:00 UTC. A program of Greek music then ensued."
Many thanks for sharing the details, Richard.  My recording actually ended when VOG signed off–I suppose I caught about the last 46 minutes of the broadcast.
Click here to download the recording as an MP3, or simply listen via the embedded player below: