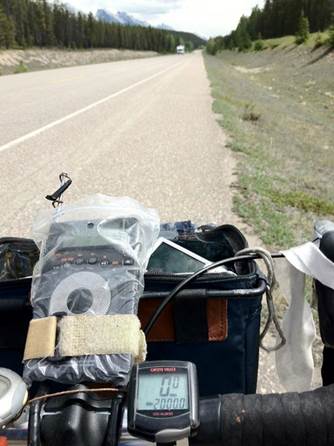 SWLing Post reader, Pat, is an avid cyclist and is seeking a radio for his next cross-continent adventure. There are a limited number of products on the market that meet Pat's requirements, so I thought posting his inquiry might bring a few options out of the woodwork. Check out Pat's requirements and please comment if you have a suggestion!
Pat writes:
I'm a professional ski coach from Colorado. When I'm not on skis, I like to get on my bicycle and go explore the world. I've ridden across the USA a few times, covering all 48 states in the Continental US. A couple of years ago I got my 49th state when I rode from Alaska back home to Colorado.

Next year I plan to ride to Argentina, a journey of 12,000 miles over six months.

One of the things that keeps me sane is to have a radio strapped to the handlebars of my bike. I used to have a cheap AM/FM transistor, but have slowly improved the choice of radios on each trip.

During my Alaska ride I used a Degen DE1123, which was a great item. Not a great radio, but having an mp3 player built in made a world of difference. There were some mighty long distances without radio signal, so having the mp3 was great. But like I said, the 1123 wasn't the most user-friendly item. Plus, it ate up AA batteries, which were pricey in the Yukon. So I upgraded to the Degen DE1125. Certainly an improvement, but still some things that could be improved. [See photo above.]

For my Argentina trip I want to have something really good; something that works well and will hopefully last six months. Also, I really like the idea of having a radio with a mini SD slot. I'll have to download a lot of music and podcasts to keep me happy.

Someone suggested the Melson S8. I purchased one and it is a great unit, but way too big to fit on the handlebars.

You obviously have experience with many different portables and I was wondering if you could give me your suggestions. Maybe something from Degen, ShouYu, Tecsun?

Things that are important:

Ease of use (I'll be using the controls while pedaling)
Weight (smaller and lighter is better)
Durability
Mini SD capability
Radio reception
AM, FM and SW capability
Li-ion batteries

Not overly important:

Ability to scroll through songs/find songs
Sound quality (I'll have wind in my ears anyway)

Things that are not important:

Recording ability (I don't foresee recording anything along the way)
Looks
Cost (I don't want to spend $150 on a CC Crane, as the radio may get broken or stolen, but I'm willing to spend some money on a quality product if available).

[…]I'd love to select the best option for this silly ride I'm taking next summer and will happily take any advice.
A cycling trip to Argentina? Nothing silly about that, Pat! What an adventure!
Shortwave radios with MicroSD slots are somewhat limited in numbers, but more and more models have appeared on the market in the past few years.
Readers: can you help Pat with some suggestions/options?  Please comment!