Digitech has released their latest shortwave portable: the Digitech AR1946.
If you live in Australia or New Zealand, you're probably familiar with the Digitech brand which is sold at JayCar Electronics. If you live in other parts of the world, you may never run across a Digitech (branded) portable.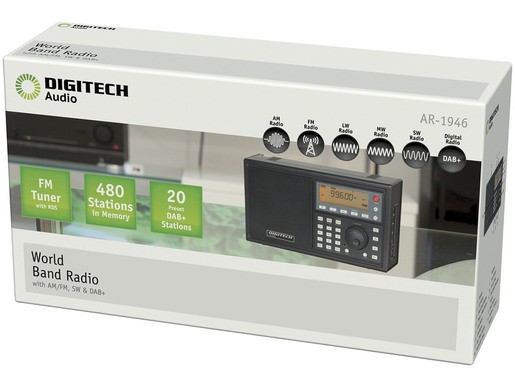 SWLing Post reader, Avo, purchased the new AR1946. He commented with the following brief review (I inserted a few product photos from JayCar):
[The] AR1946 is now out. Had one for a day but ended returning it as shortwave was full of garbage. Fully DSP based according to the box.

I do have to say that FM performance is superb. Sensitivity and selectivity is better than any previous radio I have used and RDS is very usable even on weak signals. 10 kHz steps with a very smooth non muting dial make it a pure DX machine in my books for FM.

Digital [DAB+] is ok but kept cutting out even with good signal strengths. AM modes have 7 bandwidths that work very well. MW is a bit dull but no images.

If only SW was good I would recommend it as a good all rounder but at $219 for just a great FM tuner I think it's expensive.

Saying all this, the unit feels good quality wise and in my opinion is a better attempt than the [Digitech] AR1945.

I think a revision can sort out SW and if so, I am definitely repurchasing….
Many thanks for your assessment, Avo!
It sounds like your unit suffers from the same problems many recent DSP portables have experienced: a high noise floor. This was the issue affecting the recently released Degen DE1103 DSP.  I'm not sure why this is happening more in some of the most recently released receivers, but I assume it has to do with poor engineering and internal shielding.
I bet that the noise level may vary unit to unit. Avo, you might ask for another to test before getting the full refund (if Jaycar's return policy allows).
Have any other readers put the Digitech AR1946 on the air? Please comment!  Click here to view the AR1946 at JayCar Electronics.