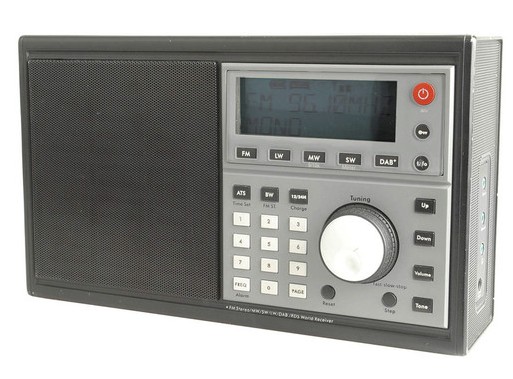 Many thanks to SWLing Post reader, Phil Ireland, who shares his review of the Digitech AR1946:
I've now purchased the AR1946 and I have to say, I'm very impressed! No noise problems at all with mine, although if you listen very carefully under certain conditions, you can discern a slight digital hash. Not in anyway imposing though.
This radio is super sensitive, AM comes very close to the CCRadio-EP in performance and FM is outstanding. SW is very impressive but there are a few quirks in tuning:
below 10MHz, you hit the Frequency button, key in the value and hit the Frequency button again to tune [to the desired station]
above 10MHz, you hit the Frequency button, type in the value and it jumps straight to the frequency [without pressing the Frequency button again].
Not a great issue but worth knowing.
This radio has 7 bandwidths in AM both accessible on MW and SW and rudimentary fine tuning with a separate wheel control. Unfortunately FM only has 1 bandwidth but seems well chosen. DAB+ is not available in Regional NSW so that cannot be commented on.
The telescopic antenna is ridiculously small but seems to pull in the signals with no problems. There are external antenna connections for improved performance.
Audio is very pleasant and you can control both treble and bass with the push of a button. The display is bright, well lit and easy to read with a useful tuning indicator.
There are a number of useful features and with 700 memories, there are more that needed. The radio is very reminiscent of the Grundig Satellit 700 in some respects. Build quality seems very good, time will tell if reliability becomes an issue.
What I don't like is the radio partially mutes when tuning, this is annoying when bandscanning with the rotary tuning control. I have noticed what appears to be synchronous detection being used as occasionally when tuning onto a frequency, you will hear the detector lock on frequency. If so, there is no control over this feature. That may explain the display showing synch but the final model has automatic synch lock..
The AR1946 dispenses with Airband that was good on the AR1945 and SSB. Its a pity that SSB is omitted but along with the Tecsun PL310ET with DSP, they don't have SSB capabilities as well. I suspect the same DSP chip is being used in this radio.
Can I recommend the radio? A resounding yes! As mentioned I'm very impressed. Try before you buy, though, as it may be that QC is variable along with many Chinese radios of late.
Many thanks for your review, Phil!
When Phil notes a lack of noise in his receiver–he's referring to a previous review we posted from Avo, who complained of internally-generated noise in his AR1946.
It seems, like with many other DSP portables (including the Sangean ATS-405) internally-generated noise may vary from unit to unit. I'm guessing this could have to do with slight variations in the board assembly (variations in soldering, grounding, shielding connections).
As Phil advises, please check your radio immediately after purchase and compare it to another shortwave portable if you have one available. This way, if you detect a noisy receiver, you can get a refund or exchange within the time limits of the return policy.