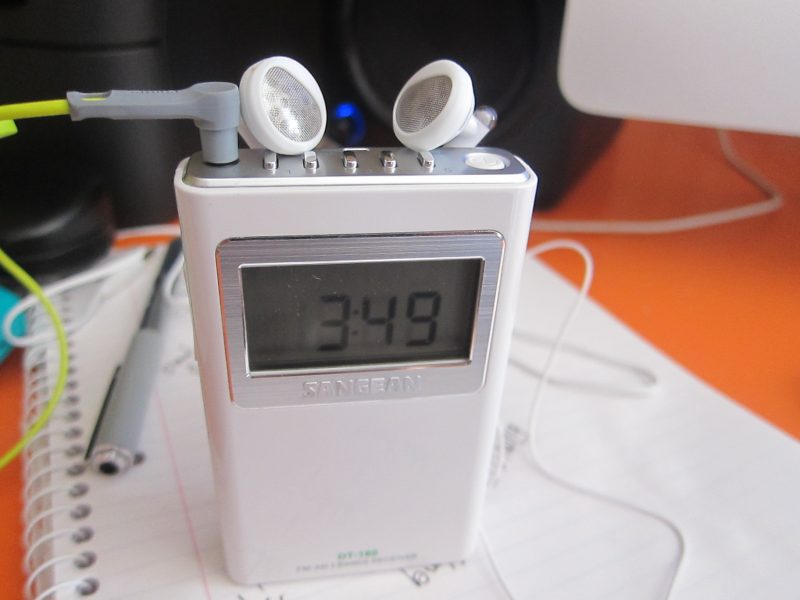 My buddy, Jeff McMahon, has just published a review of the Sangean DT-160 on his blog, the Herculodge. It's well-worth reading if you're considering a DT-160.
Overall, Jeff believes the DT-160 is a keeper and he's very pleased with FM performance. He notes one major annoyance:
"The toggle tuning wheel on the radio's right side. You hold it to set the time. You wait for the hour number to flash, then set with preset 1. You do the same for the minute. You have to click downwards to scroll through the numbers. The toggle feel is awkward.

You use the same toggle for tuning, and here I really dislike the tune/set jog wheel because it's impossible to scroll through the stations without prompting the set button to flash. It's like my wife doesn't like me brushing my teeth in the shower. Don't mix the tuning with the time set. They belong in separate chambers, so to speak."
Wow–what a poor design decision on the part of Sangean. I suppose they did this to eliminate the need for extra clock set buttons?  Still.
But as Jeff says, once presets are assigned, no more tuning woes.
Click here to read Jeff's DT-160 review.
On a side note, I'm looking forward to receiving my DT-160CL later this week. Since I think the "CL" version lack a clock, I'm curious if tuning will be more pleasant.