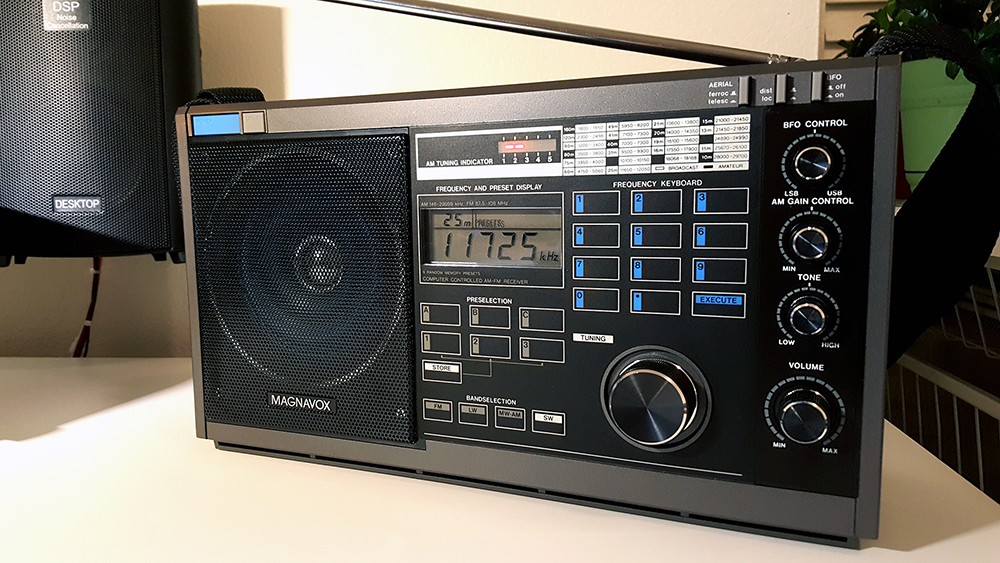 Sometimes good fortune drops in our lap at the least expected moment, but we have to act quickly to take advantage of it! This was the case with the receiver above; I spotted it on Ebay just moments after the seller posted a Buy-It-Now auction. Had I been planning to buy a D2935? No, but I immediately knew I was looking at something special.
This particular D2935 receiver from Magnavox had remained new and unused from 1987 until July 2016, when I had the good fortune of spotting the newly-listed Ebay auction and purchasing the radio for $175.   
The D2935 (and larger companion D2999) has a slightly military, 1980s industrial design that was Magnavox's answer to Panasonic's Command Series receivers of the same era. It's a style that I know many radio hobbyists remember with fondness. Like the Panasonic RF-2200 and similar models, the D2935 looks and feels solid, reliable, and well,… "manly"! The Magnavox is an imposing radio, with a robust sound to match its looks.
I found it unusual that this new-in-the-box D2935 was now surfacing, so after completing the purchase I asked the seller about its background. According to the seller, whose "senior assistance" team Rightsizing for Seniors helps the elderly to downsize and dispose of many of their belongings, the radio's owner was a confirmed "shopaholic" who purchased many items but never used them. She evidently had a passion for "high end" vaccuum cleaners and owned numerous examples, most of them never unboxed or used.
The Ebay seller speculates that the lady was interested in following world news via shortwave radio in the 1980s, but like the vaccuum cleaners she never opened the D2935's box. It was jammed into home storage with many other new items–clothing, kitchenware, other electronics… all just sitting for decades.
I briefly considered just stashing away the radio unused, letting it appreciate in its collectable value. However, I'm not a collector but someone who likes to use and DX with receivers. Like an automotive enthusiast who avoids "trailer queens" and drives his pride and joy to car meets, I'd rather turn on a receiver and enjoy it!
Check out the following video to see how this rare portable radio was packaged by Magnavox, and the pristine condition of all included items. The big question is: will the radio still play after 29 years of storage? Click below to find out!
Guy Atkins is a Sr. Graphic Designer for T-Mobile and lives near Seattle, Washington.  He's a regular contributor to the SWLing Post.