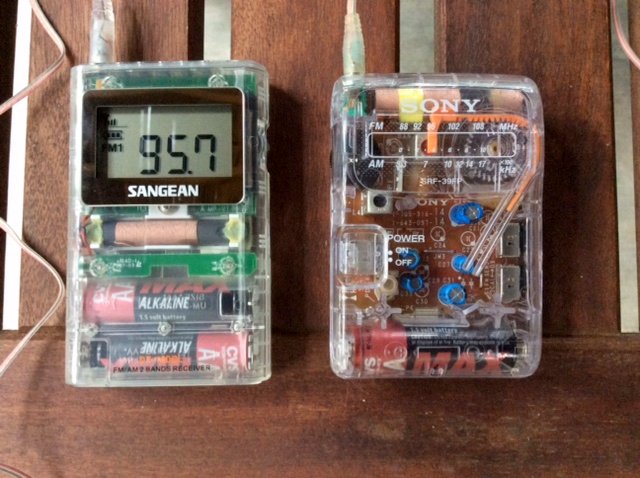 On August 4, 2016, the same day I received my new Sangean DT-160CL, I popped a fresh set of CVS Max Alkaline batteries into the DT-160CL as well as into my trusted Sony SRF-39FP. The mission? To see which radio could perform longest on a set of batteries.
I set my stopwatch as I turned on both radios, tuned to the same frequency, set the volume to the same levels…and waited.
And waited.  And waited.  And as I waited, I posted updates.
But at last, the waiting is at an end:  here are the contest's final results.
Sangean DT-160CL: Impressive Performance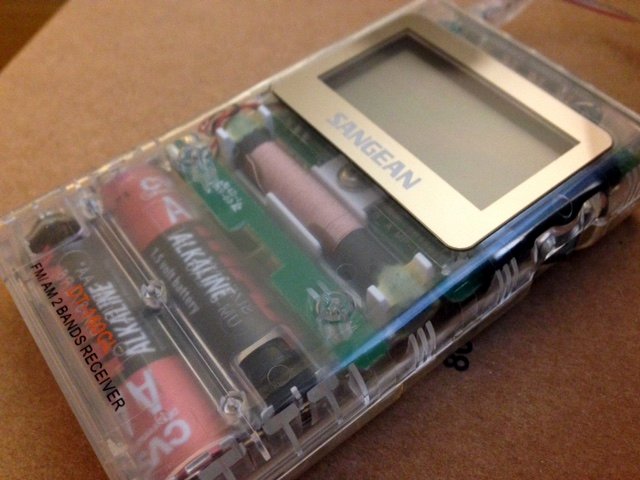 On August 9, I reported that the Sangean DT-160CL finally threw in the towel, logging an impressive 116 hours 30 minutes of operating time–!
Without a doubt, this is one of the longest run times I've ever experienced from an AM/FM radio with digital display.
Interestingly, the day after the DT-160CL shut down, I turned it back on, and it operated for an additional 45 minutes or so, obviously absorbing a little more voltage from rested cells. During that 45 minutes period of time, the audio and overall performance was respectable. No doubt the DT-160 shuts down before audio is terribly compromised.
Sony SRF-39FP: The Endurance King!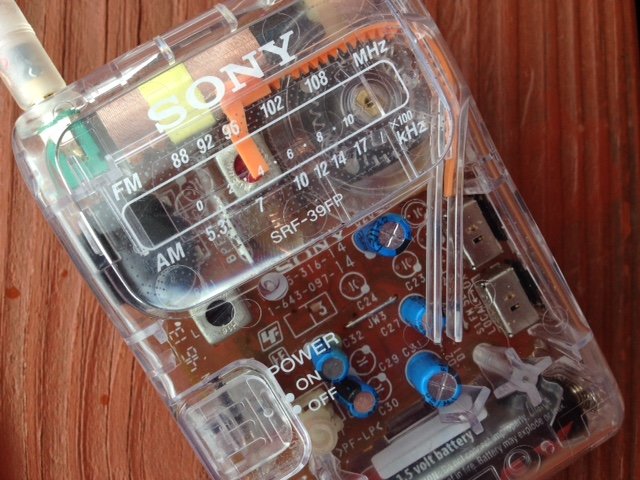 Amazingly, the Sony SRF-39FP kept running well beyond 116 hours. Well beyond…
By Wednesday morning–one full week from the time I began the endurance contest–the Sony SRF-39FP finally began showing signs of low-voltage: the audio had a small amount of splatter and sensitivity began to be compromised.
Unlike the Sangean DT-160CL, which clearly has a cut-off voltage, the SRF-39FP kept milking the battery for its last vestiges of power.
I decided that I would call a "time of death" for this AA battery when the Sony struggled to receive local AM stations, as well as transmission from my in-house SStran AM transmitter.
This happened approximately 163 hours and 54 minutes into its marathon run.
Wow, wow, wow.  I simply had no idea any portable could operate almost one full week on one AA cell–!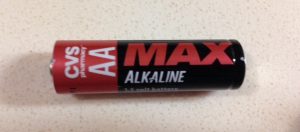 In truth, I'm sort of relieved the '39FP finally gave up the ghost. I was beginning to think the thing was powered by some supernatural force…
When I started this test, I thought the Sony SRF-39FP was rated for about 40-80 hours of run time on a single battery.  I couldn't remember where I got that number until I recently re-read this article from The New Yorker, which highlighted the 39FP's role in correctional facilities:
"The SRF-39FP is the gold standard among prison radios in part because it runs on a single AA battery, and offers forty hours of listening time…"
Wait, just forty hours? Perhaps from the cheapest AA battery made…
With an advanced chemistry cell like the Duracell Quantum or Energizer Advanced Lithium series, you'll clearly get three to four times that performance.
DX mode
And here's the thing: I'm convinced I could've gotten much more time out of the SRF-39FP.
Like similar Sony portables, the SRF-39FP has a "DX/Local" switch. When set to DX, the receiver is made to deliver maximum performance.
If you're listening to a local station, however, "Local" mode is a better choice. You'll still be able to receive your target station, yet draw much less from the battery.
I left the Sony SRF-39FP in "DX" mode for the entire battery endurance test. Had it been in "Local" mode, I believe I'd be reporting an even longer run time. How much longer, I don't know, but you can bet that my curiosity will soon get the best of me…I plan to do a separate endurance test to find out.
Clear choices for battery longevity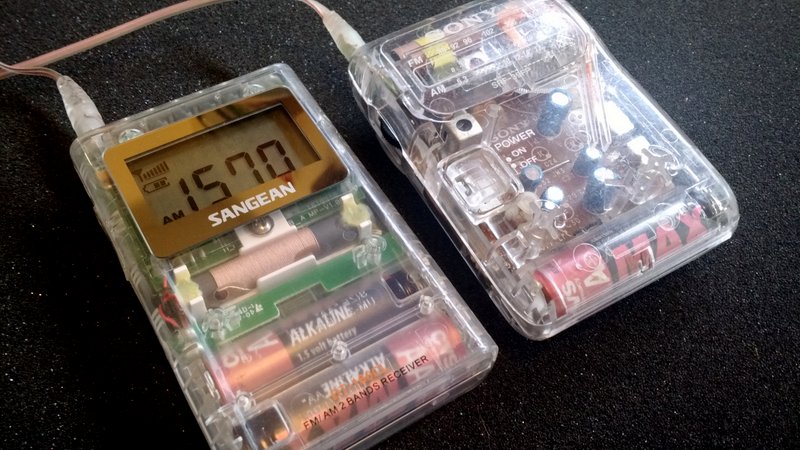 No doubt, our little test has proven that radios marketed to the prison system do offer excellent battery performance.
Now I'm very curious whether the standard Sangean DT-160 will offer the same battery performance as its clear-cased counterpart, the DT-160CL. The only difference in the two appears to be that one offers a clock, while the other doesn't. I wonder if that would have any significant difference on battery life.
Additionally, the Sony SRF-39FP has shown us that analog receivers can be much more efficient than their digital counterparts. We've known this a long time at Ears To Our World, and which is why almost all of the radios we supply to schools in remote, rural locations are analog.
Sadly, analog radios are getting much more difficult to find these days as DSP-based receivers have become more affordable to produce.
The Sangean DT-160 is available at Amazon.com and Universal Radio. The Sangean DT-160CL (the version tested) is available through Amazon.
Click here to search eBay for the Sony SRF-39FP.
Readers: Know of any other battery-miser radios? Please comment!