Many thanks to SWLing Post contributor, Gary Wise (W4EEY), for the following review of the RTL-SDR dongle:
---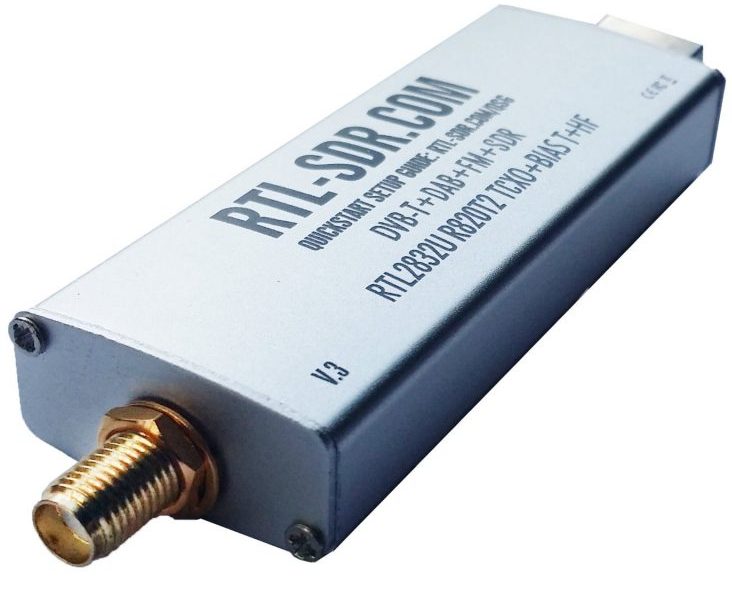 Based on your blog post on the Version 3 release of the RTL-SDR dongle I had to buy one. I ordered mine from Amazon for $25, and it came in two days. I have an earlier version of this unit that was VHF and above only. What intrigued me about the V3 was the possibility of HF reception in the Direct Sampling mode (without an up converter). So I had to try it.
I used the RTL-SDR Quick start guide at RTL-SDR.com/qsg. While I did not see any mention of Version 3, I hoped that the software that was linked would be adequate. As I am using a Windows 7 laptop, I downloaded the Zadig driver installer, along with copies of SDR# and HDSDR.
Getting the dongle going was pretty straightforward. And right away I was receiving VHF and above signals. The I/O driver defaults to Quadrature demodulation and this was what is used to receive VHF. But what about HF?
It took me awhile to figure out that you select Direct Sampling in the setup screen for the driver. In SDR# software this is found by clicking on the gear wheel icon.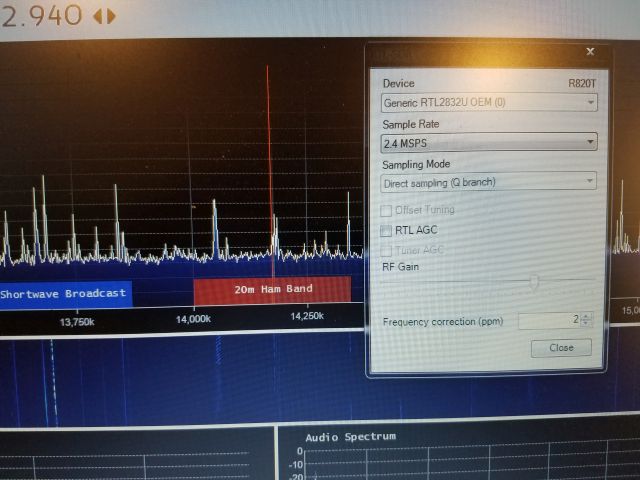 Under sampling mode select Direct Sampling (Q branch).
In HDSDR you select the EXTIO icon.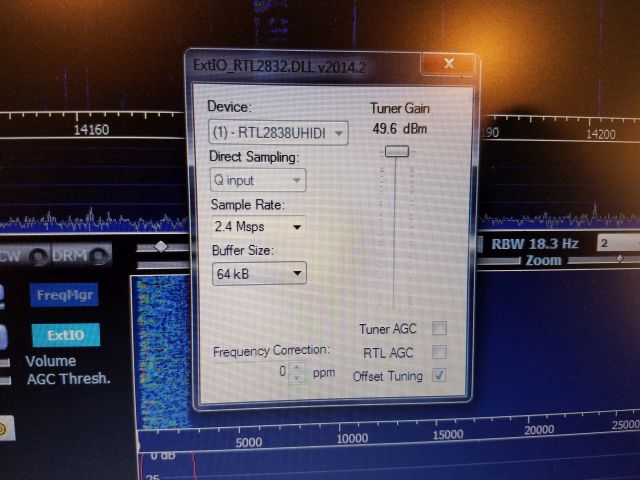 Here you select the Q Input under Direct Sampling.
Note that with both you must use the Q input.
With the telescoping antennas included with the dongle, I received very few signals (of very poor quality). But I had read that the unit can only receive HF with a substantial antenna, so I moved the laptop to my hamshack.
I use an ELAD antenna distribution amplifier for my HF receive antennas.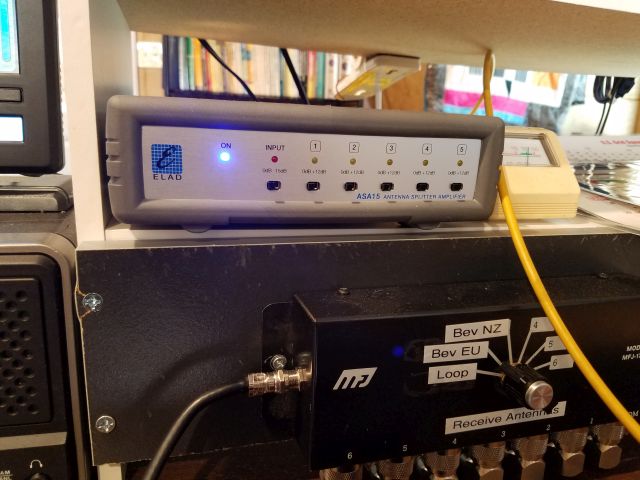 It was easy to use a spare output from the ELAD ASA15 to drive the antenna input of the RTL-SDR V3.
Wow, what a difference!
First up was international shortwave. Here's a shot from my Alinco General Coverage receiver on 9955 kHz this morning using my 260′ beverage antenna (pointed toward Europe). S9 on the Alinco S Meter.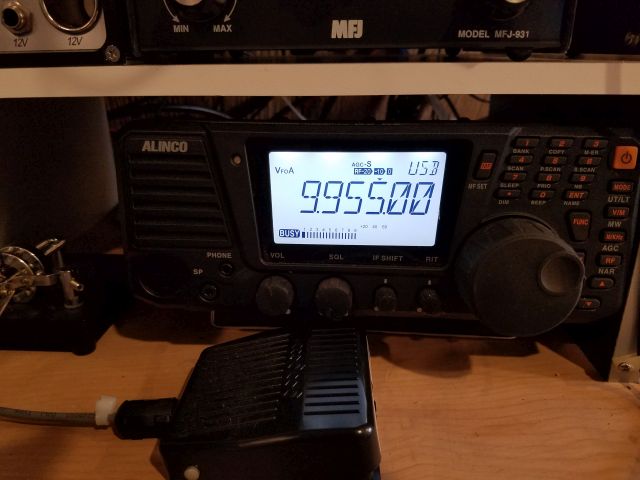 And here's the same signal on SDR#.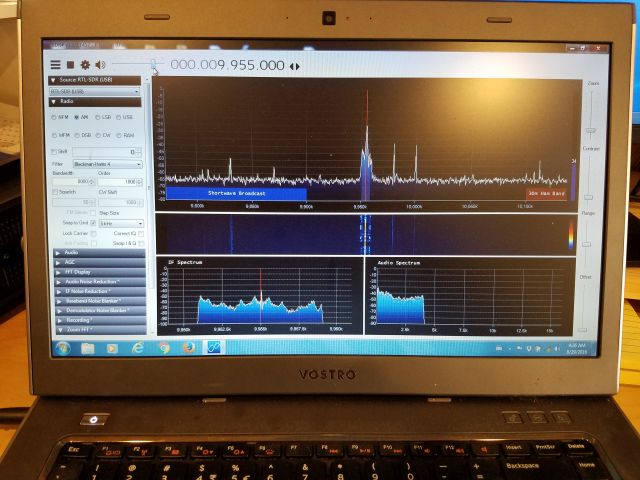 There was a delay in the audio coming from the PC versus from the receiver, but other than that, reception was identical. Audio quality was very good.
I then moved to the 20M Amateur Radio band. USB audio demodulation.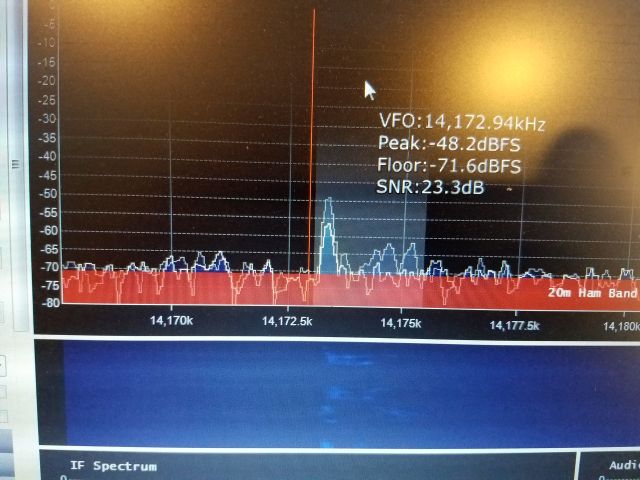 The little dongle worked! It is not what I would call my first choice in receivers, but it will demodulate AM and SSB just fine.
I did not try it on CW as I ran out of time.
I also tried the HDSDR software, which worked equally as well (but I think I prefer SDR# for ease of use).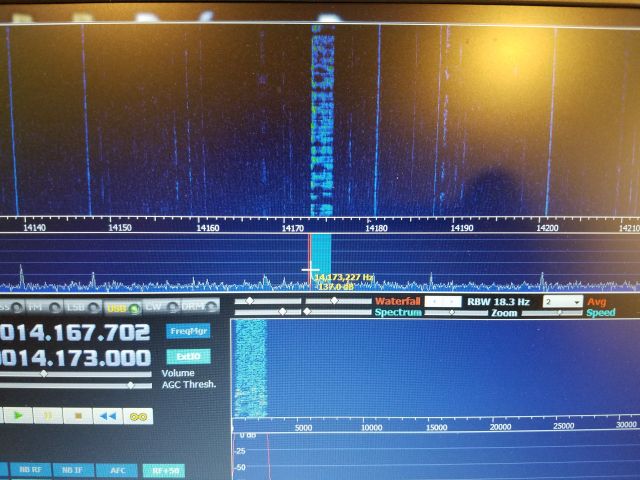 All in all, if you have or can put up a good antenna for HF, the little $25 dongle is in, my opinion, worth trying out.
73,
Gary
W4EEY
Click here to purchase the new RTL-SDR–$24.95 shipped on Amazon.com.
---
Thank you, Gary, for not only giving a quick evaluation of the RTL-SDR's HF performance, but for describing how to setup HF reception via SDR# and HDSDR.
Over the years, I've gotten probably hundreds of emails from readers who would like to try their hand at SDRs, but were cautious about investing. For many years, a 3rd generation SDR would set you back at least $300-400. At $25 shipped, the RTL-SDR V.3 is an SDR receiver that is accessible to anyone who can afford a fast food meal or a few cups of Starbucks coffee. My how times have changed!
Once I get a few transceiver reviews off of my table, I might do some side-by-side HF comparisons between the RTL-SDR and a few of my other SDRs. 
Thanks again, Gary!