This is the first and only "WorldSpace" satellite receiver I've seen on Ebay, currently offered at a $175 Buy-It-Now price from a seller in Australia:
http://www.ebay.com/itm/HITACHI-KW-WSI-DIGITAL-RECEIVER-WS-FM-MW-SW1-SW2-/282192383263
The radio is listed as in excellent condition with the original box and literature. Besides the long-gone WorldSpace satellite frequencies, the radio covers medium wave, FM, and most of the shortwave range. A brief PDF data sheet for the radio gives a description of features and operations.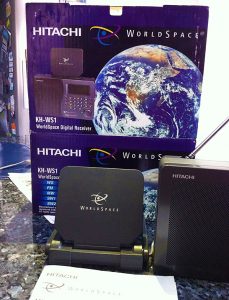 Wikipedia describes this radio's satellite service as 1worldspace, formerly known as 'WorldSpace', is a defunct satellite radio network that in its heyday provided service to over 170,000 subscribers in eastern and southern Africa, the Middle East, and much of Asia with 96% coming from India. It was profitable in India, with 450,000 subscribers.
I wonder if the Hitachi KW-WSI is a reasonable performer for shortwave listening? Does anyone know any technical details of this receiver?
Guy Atkins is a Sr. Graphic Designer for T-Mobile and lives near Seattle, Washington.  He's a regular contributor to the SWLing Post.