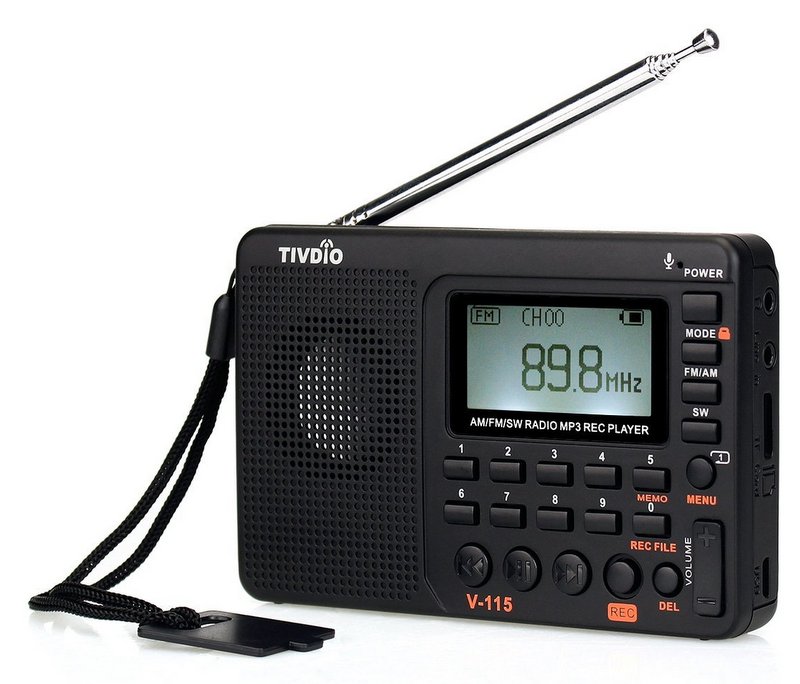 This morning, I received yet another positive comment about the Tivdio V-115 (a.k.a. Audiomax SRW-710S).
This little radio is widely available on Amazon and eBay for around $19.00 – 25.00 US including shipping.  About as inexpensive as a radio gets. Both Troy Riedel and Tom Stiles gave it an overall positive review.
Check out some of these recent comments from Post readers:
Andrew H:
"I purchased the V-115 about a week ago, and was surprised at how much radio I received for $15 plus free shipping. The FM band is quite sensitive. AM is good for locals, but not exactly a DX machine. Shortwave was iffy, but improved once I tightened the antenna mount screw (I'm used to loose screws!). Depending on location, shortwave is better, but does get some bleed from strong AM's in the area. The audio is amazing for something of this price. I have yet to try the recording, but, this has become my go-everywhere radio as of late."
Egil – LA2PJ:
"The TVDIO V-115 is an amazing receiver. It was bought because I needed a small recording device for my portable SWL activities. I put a 32 GB into the slot, and found that the recordings all were of excellent quality. It also doubles as an external speaker for my FDM-DUO qrp transceiver.

I've only tried the radio part on 25m shortwave, and to my surprice the first station heard was from Brazil.

Not bad for a device costing less than USD 20 including p&p from China to Norway!"
JR:
"I recently purchased this TIVDIO radio. I am in Australia and it is a little beast of a machine.
I live in rural country area and seem to have no luck with the short wave radio. Everything else is great!

I have a 64gb micro SD card in it and can fit thousands of songs in it.

The screen is awesome, seems to detail everything going on even has a little spectrum analyzer at the bottom of screen.

The speaker along with the bass is outstanding considering the size and price of the unit."
J D Bulow-Osborne:
"I bought two of the TIVDIO version radios several months ago. A 16GB TF card completed each one. They are, of course, re-chargeable, the sound, for the size, is excellent, the case finish is worthy of a more expensive item. Button lock, mp3 recording, auxiliary input, delete function, (including unwanted channels that the auto-tune has found), makes them a real bargain. They impress everyone who sees – and hears – them. OK, so there's no clock or DAB, but for just over £12, including shipping from China(?), it would be really churlish to complain. One battery charge seems to last a very long time."
Roger Waters:
"I own the Audiomax version of this radio. I have recorded classical music from an FM station using the Audiomax. When playing the recording on an iphone with $100 Audio Technica headpbones, the recording sounded quite good. Using the Audiomax to play recorded music off its storage card also sounds pretty good if the equalizer setting is Jazz and the headphones are expensive. While the Audiomax does not have a timer, its Auto On or Sleep function will save any recording when it turns off the radio automatically. When playing music off the storage card, the music can be listed according to artist. But the artist listing is not completely alphabetical. Radio reception for AM, FM, and SW is solid but not DX quality. When entering a frequency you have to wait about 4 seconds before the frequency changes. Also you cannot scroll to any desired frequency. The scrolling keys will skip over any frequency which does not have a significant signal. Where the Audiomax shines is that with a press of a button you can go from a boring commercial on the radio to some nice prerecorded music or podcast. For the radio alone, the Audiomax is worth its selling price."
I agree with these assessments of the Tivdio/Audiomax. I've had this little radio for about a year now, but only really started using it around May of this year (this is the same radio I had forgotten that I'd purchased last year).  Of course, the best feature is the function that allows you to make off-air recordings and save them to a MicroSD card–it actually works quite well.  While in Canada this summer, I recorded a number of FM, MW and SW broadcasts on the Tivdio–so much easier than carrying an external recorder.
Now if I put on my radio reviewer cap for a moment, I would have to note two issues, in particular:
Though receiver sensitivity is quite good, the AGC circuit is a little too over-active when receiving a weak signal. Last summer, for example, while listening to the BBC Midwinter broadcast in Québec (see photo above), the AGC was so unstable I simply didn't bother making a recording. Admittedly, I was very impressed a $20 radio could even detect this signal. I found that nighttime mediumwave reception is also problematic, save for the strongest of stations.
The V-115 also seems to be quite prone to RFI indoors–more so than, say, a Tecsun PL-310ET. I suspect this is because it's not shielded very well internally. Not an issue, if you're listening outdoors, of course.
In truth, it's hard to be critical of this little radio. As so many of you have echoed, for $19.00-25.00 US–? You simply can't beat it. A great value indeed.
Click here to search for the Tivdio V-115 on eBay and click here to search Amazon.