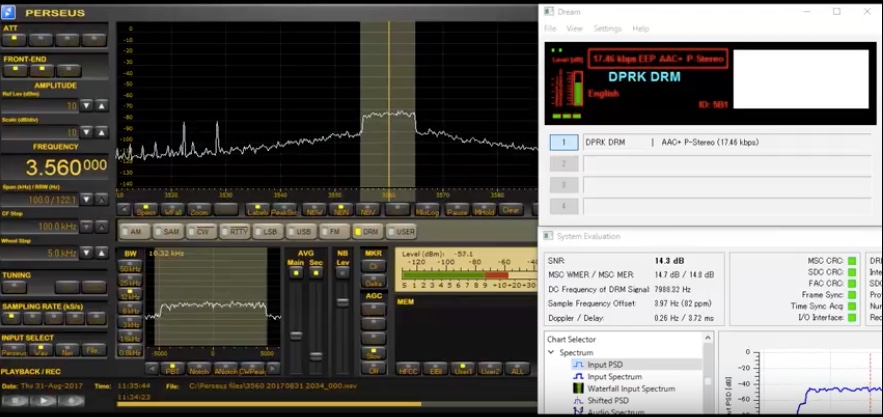 Many thanks to SWLing Post contributor, Mark Fahey, who writes:
A message to contacts in North Asia (Japan / Korea etc)…

North Korea is currently (right now 1430UTC) broadcasting in DRM format on 3560KHz. Listening to remote receivers in Japan I can see the signal is very strong in the Tokyo and Yokohama areas – I assume it will be strong in other parts of Japan as well. I have NOT been able to decode the DRM successfully, I have tried piping the audio to me here in my Australian location and demodulating it with a software DRM decoder – I just can't get a lock on the signal. Do you have a DRM receiver – could you please try? If you do manage to receive the signal please don't forget to record it!

I'm particularly interested to know if the transmissions are relays of KCBS Pyongyang, Pyongyang Pangsong or some other service. If you get a demodulated signal could you check to see if the program is parallel to KCBS Pyongyang on 2850KHz or Pyongyang Pangsong on 6400KHz.

I have a WinRadio Excalibur with DRM here in Australia, but the signal is very weak here – far too weak to lock.
Later, Mark shared the following video by "2010DFS" on YouTube:
Click here to view on YouTube.
Mark also notes that DRMNA.info is following this story very closely and suspects that the content server and or transmitter may be Chinese in origin:
NOTE: Same frequency and bitrate as the 2012 broadcasts so this may represent "Chinese assistance". Can anyone confirm DRM equipment in Kujang?

20170902 Update: I have received anonymous details that indicate that at least the content server is of Chinese origin. Still no word on actual transmit location. Several other Japanese (and Terje in Japan) have successfully decoded these transmissions.
Click here to read full details at DRMNA.info.
Being a North Korean propaganda specialist, Mark added:
At the Freeman's Reach monitoring station the bandwidth and microwave paths in are really being tested this afternoon with the full on activity.

All plans for the afternoon and evening now cancelled! YTN (South Korea) via Intelsat, KCTV Pyongyang via Thaicom, CNN International via Foxtel, CNN USA Domestic via Sling, Korean Central Radio and Pyongyang Pansong via KiwiSDRs – Busy!

All spectrum being captured, tonight the servers will be working hard, it will keep this place warm!
Post readers: please comment if you're able to decode any of these North Korean DRM transmissions, and/or if you have further information about these DRM broadcasts from North Korea.
UPDATE: Mark has at least confirmed that the DRM signal is a relay of the KCBS Pyongyang national service (domestic) broadcast.