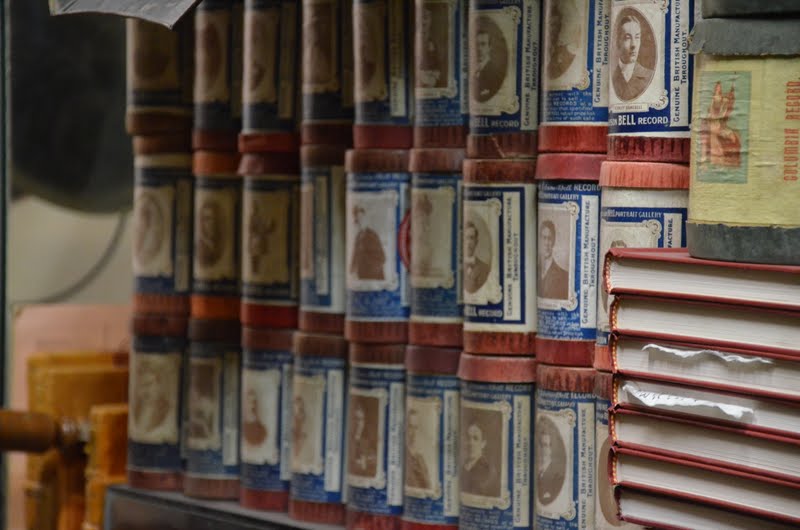 Radio Waves:  Stories Making Waves in the World of Radio
Because I keep my ear to the waves, as well as receive many tips from others who do the same, I find myself privy to radio-related stories that might interest SWLing Post readers.  To that end: Welcome to the SWLing Post's Radio Waves, a collection of links to interesting stories making waves in the world of radio. Enjoy!
Many thanks to SWLing Post contributors Kim Elliott, Benn Kobb, and the Southgate ARC for the following tips:
---
The voice seeps in as if from another dimension, hissy and distant, like an AM radio broadcaster transmitting through late-night static.

"'The Ambassador March' by Brown's Orche-streee for the Los Angeles Phonograph Company of Los Angeles, California," a man announces with a gentlemanly accent. After a moment's scratchy pause, a violinist opens with a melody, and a small orchestra jumps in. Led by a Long Beach-based bandleader named E.R. Brown, the song dances along for two minutes.
The fidelity is primitive by today's high-definition audio standards, a quaint toss-away. But "The Ambassador March" and the Coke-can-sized wax cylinder upon which it was etched into permanence in the late 1800s open a portal to another era.

That wax cylinder and others like it — rescued from rural estate sales and dusty attics — have survived earthquakes, heat waves, mold and indifference. They feature Mexican folk songs; military band marches; minstrelsy songs of the kind that preceded American blues, folk and country music; and the voices of former Lincoln cabinet members, Southern senators, popes, preachers and comedians. Their survival is emblematic of a revolution that allowed sound to be freed from its origins. Once untethered, the world would be forever changed.[…]
by Kim Andrew Elliott

President-elect Joe Biden, who as a senator had a key interest in U.S. international broadcasting, is looking at its future.

He named Richard Stengel, former undersecretary of state for public diplomacy, to head the transition team for the U.S. Agency for Global Media (USAGM). Under USAGM are the Voice of America, Radio Free Europe/Radio Liberty Inc., Radio Free Asia Inc., Office of Cuba Broadcast (Radio/TV Martí to Cuba) and Middle East Broadcasting Networks Inc. (the Arabic-language Alhurra TV and Radio Sawa).

With government officials under President Trump instructed not to cooperate with Biden's teams, the transition for the time being will have to be done from afar. The Trump-appointed USAGM CEO Michael Pack, whose leadership has fomented several controversies since he was installed in June, might decide to be a benign, if uncooperative, caretaker until the new management comes in. Or he could impose personnel changes and alterations in content that could diminish the credibility of the USAGM entities, a situation that could take years to repair.

During his campaign, Biden promised to fire Pack. Pack might try to serve out the three-year term stipulated in the legislation that replaced the bipartisan Broadcasting Board of Governors (BBG) with a politically appointed CEO (Pack being the first). If such an attempt ends up in court, a June Supreme Court decision overruling the fixed term of the director of the Consumer Finance Protection Bureau, a victory for the Trump administration, could, ironically, be the undoing of any plans by Pack to stay on at USAGM.

Pack has already left his mark by rescinding the firewall "rule" published in June by the outgoing BBG. The rule, however, was not an act of Congress or a presidential directive. It was simply language placed in the Federal Register "to codify and memorialize definitions and practices associated with the firewall." On such shallow roots, this tree was easy to fall. In October, Pack issued a repeal, which waved away the firewall rule as readily as it was instituted.[…]
On October 21, 2020, DPA Mac LLC filed a FCC license application for a new, DRM-based International Broadcast Station to be located in Maple Park, IL. The principal is San Francisco entrepreneur Seth Kenvin and its technical consultant is Tamir Ostfeld of Raft Technologies, an Israeli developer of low-latency HF systems for so-called algorithmic trading.

No station devoted to algorithmic trading has ever been authorized for regular commercial operation in the U.S., as there is no formal radio service or spectrum allocation for that purpose. Several such stations have been licensed in the Experimental Radio Service (ERS), which is ostensibly for scientific studies only.

If the FCC licenses DPA Mac, it will be the first such station to make the transition from the ERS to regular, non-experimental licensing. This station would be the successor to experimental station WI2XXG. Other than the license document, the FCC has withheld most of WI2XXG's records from public disclosure since it was first licensed in 2017.

DPA Mac is similar to other DRM stations on which we previously reported: WIPE in Alpine, NJ, which is built and is waiting on its FCC license; and WPBC, proposed for Batavia, IL. With regard to their use for non-broadcast, private data transmissions, those stations made general and non-descriptive representations to the FCC. On the other hand, DPA Mac's license application is fairly transparent. The station aims to transmit "investment data from points within the United States to locations outside the United States carried over a channel immediately adjacent to the HF broadcasts…a low-power, low-latency digital data transmission service provided to private investors, including small- and medium-sized firms." [Continue reading…]
On Tuesday, November 24, CB and amateur radio featured in Sonia Watson's popular Breakfast show on BBC Radio Essex

Among those interviewed was the Chair of Essex Ham, Pete M0PSX, who talked about the resurgence of interest in amateur radio.

Listen to the interview at 1:38:20 in this recording
https://www.bbc.co.uk/sounds/play/p08xv7dv

You can find out more about amateur radio and the free Essex Ham Foundation Online training course at
https://www.essexham.co.uk/train/foundation-online/

You can follow Essex Ham on Twitter at
https://twitter.com/EssexHam
---
Do you enjoy the SWLing Post?
Please consider supporting us via Patreon or our Coffee Fund!
Your support makes articles like this one possible. Thank you!