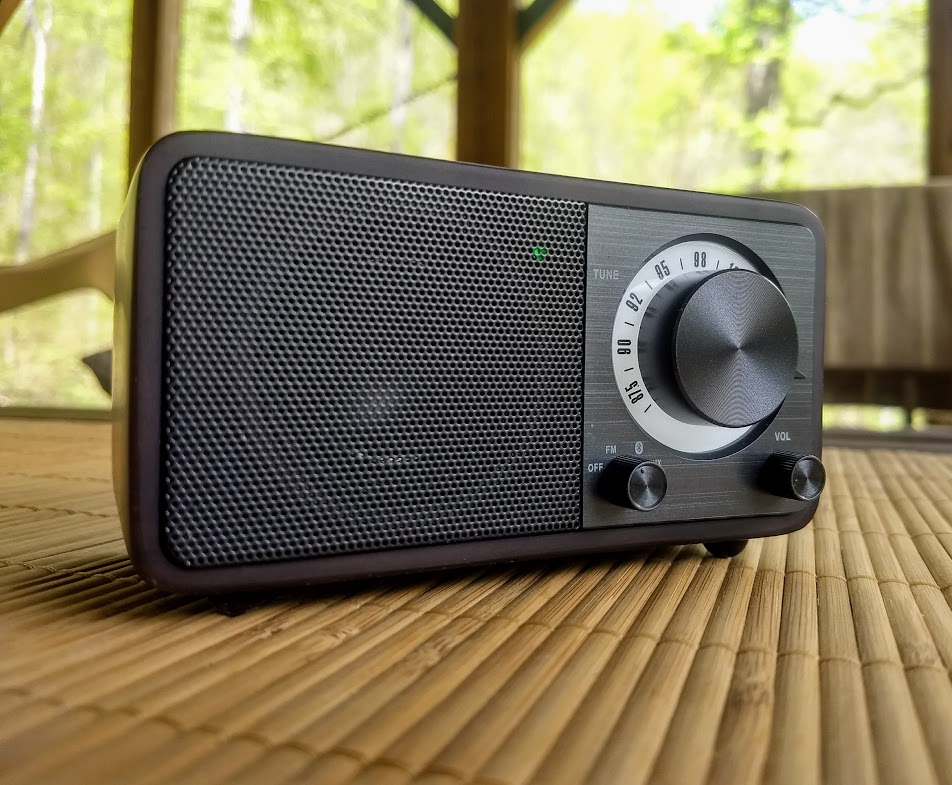 Folks have been known to say that good things come in small packages.  And, do you know what? They're sometimes right. [Spoiler alert: This review features a good thing which comes in a small package.]
I've been in the process of evaluating some pretty complicated pieces of communications equipment lately. So when Sangean approached me a few weeks ago and asked if I would check out their latest FM radio and Bluetooth speaker––a comparatively simple piece of kit––I thought, Well, why not? Because while I prefer "enthusiast grade" radios, sometimes it's nice to check out something super-simple and purpose-built from a company I've grown to trust. Plus, it didn't hurt that Sangean actually bothered to include FM radio on what would otherwise simply be just another Bluetooth speaker.  Ah, yes; a worthy addition.
Sangean dispatched the sample radio and I received it within a few days. I was expecting something roughly on the scale of a Tivoli Model One.  Instead, when I opened the box, what I found was a radio only slightly larger than my diminutive  Muzen OTR, a little radio that fits the palm of your hand. To be fair, it could only be called…cute.
By my measurements, the tiny Sangean WR-7 is about 2 1/2″ tall, 4 5/8″ wide, and 3″ deep (if you include the tuning knob in that last dimension). It's mini by almost any standard.
For this photo I placed it next to my handy XHDATA D-808 compact radio.  And here's how they compare:
Though wee, the WR-7 feels weighty (14.4 oz), solid, and substantial in the hand.
Turns out the chassis is solid––solid wood. Sangean has two options: walnut and dark cherry. Of course, my sample is a black version which may appear later in the year.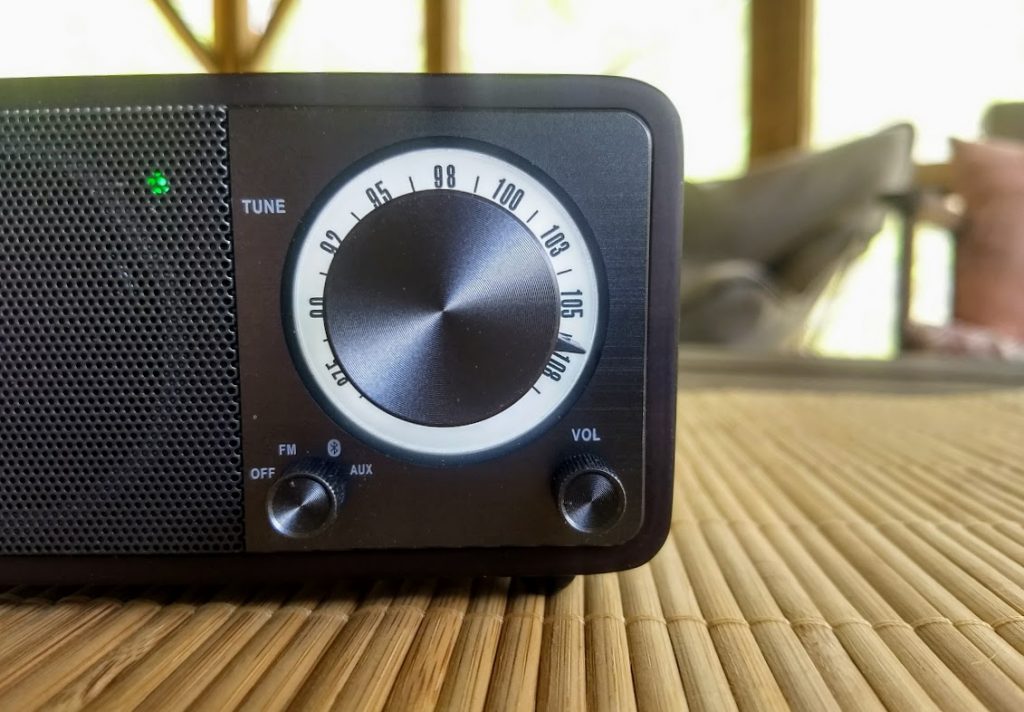 And the WR-7 is as simple to operate as it is to…well, hold in your hand. There's one knob to turn the radio on and select the source (FM, Bluetooth, or the analog AUX input), and another knob for volume.  Just as these photos show.
The tuning knob is the largest knob and moves fluidly across the dial. The analog dial is white with black frequency markings, and is backlit. From my tests, the FM dial is fairly accurate, although the frequency marking steps are a bit odd: 2 or 3 MHz increments starting at 87.5 and ending at 108 MHz.
There is a green LED lamp hidden behind the speaker grill that acts as the FM signal strength indicator. This LED turns blue when in Bluetooth mode.
Performance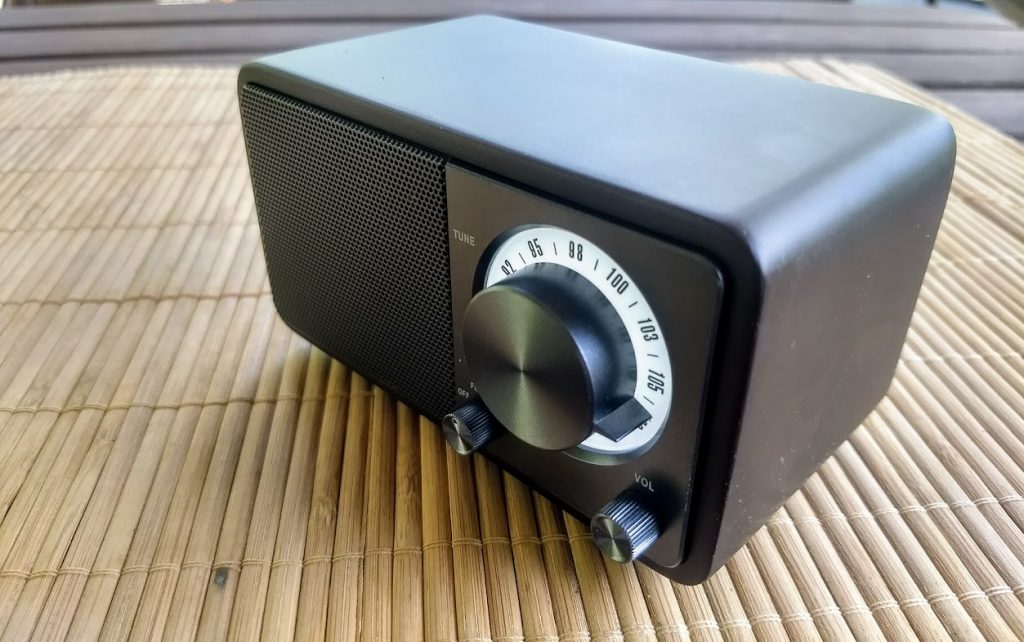 There's not a lot to report on here and, perhaps, that's why I halted my other evaluations to fit this one in. This radio needs no owner's manual (though it does ship with one). All you need is a USB charging cable––yep, the same type that likely charges your mobile phone.  And, of course, it ships with one. It also ships with a lightweight cloth-like carrying bag.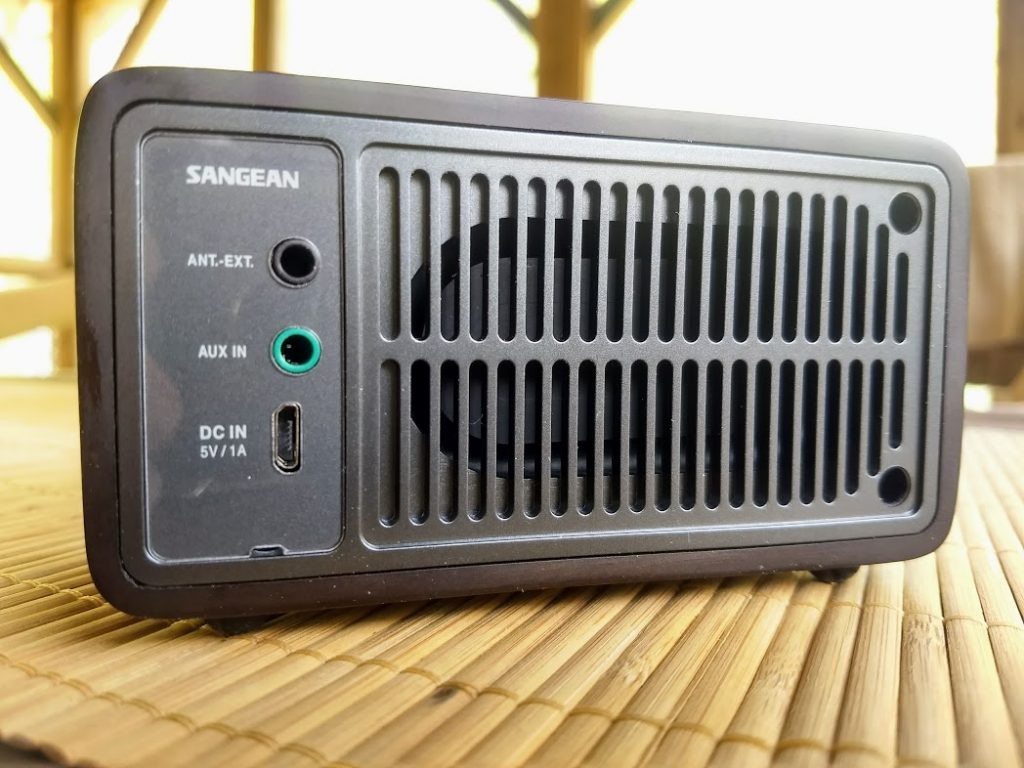 You might have noticed that the WR-7 doesn't have a telescoping whip antenna.  That's okay, because it also ships with an external wire antenna (which I actually prefer on this type of mini tabletop radio).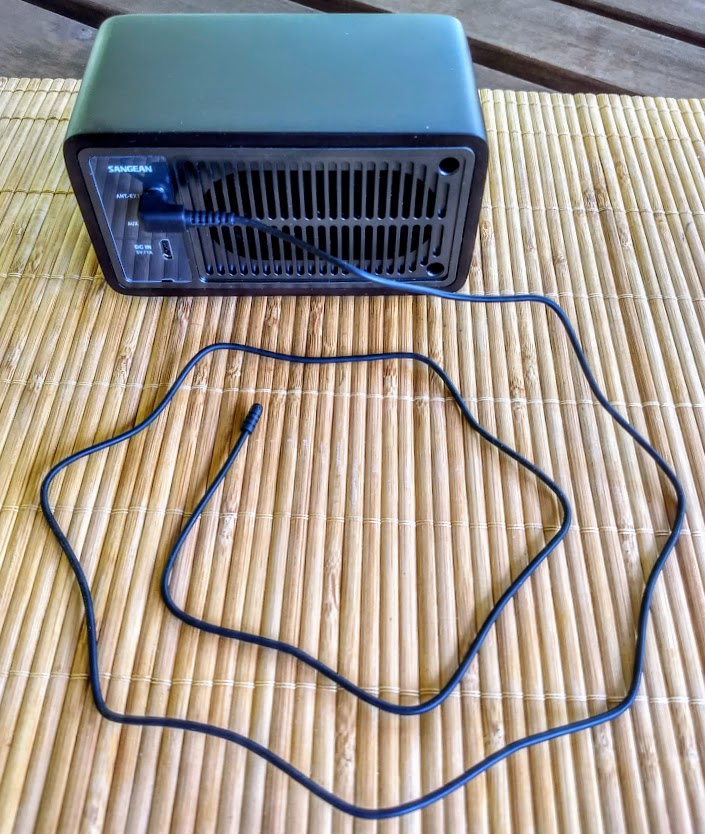 The WR-7 has an internal 2600 mAh Lithium-Ion Battery that provides this tiny rig with up to 36 hours of operation between charges. While I haven't tested this claim yet, I can tell you that its battery life is incredibly good––especially acknowledging that the audio amplifier must be using quite a bit of the battery.
FM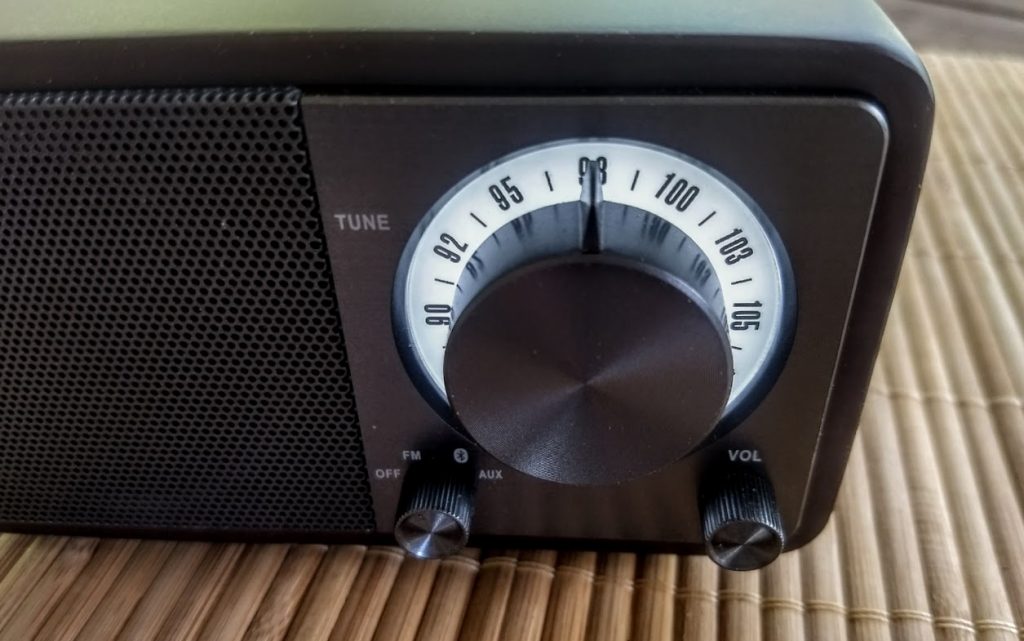 The WR-7 receives the FM broadcast band from 87.5 to 108 MHz.  While the dial is analog, I know there's a DSP chip inside because I can hear frequency steps while I tune across the band. There is no muting between frequency steps, so the experience of tuning feels somewhat analog. As I mentioned earlier, the dial layout is a little quirky, but overall the frequency markings are pretty close to accurate. I found my benchmark stations with little difficulty.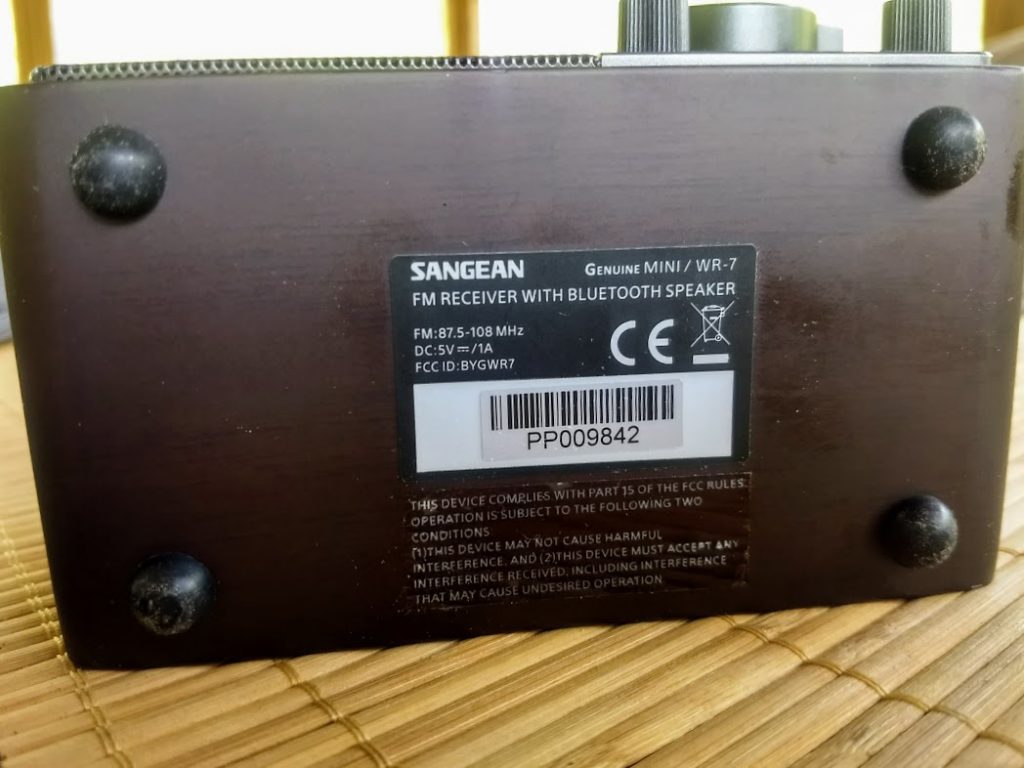 In terms of sensitivity, the FM receiver is quite good in the WR-7.  I could receive almost all of my local stations with the external FM antenna connected. Of course, you'll want to connect the FM wire antenna.
With the external antenna connected, I could receive all of my benchmark distant and weak stations as well on the WR-7. While reception is very good, it isn't quite as good as on my XHDATA D-808, C. Crane CC Skywave SSB, or Tecsun PL-660––the lock isn't quite as stable––but I probably could have tweaked this by moving the external wire antenna.
Audio fidelity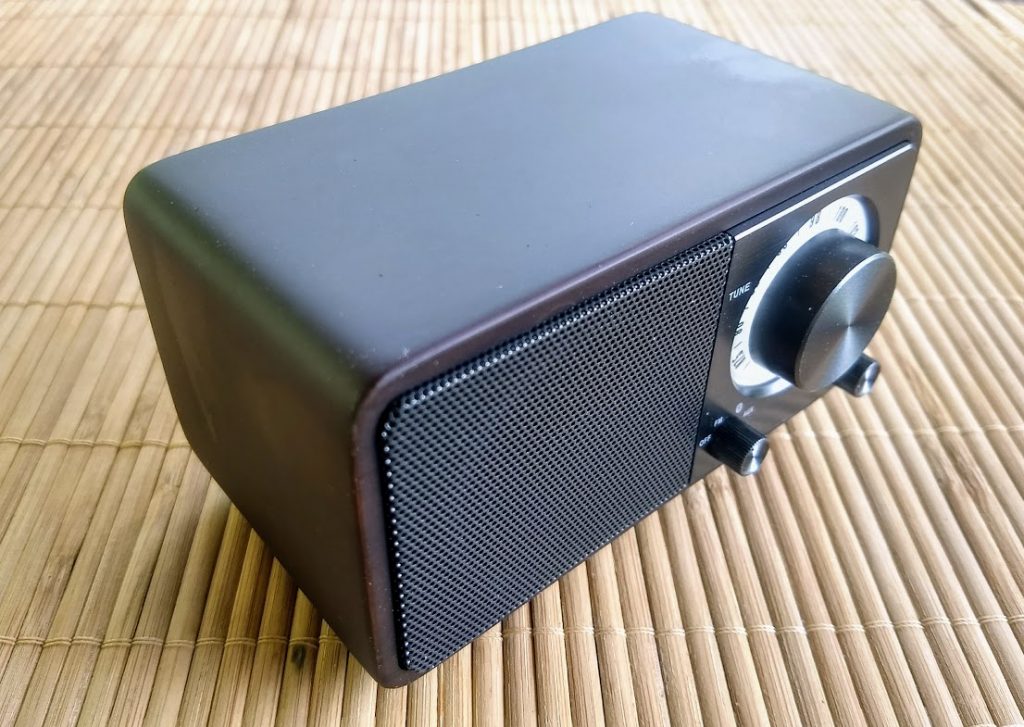 Thing is, with even a decent FM signal, you'll be mighty impressed with the audio fidelity of the WR-7. It easily manages to sound like a radio three to four times its size. Truly, the bass that emanates from this tiny speaker is incomprehensibly deep–only limited by the size of the acoustic chamber.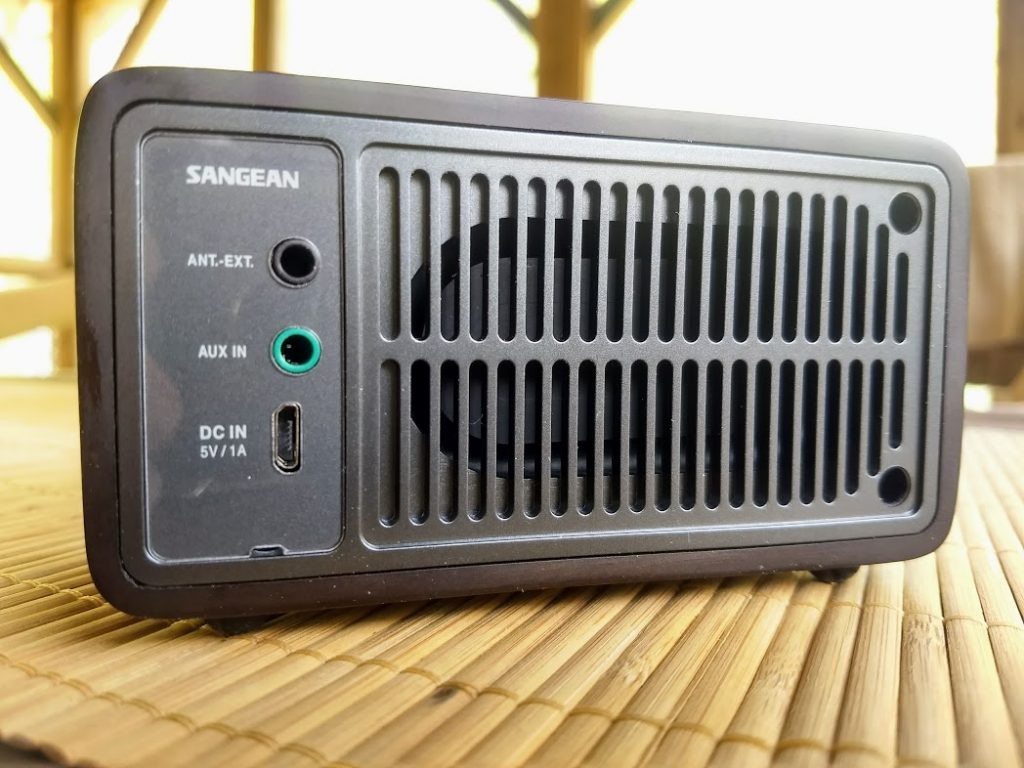 The sound is rich and room-filling when the volume is turned up.
And speaking of turning up the volume, this is one little radio you'll probably peg at its highest volume setting from time to time. In fact, I rather wish this radio would allow the volume level to reach even a notch higher…but I expect this was a design choice at Sangean. With the volume turned up all the way, the sound is room-filling, but not distorted. While testing the WR-7, I tuned it to a variety of stations and played a wide range of music through it via Bluetooth: I never noticed bass-heavy songs distorting the audio. I suspect if the volume could be increased even further, the audio would indeed distort a bit.
In short: though you might occasionally turn up the volume on the WR-7 all the way, you'll be pleased with the results––even across the room!
Bluetooth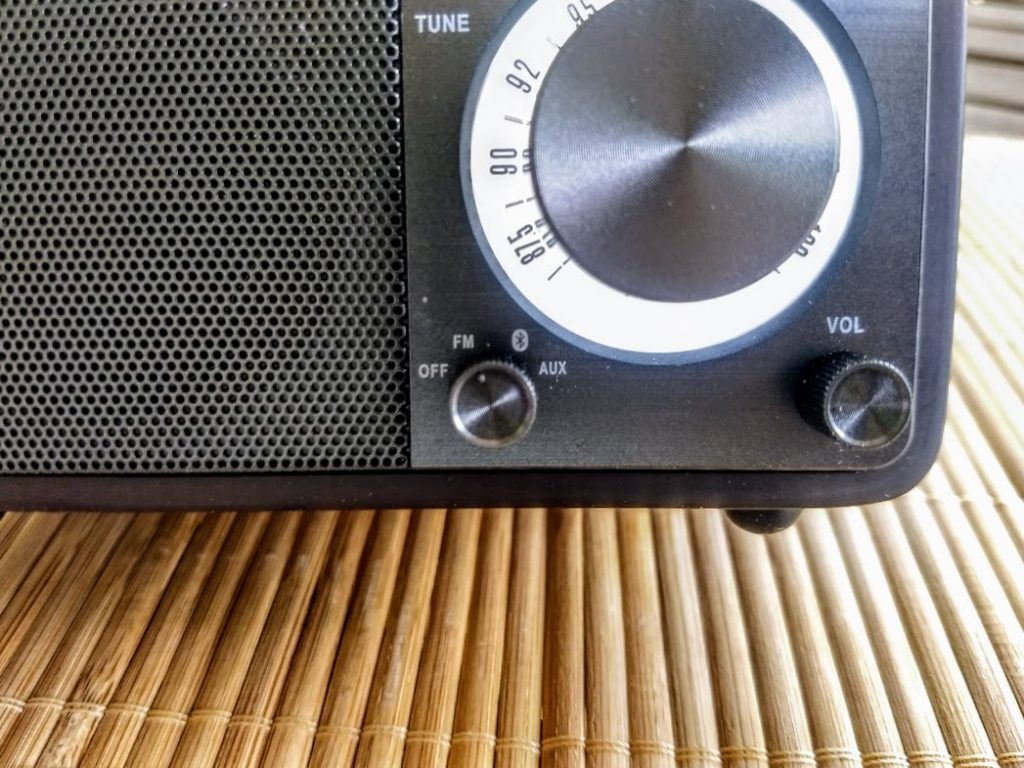 I'm not sure what to say about Bluetooth; to me this is a technology that seems to work quite well for wireless connections between mobile devices. The WR-7 has built-in Bluetooth Technology Version 4.1, and it worked flawlessly with all of my mobile devices as well as my shack's PC.
For a full week, I used the WR-7 as the speaker for my shack computer, and it was most impressive. In fact, it makes for a nice compact external speaker to pair with my SDR applications. AM audio, piped through Bluetooth into the WR-7, is a treat.
For a few nights, I even streamed OTR productions of "Buck Rogers in the 25th Century" with my shack computer, connected to the WR-7 via Bluetooth. The WR-7 was actually in the adjoining room, yet the Bluetooth connection was strong and never dropped the audio. The resulting sound was nothing short of amazing: if you closed your eyes, it almost sounded like a valve set from 1939.
And that's another thing about the WR-7 worth noting: It's so small and so simple in design, it fits in anywhere, and isn't in the least obtrusive, all while filling the room with its warm, rich sound.
Summary
Every radio has its pros and cons. When I begin a review of a radio, I take notes from the very beginning so that I don't forget some of my initial impressions. Here is the list I formed over the time I've spent evaluating the WR-7.
Pros: 
Superb, room-filling, rich audio especially considering its very compact package
Very good FM sensitivity
Internal battery powers it for dozens of hours between charges
Easy to recharge via any 5VDC USB source
Easy Bluetooth connection and brilliant audio
Simple operation
Cons:
Volume and selection knobs could be slightly small for some users' hands
Volume range more limited than most, upper volume capped
Although it does come with a nice lightweight carrying pouch for traveling, you might wish for a little extra protection in a suitcase or carry-on bag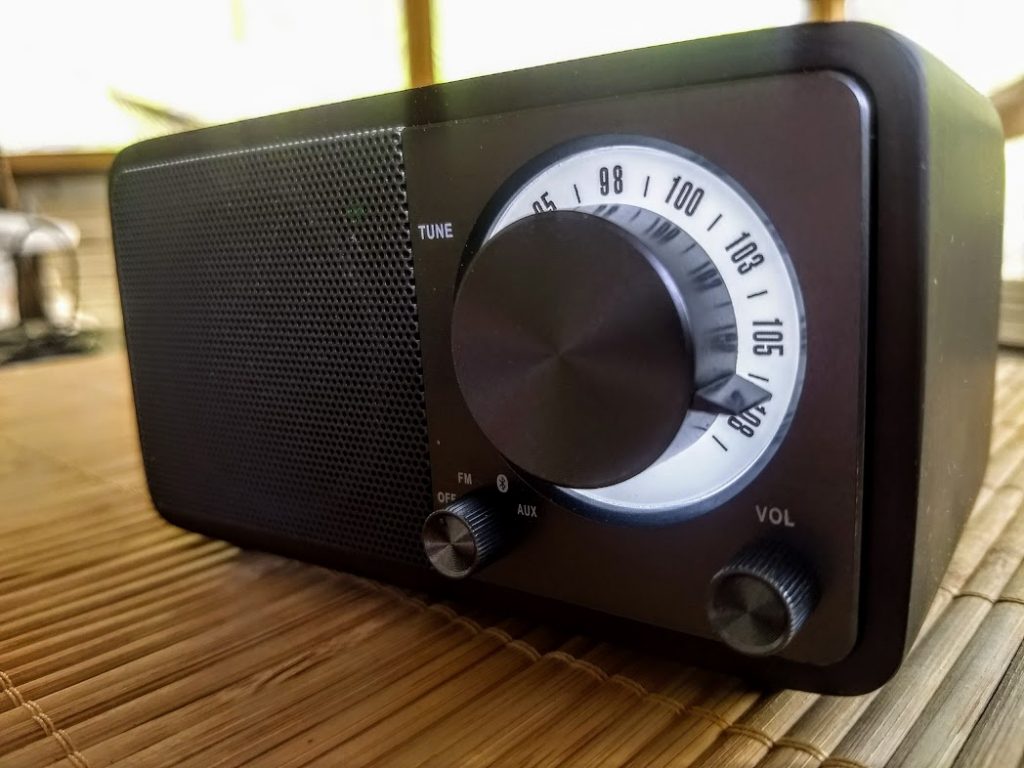 Radios like the Sangean WR-7 give me hope that consumer electronics might be heading back in what is, in my humble opinion, the right direction: that is, toward quality.
The WR-7 is really a quality piece of kit: it has a solid feel (imparted by solid wood), has an acoustic chamber that produces excellent audio, and you can tell that the FM receiver wasn't simply an "add-on" feature, as it works quite well.
While you won't see many radios like this reviewed on the SWLing Post, I'm glad I agreed to take on this one.  It was an fun exercise, and reminded me why I love doing radio reviews: sometimes these digital marvels really surprise me. That, and I'm enough of a radio and consumer electronics geek to bask in the indulgence of pure listening!
Good one, Sangean! Accolades!
Click here to view the Sangean WR-7 on Amazon.com (affiliate link).