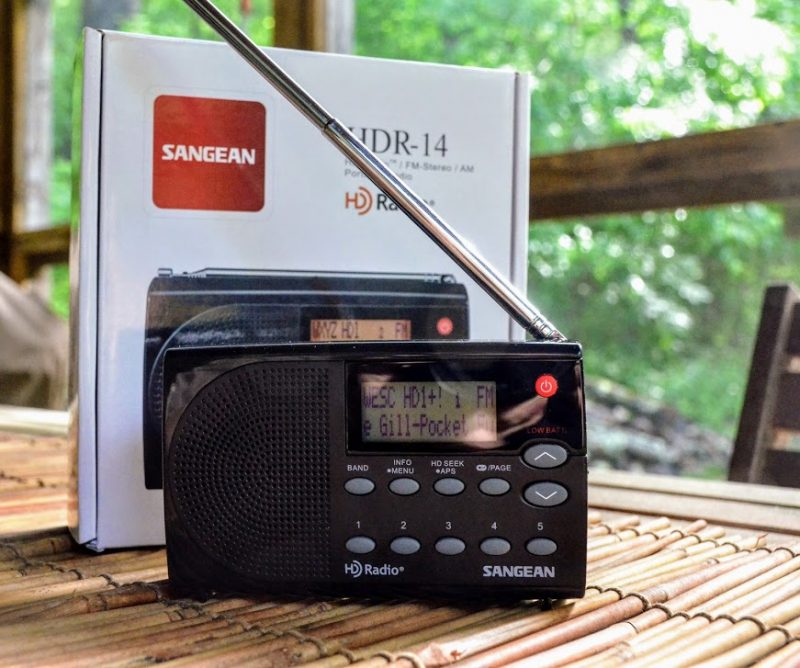 Late last year, we learned that Sangean was planning to introduce a small portable HD radio to their product line: the Sangean HDR-14. Readers were excited about this release––indeed, I've received more inquiries and comments from readers about this radio than about any other HD radio.
While there have been numerous portable FM HD radios on the market over the years, there have been very few compact HD portables that can also pull AM HD signals from the ether. Shortly after Sangean made their announcement that the HDR-14 was forthcoming, I contacted them and requested a review unit. They sent me a review sample from the first production run in May.
Due to my exceptionally busy schedule this summer, it's taken me longer than I'd like to  be able to write up a complete review. On the plus side, while I've not had a chance to sit down and write, I have had time to listen; thus I've had more on-the-air time with the HDR-14, with the result that my review is built on nearly three months of use.
Initial impressions
The HDR-14 has a practical AM/FM portable radio design: the front panel features a backlit display, speaker grill, power button, memory preset buttons and a few other buttons to control essential functions like tuning, HD mode/channel selection, band, and information display toggle.
Like most similar Sangean radios, the chassis is a hard gloss plastic finish, while the front panel is mostly matte. The buttons are raised and have a pleasing tactile response.
On the left side of the radio you'll find a coaxial power port (5VDC with a positive tip), volume wheel and headphones jack. I do wish Sangean had used a standard micro USB port, but their alternate choice might be be a result of the fact that USB power supplies are so RF noisy…? This is, however, mere speculation on my part.
On the right side, the only feature is one mechanical key lock switch––a bonus for me, as I prefer mechanical key locks over push buttons.
On the back of the radio you'll find the usual silk-screened product specifications and model information. You'll also find the large battery compartment cover which easily slides open to reveal positions for three AA cells.
The telescopic antenna is sturdy and about twenty-five inches in length, fantastic for FM radio reception.
One unique feature of the HDR-14 is that it doesn't have a tilt-out stand on the back, rather a foot that swings out from the bottom/base of the radio. The foot gives the HDR-14 excellent stability while standing up, say, on a night stand next to the bed. Brilliant addition, Sangean!
Features and specifications
For such a compact portable, the HDR-14 sports a compliment of features:
HD Radio digital and analog AM / FM-Stereo reception
40 Memory Presets (20 FM, 20 AM)
PAD (Program Associated Data) Service
Support for Emergency Alerts Function\
Automatic Multicast Re-Configuration
Real Time Clock and Date with Alarm and Sleep Function
2 Alarm Timer by Radio, Buzzer
HWS (Humane Wake System) Buzzer and Radio
Snooze Function
Information Display for Channel Frequency, Call Sign, Radio Text, Audio Mode, Service
Mode, Signal Quality and Clock Time
Easy-to-Read LCD Display with Backlight
Low Battery LED Indicator
I/O Jacks: DC In, Headphone and HD / FM Rod Antenna
The clock and alarm features make the HDR-14 ideal for travel. Sangean's "Human Wake System" is one of the best wake up alarm systems I've ever used on a radio: the buzzer alarm sound will slowly increase in volume for 1 minute, then stop for one minute of silence, and repeat up to one hour. Of course, this will wake most of us on the first go. If not, it's patiently persistent, but a gentle way to wake:  I like this.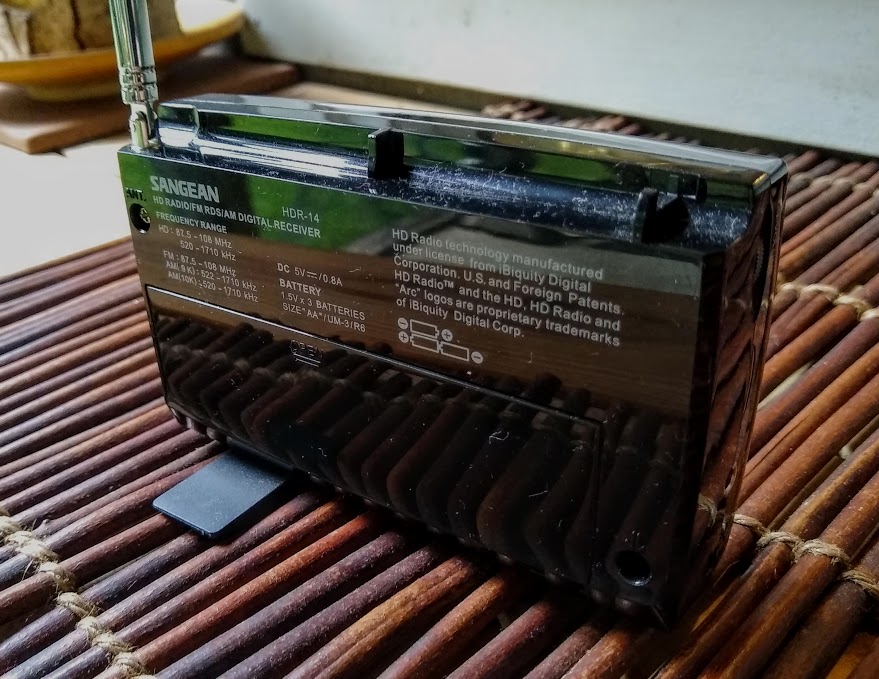 The internal speaker is well balanced though it lacks any notes of bass. Still, music is quite pleasing, and the spoken word sounds brilliant and clear. Note that my expectations for audio fidelity are always fairly low from radios in this size class (although the Sangean  WR-7 showed me that compact radios are capable of amazing fidelity).
Operation
Tuning the radio and storing frequencies to memory are each straightforward and simple.
Keep in mind, however, that the Sangean HDR-14 can receive both AM and FM radio in analog and HD. On either band, if you tune to an analog station with accompanying HD channels that can be received, the HD Radio logo will flash on the display, indicating that the signal is blending from analog to digital. Once the radio locks onto the HD signal, the HD Radio logo on the display will cease flashing and appear steady.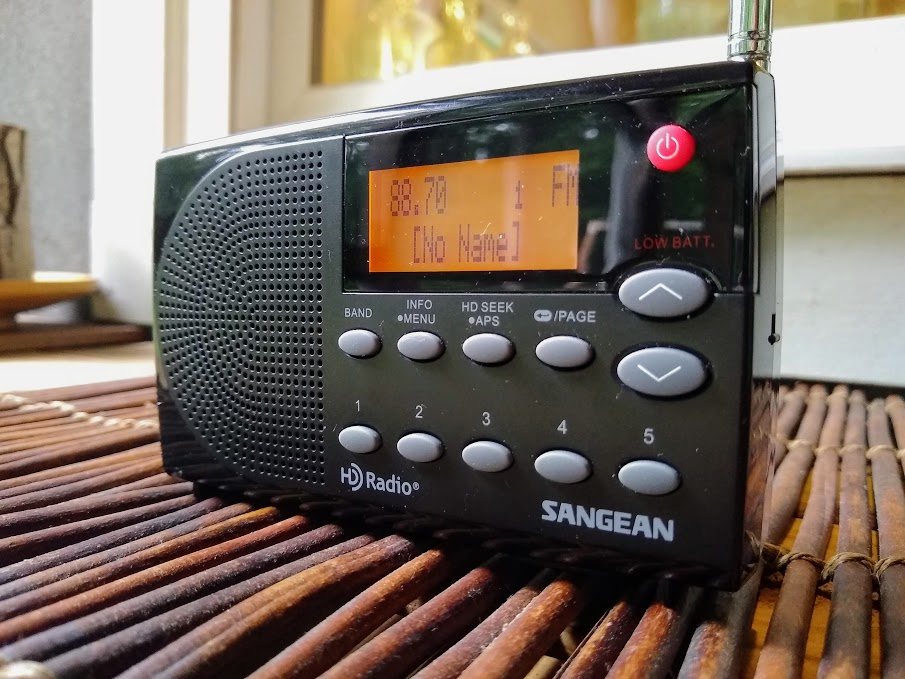 Saving a station to a memory is simple: 1) tune to a frequency, use the page button to select the desired memory page of five presets; 2) press and hold the button where you would like to store the frequency, and when you hear a beep, the station has been stored. If you chose, for example, the third page and first memory position, "31" (indicating "page 3" and "memory 1," respectively) will appear on the top line of the display. After entering your presets, you can then recall a station by selecting a page and simply pressing the preset.
The HDR-14 does have a useful "HD Seek" function that searches for HD signals automatically. In addition, there is an HD Auto Preset System that will scan the band for HD signals, then auto-store them in memory presets according to their signal strength. The first memory on the first page will be the strongest station received.
If the HDR-14 acquires an HD station that multicasts (and in my market, most do), the display will note "HD1," "HD2," or "HD3," based on the number of multicast HD signals per broadcaster. You can flip through these with the tune up/down buttons once the display indicates multicast signals.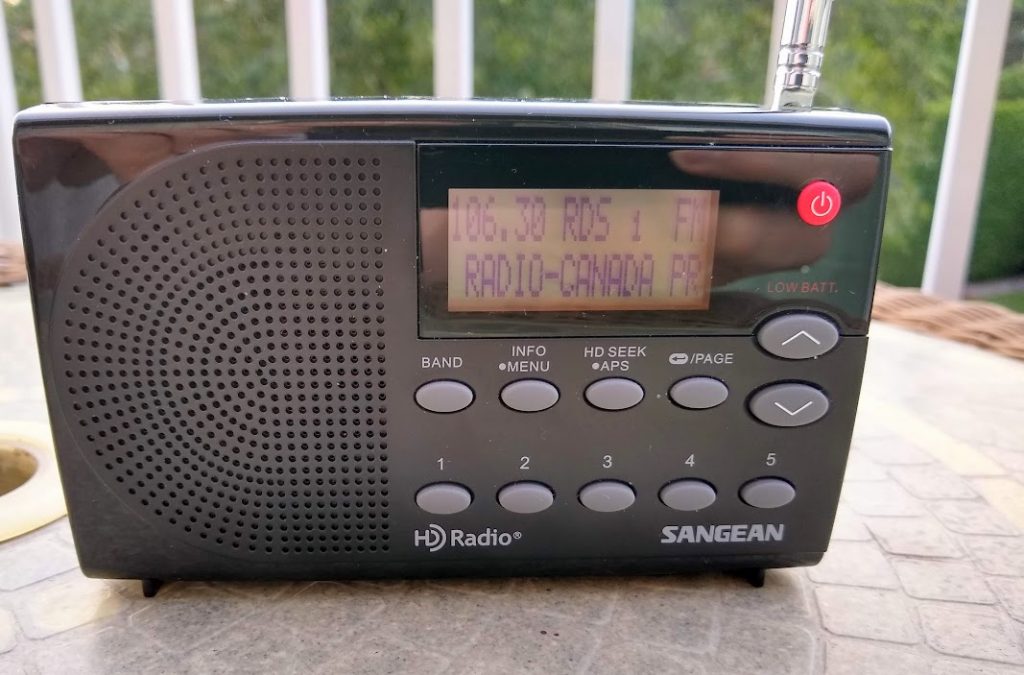 The HDR-14 also features an alpha-numeric RDS system which makes identifying the station and even their programming/music quite easy. I find that the RDS decode is quite good: it works on even marginal FM signals.
Performance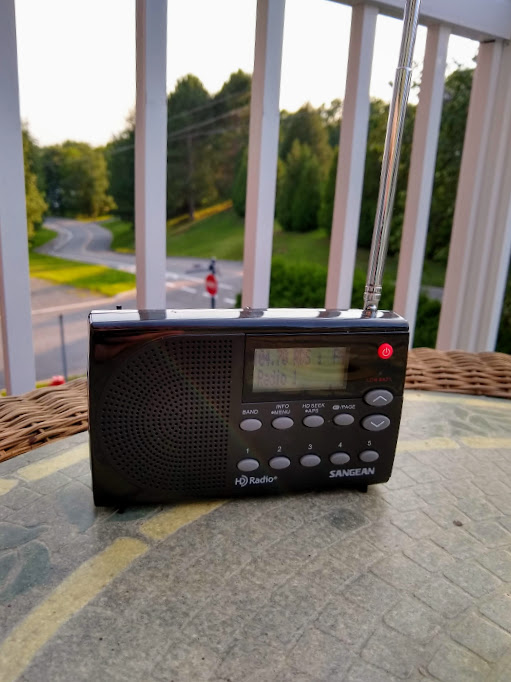 The last Sangean HD radio I reviewed was the HDR-16, and I was impressed by its performance. As you can imagine, my hope was that the HDR-14 would pack the HDR-16's performance in a smaller package…So, did it?
Let's just say it comes quite close.
The HDR-16's analog AM broadcast band performance is, overall, better than that of the HDR-14. The HDR-14 isn't poor, but its noise level is slightly higher than the HDR-16's. I can't say I'm disappointed with the HDR-14's analog AM performance, however; it's just what one would expect. I do wish it had impressed me.
I've only received one AM HD signal with the HDR-14, so I can't comment on the AM HD performance other than to say I was impressed with the steady HD lock. I listened to WWFD in Germantown, MD:  I could receive the station both day and even at night when power output was decreased dramatically. I find that AM HD sort of boggles the mind; it's odd listening to a clear, static-free signal on the AM dial.
Click here to view on YouTube.
I've had several SWLing Post readers tell me they were impressed with the HDR-14's ability to acquire AM HD signals. One reader added that it's the best he's ever used…wow! As I travel this year, I hope to snag a few more AM HD signals myself.
The HDR-14 is a very sensitive FM analog receiver. I find that I can receive all of my benchmark local and distant analog FM stations. The HDR-14 seems to be every bit as good as the HDR-16 in terms of sensitivity.
One caveat is that when I tune to an FM analog signal which happens to be adjacent to a strong FM station, sometimes the strong adjacent station bleeds into the audio. FM selectivity isn't as good as the HDR-16.
In terms of FM HD performance, you might recall that in my review of the Sangean HDR-16, I mentioned that one of my benchmark distant HD FM stations is WFAE HD2. WFAE's transmitter is just over one hundred miles from my home shack, and I'm well outside even the the fringe reception area. I'm pleased to note that, on more than one occasion, from my porch, I've gotten a reliable HD lock on WFAE with the HDR-14. I'm convinced that when the leaves fall off the trees this fall (they do attenuate signals) reception will be fairly near to reliable.
While waiting for a block of time to pen this review, I've spent a lot of time tuning to FM HD signals in a least five different urban and regional markets in two countries. And I can say I'm very impressed with reception; the HDR-14 seems to snag every available HD signal.
Summary
Every radio has its pros and cons. When I begin a review of a radio, I take notes from the very beginning so that I don't forget some of my initial impressions. Here is the list I formed over the time I've spent evaluating the HDR-14.
Pros:
Excellent overall FM Analog and HD performance
Excellent AM HD reception (a stand-out for pocket sized HD receivers)
40 memory presets
Built-in speaker has first-rate fidelity for spoken word and music (see con)
Uses standard AA cells
Excellent build quality
Gentle but persistent alarm
Useful swing out stand for bedside listening and alarm usage
Compact form factor, ideal for travel
Cons:
AM analog performance is acceptable but not for weak-signal work
FM Analog selectivity is mediocre, some strong adjacent station bleed-through
Built-in speaker lacks bass response, so not optimal for all music listening (see pro)
Conclusion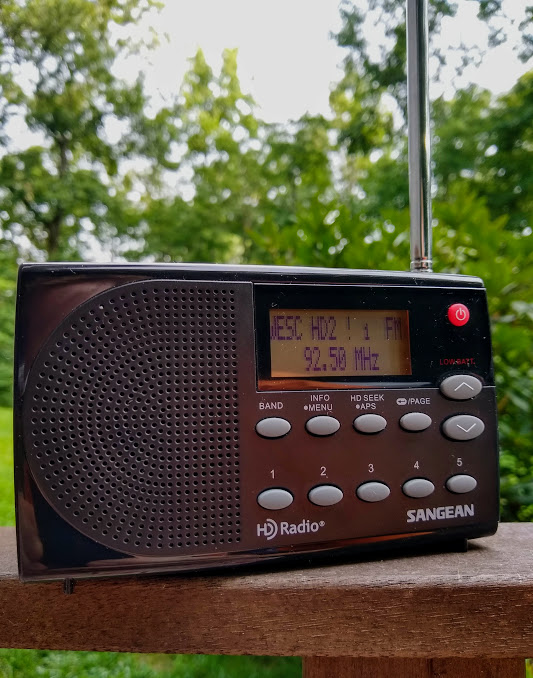 While I have mixed feelings about digital radio in general––but especially In-band on-channel (IBOC) HD radio––I do love exploring all that over-the-air radio has to offer. Like it or not, HD radio is a part of that landscape for the foreseeable future.
HD Radio has opened up a few alternative music stations that otherwise I'd never have discovered in my local market. In addition, I find that NPR and public radio stations often multicast commercial-free talk, jazz, and classical music, which makes HD Radio a worthy addition at home and while I travel. In large urban markets, HD Radio certainly increases the number of available commercial options sometimes by a factor of two or possibly more.
If you like chasing AM and FM HD signals, you'll be very pleased with the HDR-14. It's first rate, and I recommend it.
I'll close by adding that I continue to be impressed with Sangean as a company.  They've always been one of the quality leaders in the portable radio marketplace, and still make products with the radio enthusiast in mind––something of a rarity these days. I always look forward to seeing what they'll come up with next!
The Sangean HDR-14 can be purchased at a number of retailers including:
Click here to check out the Sangean HDR-14 on Sangean's website.