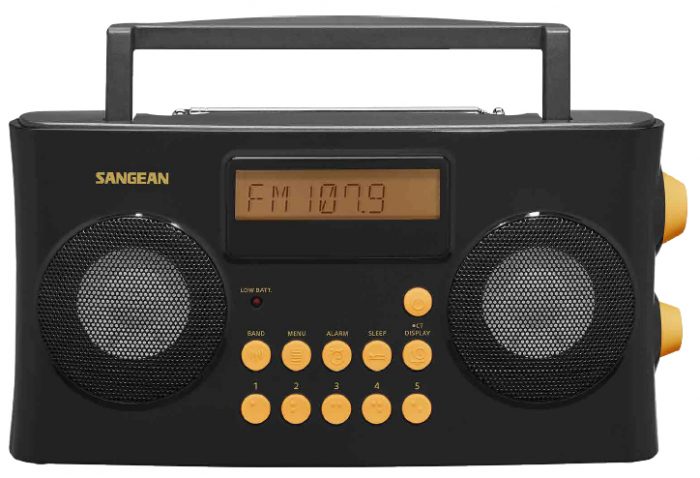 Many thanks to SWLing Post contributor, Doug Hunsinger, who notes that Universal Radio is now shipping the Sangean PR-D17.
The PR-D17 has a unique design to make operation easier for those who are visually impaired. Per Universal Radio:
It has high-contrast, large yellow rotary tuning and volume control knobs, preset buttons with raised symbols to aid in identification and thoughtful voice prompts of all controls that announce all functions in English or Spanish.

It has a large and easy-to-read backlit LCD display that highlights RDS information, frequency, signal strength, battery status and alarm symbols. It has a 200 mm ferrite AM antenna for the best possible AM reception. The controls are very easy to use and you get 5 presets for AM and 5 for FM. And you can auto scan stations. The RDS technology can display station name, call sign, song title or other transmitted information, plus it can set the clock automatically. There is a stereo mono switch. There is a built in clock timer with sleep function and humane wake up system to buzzer or radio. The left side of the radio has an auxiliary input and a stereo earphone jack. The perfect solution for the radio enthusiast who is visually impaired.
Click here to check out the Sangean PR-D17 at Universal Radio.
Doug notes that he may purchase the PR-D17 and share a review here on the SWLing Post. He is especially interested in how it might compare with similar voice prompt radio models.
Post readers: If you're visually impaired, what radio models do you prefer? PLease share your thoughts and comments by clicking here.