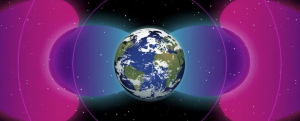 Image Credit: NASA
As an amateur astronomer & SWL enthusiast, I always find it interesting when both disciplines overlap.  I came across an article on the Internet posted by sciencealert.com of such an overlap.
The Earth is surrounded by two radiation belts (Van Allen Belts).  But something strange has been discovered.  After NASA launched a space probe in 2017 – and after analyzing collected data – the two Van Allen belts have been pushed farther away from Earth by a third "area".  That area is a "man-made barrier" created by Very Low Frequency (VLF) radio communications.
Scientists postulate this new man-made VLF barrier, a form of man-made Space Weather, has pushed the two radiation belts farther from Earth.  And as such, this has created a "protective bubble" from potentially dangerous solar discharges and their radiation streams.
For those interested, you can read the full article here..
Guest post by Troy Riedel