Many thanks to SWLing Post contributor, Dan Robinson, for the following guest post:
---

Vintage JRC Receivers in Japan Set Price Records
by Dan Robinson
While used market prices for older vintage communications receivers have been dropping significantly in recent years, prices for some classic "premium" receivers — particularly rare marine radios made by Japan Radio Company — have remained in the stratosphere.
The past year has seen a number of examples of this observable on the Japan Yahoo auction site Buyee, and in May and June of 2021 two JRC sets sold for more than $5,000 dollars each after intense bidding.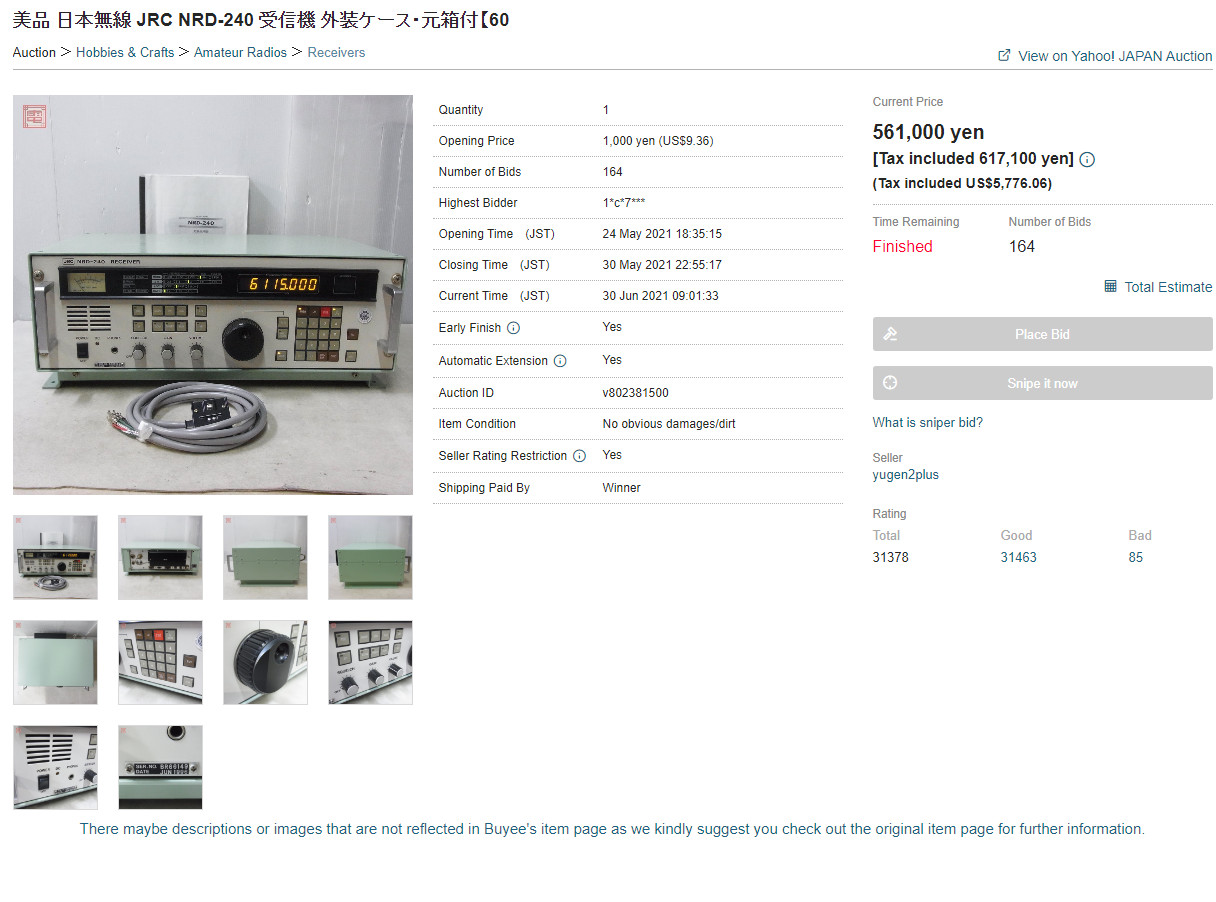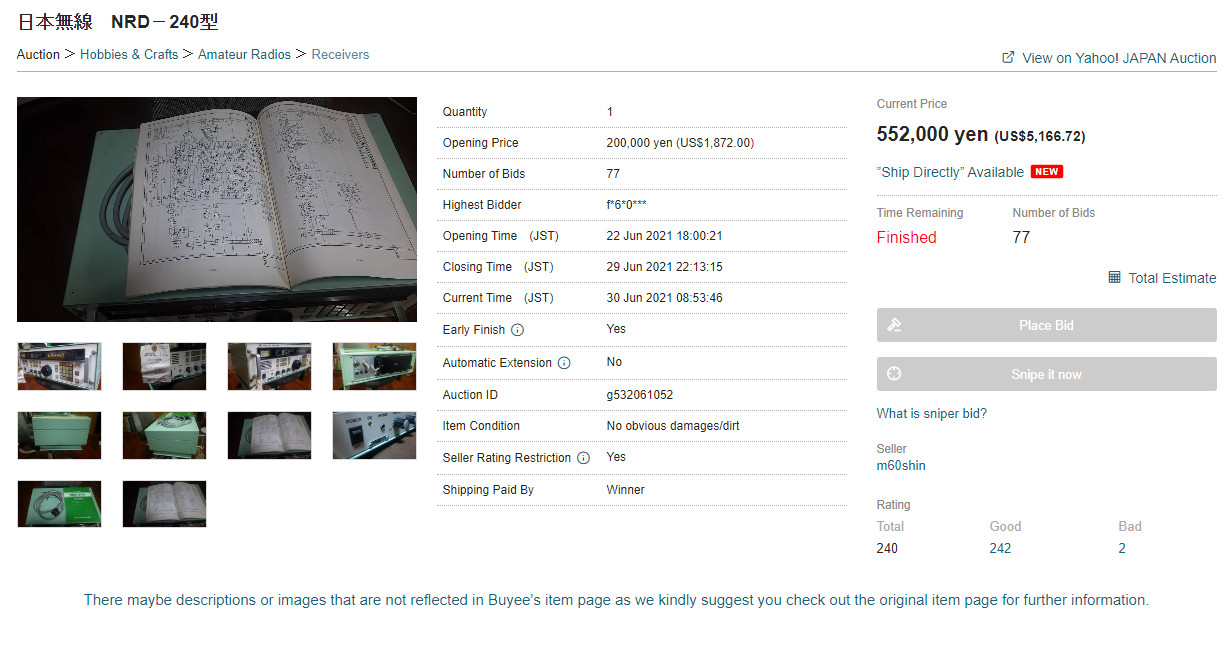 Both of these involved what appeared from photos to be mostly pristine NRD-240 receivers which came complete with original manuals and cables.
Photos
With Serial Numbers of 66149 and 50337, manufactured in 1996 and 1997, these receivers are examples of what I call "time capsules." Their condition indicates that they were both in the hands of collectors in Japan, and probably were not in regular extended service as shipboard receivers.
The first sold for $5,776.06 after 164 bids on the Buyee site, while the second went for $5,166.72 after 77 bids.
As described here in an old Universal Radio ad, the JRC NRD-240 was built for marine operations and complied with GMDSS requirements. With coverage from 90.000 to 29999.999 kHz it has 1 Hz display in LSB, USB, AM, CW, and FSK (RTTY) modes. Like many JRC marine receivers it had a front panel selectable 2182 kHz emergency channel. Bandwidths include: 6, 3, 1 and 0.3 kHz with 100 channels, scan/sweep, along with a switchable AF Filter, NB, Lock, Keypad entry, built in speaker, Squelch, BITE, Dimmer and AGC selection.
In the lineup of the most sought after JRC marine receivers, the NRD-240 is listed in the famous guide book by Fred Osterman "Shortwave Receivers Past & Present" on Page 222, as well as on the cover of the book. The price tag is $8000. The receiver was also the subject of a review by in the former Passport to World Band Radio in 1991.
Historically, the NRD-240 was replaced by the JRC NRD-301A, which itself was later replaced by the super-rare NRD-302A, and still later the NRD-630. In terms of rarity, at this point based on my following of the premium receiver used market, the most rare of the JRC marine sets are the NRD-95, followed by the NRD-630 and 301 series.
When bidding gets furious for radios like this, it can take one's breath away and that was certainly the case with these two NRD-240s. How many more like these, in this condition, may remain in the hands of collectors is, of course, not known.
The rarity of certain receivers can be measured also by the number of user videos showing up on You Tube. There are many of the NRD-92/93 receivers, even some of the NRD-630, and a few showing much older JRC sets such as the NRD-73. I have yet to find a video showing a NRD-240 in operation.
The Japan Buyee site (which sometimes also has receivers that are not physically located in Japan) has a seemingly constant flow of these amazing vintage JRC sets, along with other premium rigs. Photos of the two NRD-240s that sold in May and June are posted with this article (above).