Many thanks to SWLing Post contributor, Jock Elliott, who shares the following guest post:
---
The Essential Listening Post
By Jock Elliott, KB2GOM
Listening to shortwave radio (or any radio, for that matter) is just plain fun.
So what do you need to get in on the fun?
A radio. With today's crop of portable SW radios, many of which have search and store capabilities, a newbie SWL can get started quickly without a lot fuss and bother and no extra stuff. Just hit the search and store function (it has different names on different radios), let the search function do its thing, and step through the memories to see what's out there. If your radio doesn't have search and store, you can just tune around to see what's currently broadcasting or, if you have a computer or smart phone, use it to explore one of the online directories like https://shortwaveschedule.com/
What follow next are some things that I've found increase my enjoyment of SWLing.
A log book. I use a dirt-cheap student's composition book. I write down the date, the time, the frequency, and what I heard, including the identity of the station and some description of the content of what I heard. Sometimes I note programs I want to listen to in the future.
A clock, set to Universal Coordinated Time (UTC, formerly Greenwich Mean Time, also known by the military as Zulu time). You want that because UTC is what all the shortwave station schedules are based on. Fortunately, many of the modern portables have a built-in clock. Just set it to UTC. You can hear the current UTC by listening to the time stations on 5, 10, 15, or 20 megaHertz. There is also a time station on 3330 kHz. (And there are other time signals out there, perhaps some of the commenters below will chime in with their frequencies.) Checking the time stations will also give you an idea which bands are offering the best propagation.
An external antenna. While an external antenna is not a necessity (many portables offer worthy performance without one), but it is nice to have one available when signals are faint; it will boost the signals you can hear. Many portables, like my Tecsun PL-880 and CCrane Skywave SSB, come with a wire accessory antenna – usually around 20 feet long or so – that can be clipped to the whip antenna or plugged into a dedicated antenna socket. If your radio didn't come with an accessory antenna, you can quickly and cheaply create one. Start with 20 feet of insulated wire and attach an alligator clip to it. Next, clip the assembly to the whip antenna on your portable radio. That's it. If you can, run it around near the ceiling of the room on the tops of window frames and bookcases and see how it works. If you have the ability to feed it out a window to a tree or dangle it from a balcony, great, but remember to bring it in when foul weather threatens. Never, ever, place an antenna where it could fall on a power line or a power line could fall on it.
An atlas. It gives me particular pleasure to listen to shortwave (or hams for that matter) and to consult an atlas to look at the country where the signal originates. If you have a smart phone or computer, you can use an online atlas, but I prefer a paper atlas.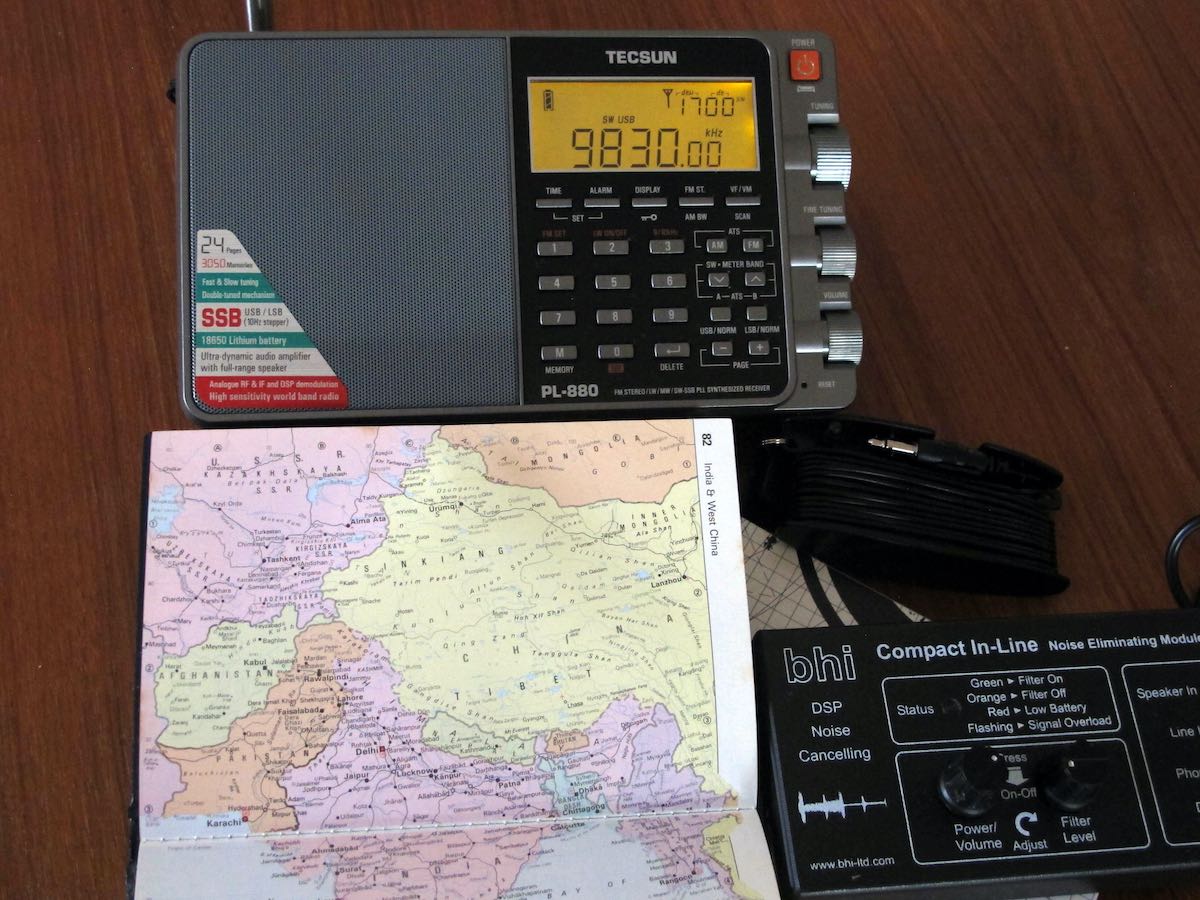 The next items are definitely in the "luxury" accessory category.
If you can't get enough of radio monitoring and want to beyond shortwave into the VHF and UHF frequencies, a scanner can do just that. I've had good luck with the relatively inexpensive Uniden BC125AT. It receives on analog frequencies and does a good job monitoring transportation frequencies, such as aircraft, maritime, and railroads.
Perhaps the ultimate "goodie" for radio listening is a digital signal processing (DSP) device. DSP units, in general, are expensive. Recently, I tested the BHI Compact In-Line Noise Eliminating Module and I found that it works really well for reducing noise and making listening more enjoyable.
Finally, many radio monitors sing the praises of small loop antennas for offering superb signal capture and improving the performance of their listening posts. I have no direct experience with them, (yet!) but there is a wealth of information about them here: https://wiki.radioreference.com/index.php/Loops
Now it's your turn: what, in your opinion, is essential for your listening post? Please comment!