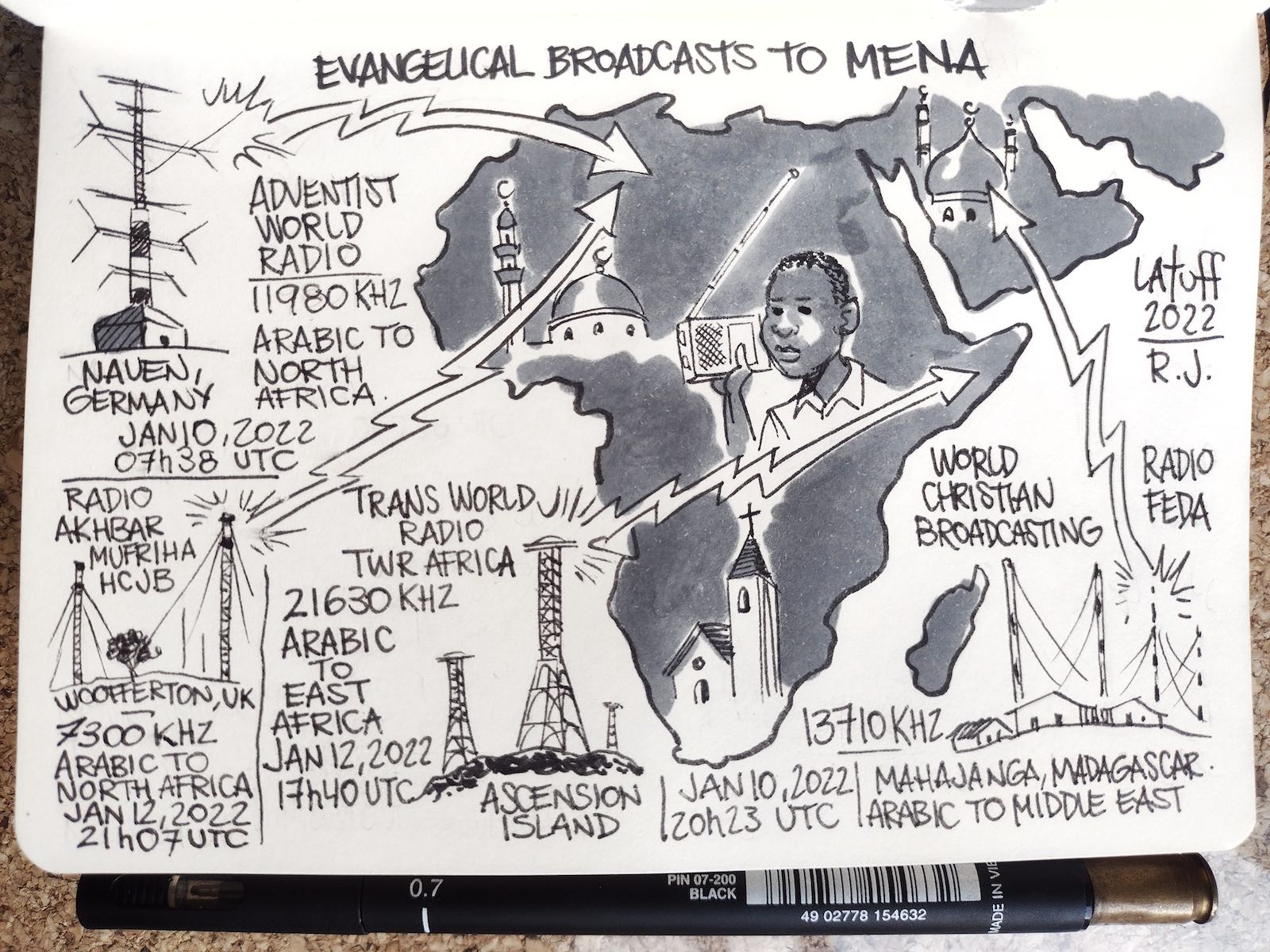 Many thanks to SWLing Post contributor and political cartoonist, Carlos Latuff, who shares the following guest post:
---
WINNING HEARTS, MINDS AND…SOULS!
Catechizing via shortwave.
by Carlos Latuff, special for The SWLing Post
During the Vietnam War (1955-1975), the expression "hearts and minds" became popular and referred to the US government's strategy to gain allies among the South Vietnamese against the Vietcong guerrillas. Over the years this strategy has been used in different contexts. What I'm going to talk about in this short article is how the radio waves have served Christian evangelical churches, to win hearts and minds, specially in Africa and Middle East (MENA).
Different from what I did with the Ethiopian clandestine broadcasts, when I spent around 3 months monitoring, with evangelical radios it took only two days in January 2022; quite simple, since they're stations with regular programming. Most of them have good signal reception, there's no jamming from other countries and, despite transmitting in different languages, little translation was necessary since the content is always the same: religious preaching.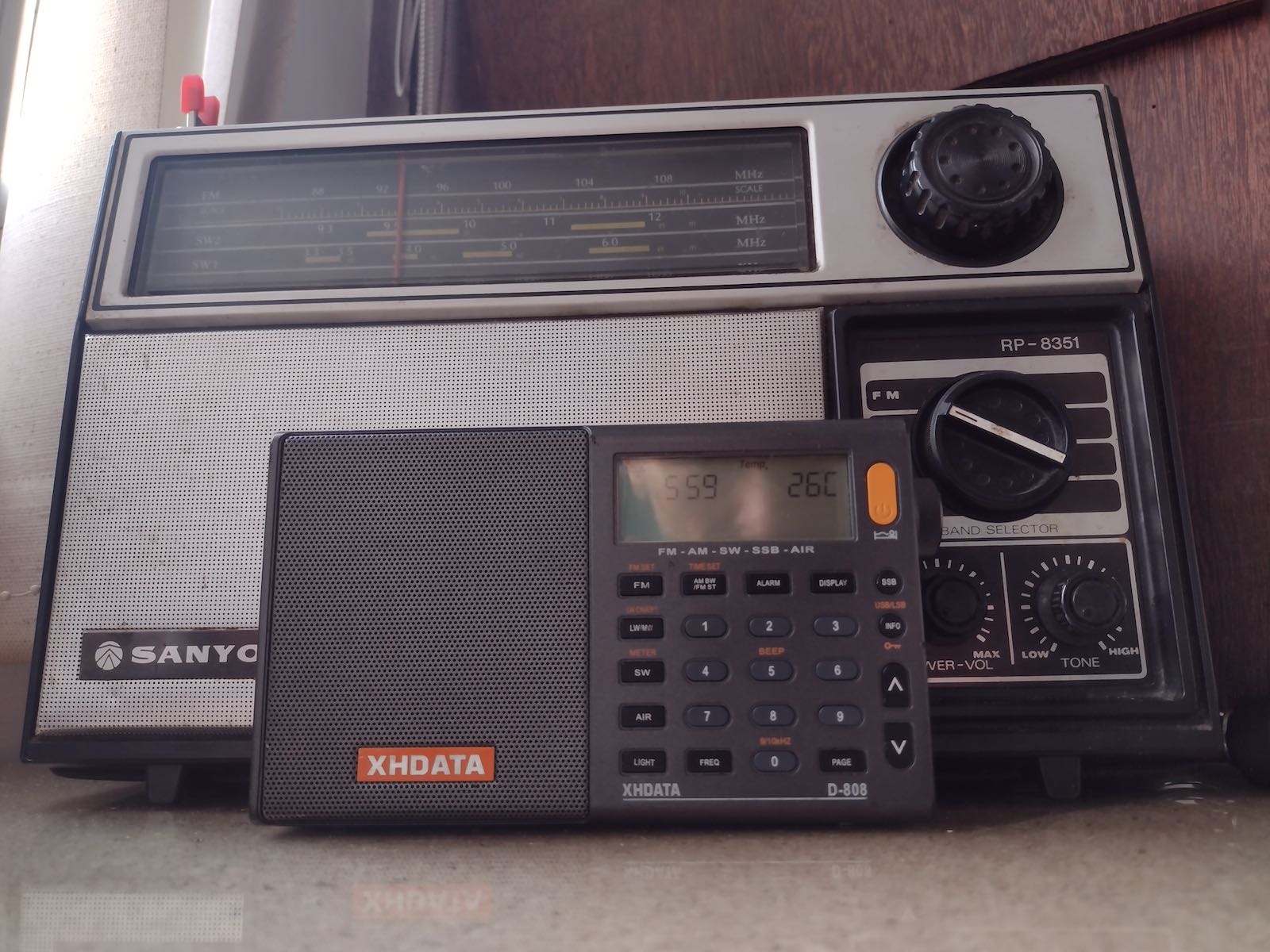 All listenings happened in Rio de Janeiro. The radio sets used in this monitoring were the XHDATA D-808 and an old analog radio Sanyo RP-8351, made in Brazil in the 70's. A 7-meter long wire antenna was used in all listenings.
I chose 4 stations that broadcast Christian religious preaching for MENA:
Adventist World Radio, 11980 kHz (broadcasting in Arabic from Nauen, Germany, 1 hour every day).
World Christian Broadcasting (Radio Feda), 13710 kHz
(broadcasting in Arabic from Magajanga, Madagascar, 1 hour every day).
Trans World Radio (TWR Africa), 21630 kHz (broadcasting in Arabic from Ascension Island, 30 minutes, working days only).
Radio Akhbar Mufriha HCJB 7300 kHz (broadcasting in Arabic from Woofferton, UK, only 15 minutes every day).
Except Akhbar Mufriha radio, the others belong to evangelical churches based in the United States.
Click here to listen/watch on YouTube.
Stations like Adventist World Radio broadcast in several languages spoken in Africa. Trans World Radio even has programming aimed at the African continent (TWR Africa), however my choice for programs broadcasted in Arabic is that they're aimed to countries where the predominant religion is Islam. Taking into account that half of the population of Africa is Christian and the other half Muslim, these broadcasts fulfill two goals: directing programming for the Christian community in these regions and trying to convert Muslims to Christianity, the catechesis via radio waves.
Despite having access to the most modern communication equipment money can buy (TV stations, satellites, Internet) large evangelical organizations continue to invest heavily in traditional radio waves in order to convert people in the most remote regions of the African continent, where radio is king.
The strategy of hearts, minds (and souls) have never been so current.