I was recently searching for my review of the Tecsun H-501x on the SWLing Post to send to a reader when I realized I had not yet published it here! Let's fix that…
The following review of the Tecsun H-501x was originally published in the November 2021 issue of The Spectrum Monitor magazine. Enjoy:
---
A review of the Tecsun H-501x
by Thomas (K4SWL)
Last year [2020], we were treated to a group of new shortwave portables from Tecsun:  the PL-990, PL-330, and the H-501.
Although all of these models garnered attention from shortwave listeners, one model in particular seemed to draw the most interest, the Tecsun H-501.
No doubt, much had to do with the H-501's size––a large format portable––and especially the twin stereo speakers, that no doubt sparked the interest of those of us who owned (or wished we owned) the venerable Grundig Satellit 500 or 700 with its reputation for robust audio.
Tecsun was also very clear during their product announcement in 2019 that the H-501x is the flagship portable for the Tecsun line.
H-501 versus H-501x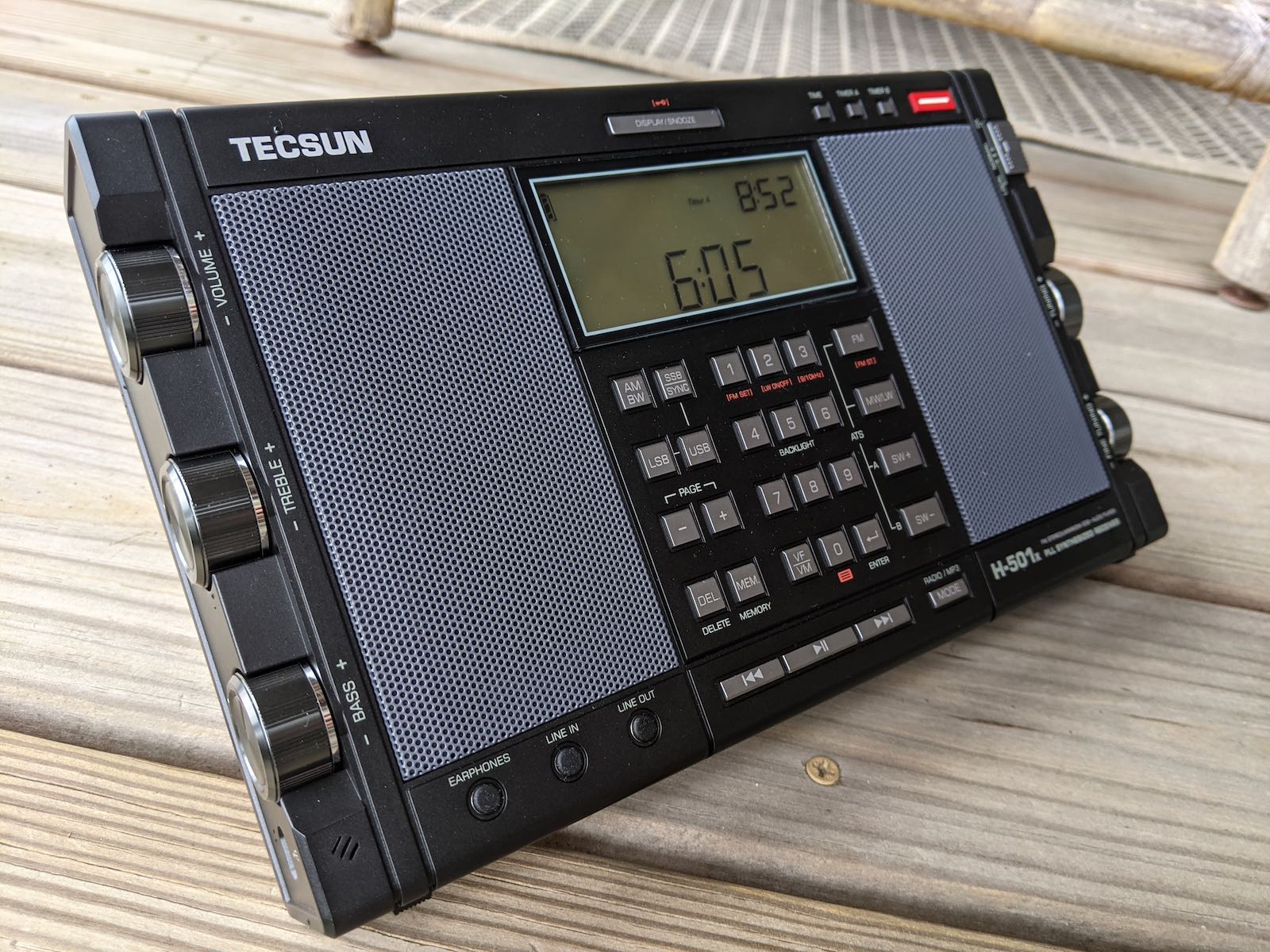 Note that the product being evaluated in this review is the H-501x; the latest "export" version of the H-501.
The differences between these two models is fairly modest. The "x" model gives the user a slightly lower frequency floor in longwave and shortwave, and finer FM tuning (50 kHz as opposed to 100 kHz) when the AM tuning steps are set to 9 kHz as opposed to 10 kHz.
The differences are so modest between the H-501 and H-501x, I wouldn't be worried if you already have the H-501. I would simply encourage you to only purchase from a reputable Tecsun distributor so you can be confident you're not receiving one of the very early production runs of the H-501 that was only distributed domestically within China. Some of these early domestic models didn't have all the refinements of the latest H-501 versions. I would encourage you to only purchase the H-501 or H-501x from a reputable distributors like Anon-Co, Waters and Stanton, Tecsun Radios Australia, and Bonito.
Unique features
Besides the large dual speakers of the H-501x, there are a number of other unique features and design choices that truly set the H-501 series apart from other Tecsun models.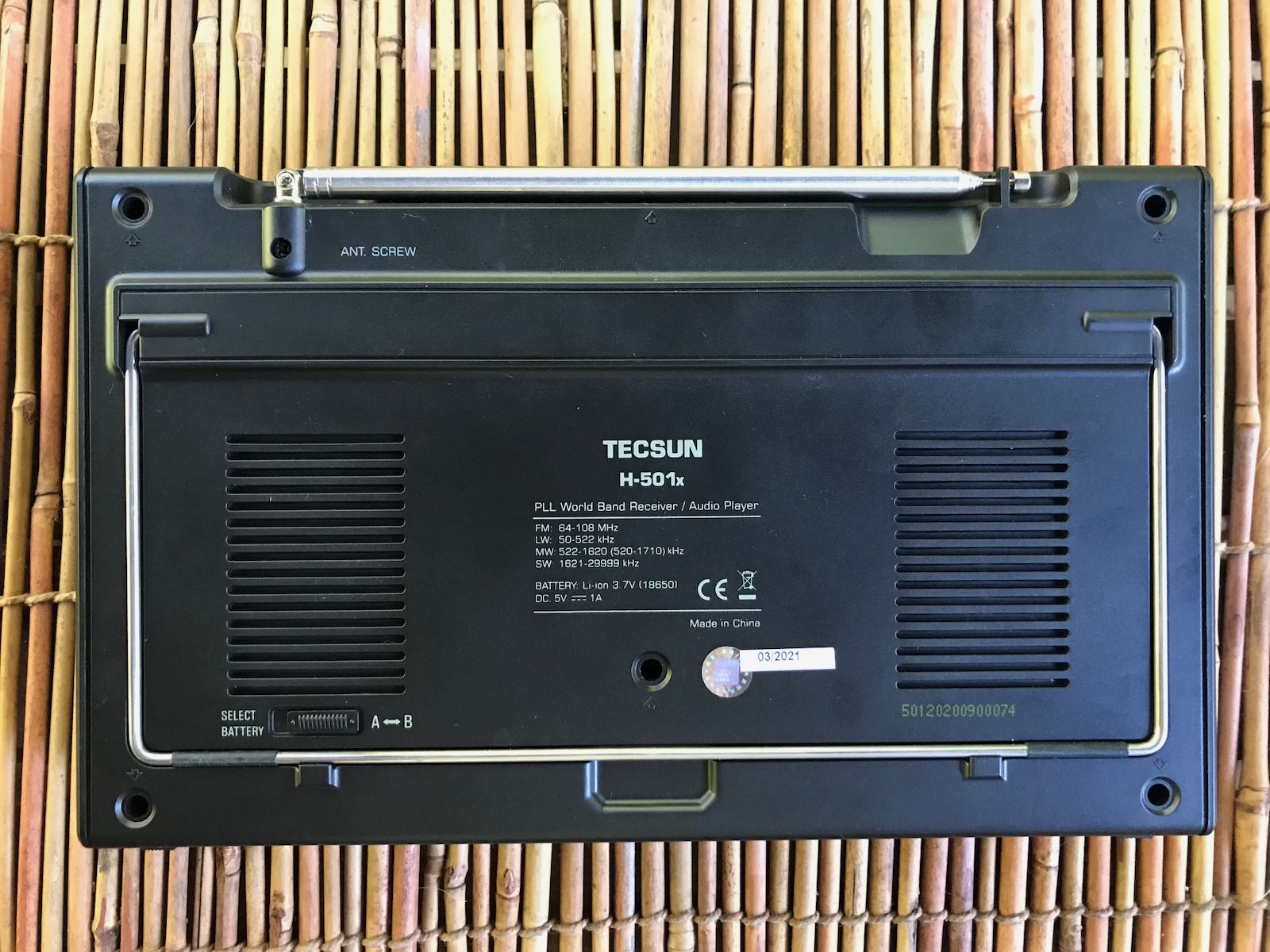 Firstly, the H-501x uses two 18650 Lithium Ion batteries housed in two separate battery compartments. Both batteries can be internally charged, but here's the interesting part: each battery seems to be somewhat independent of the other. When you engage battery charging, you must select, via a mechanical switch on the back of the radio, "Battery A" or "Battery B." Only one battery can be charged at a time, and thus only one will power the radio at a time.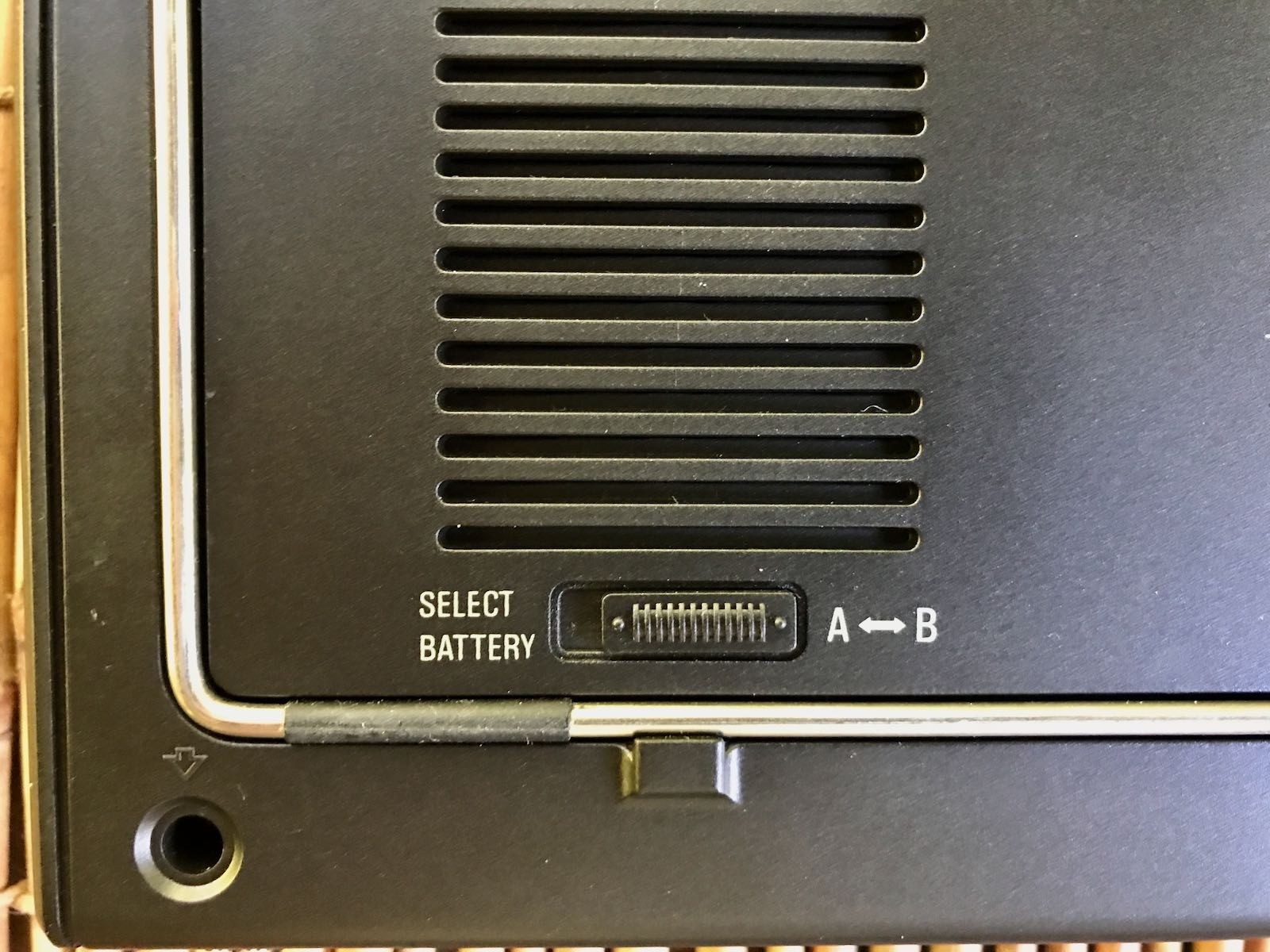 More than once, I've been listening to the H-501x and the battery indicator started flashing, signifying a low battery. I simply switched the battery switch to Battery B, and, voliá:  I have a full battery again! This reminds me of a college friend's VW Beetle that had a spare fuel tank…with this unique feature, when you were running low on fuel, you'd kick in the spare fuel tank and then make plans to refuel the main tank soon. Of course, with the H-501x, both these "fuel tanks" are also generous ones, in that the batteries last for a good while.
I find that the play time of each battery impressive given the size and audio amplification used in the H-501x. I had worries that the unit's need for two batteries could suggest a short battery life, but fortunately this hasn't been the case, no matter what mode I've used (FM, AM, shortwave, or Bluetooth).
However I will note here that the supplied switching power supply will inject noise if you try listening to AM or shortwave while charging. This hasn't affected FM reception, though.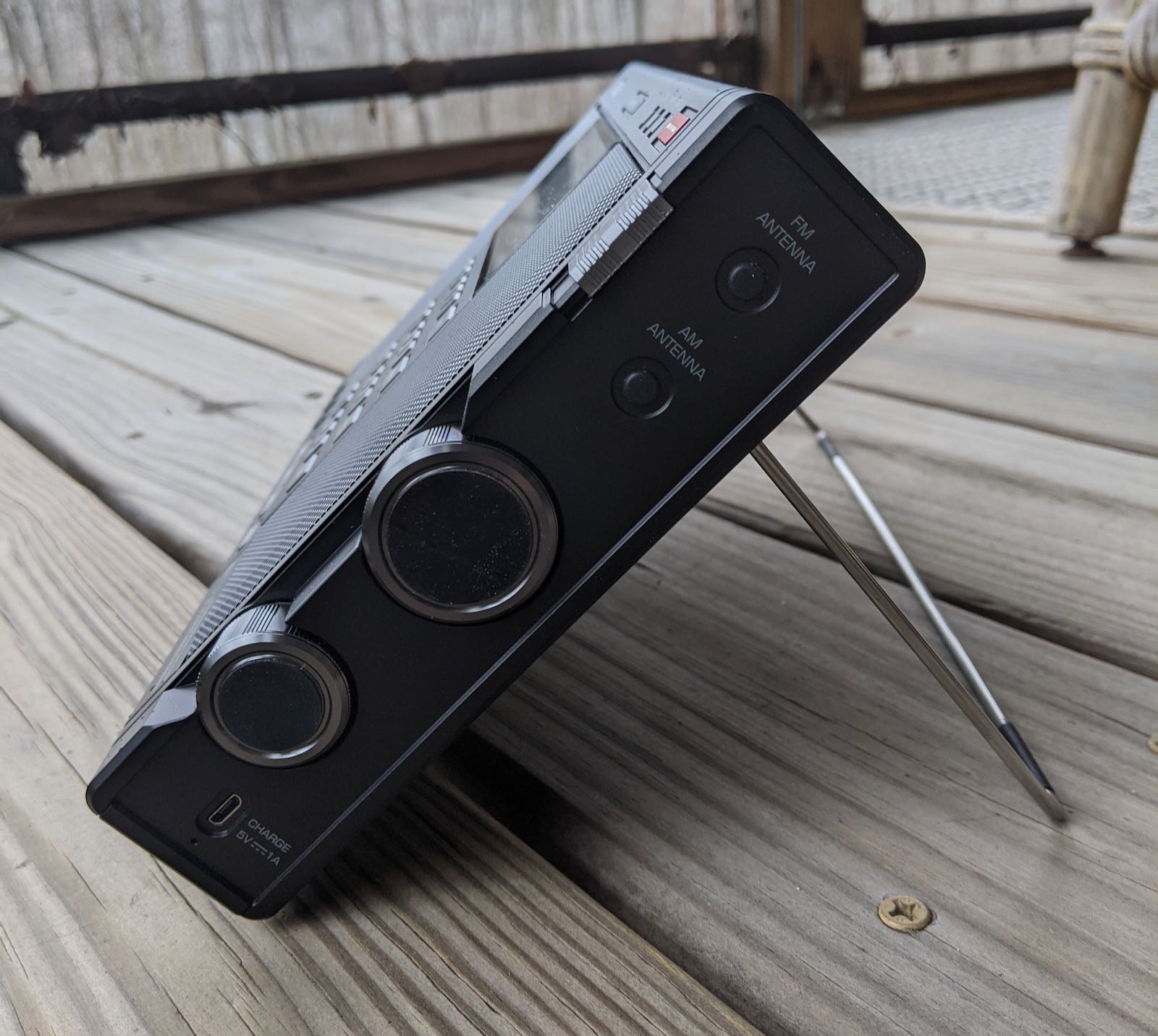 The fold-out metal bail on the H-501x is very large. This shouldn't have surprised me, but it did. The H-501x is tall and wide, but not very deep––only marginally deeper than, say, the PL-880. The bail needed to be low-profile, but also support this mini "wall" of the radio while in use. The metal wire bail is handy and certainly does the trick, although there's only one tilt position, and when it's deployed, the radio effectively has a large footprint. This might limit where you can set it if the surface––say, a bedside table––is small. Not a problem for me, but worth noting.
The H-501 also has five dedicated knobs recessed on the left and right side of the radio. On the left, you find the audio controls: volume, treble, and bass. I love the fact they use the radio's real estate for dedicated treble and bass controls. On the right side, there are two knobs for tuning and fine tuning.  Again, I love the dedicated fine tuning control––no need to use buttons for this delicate task.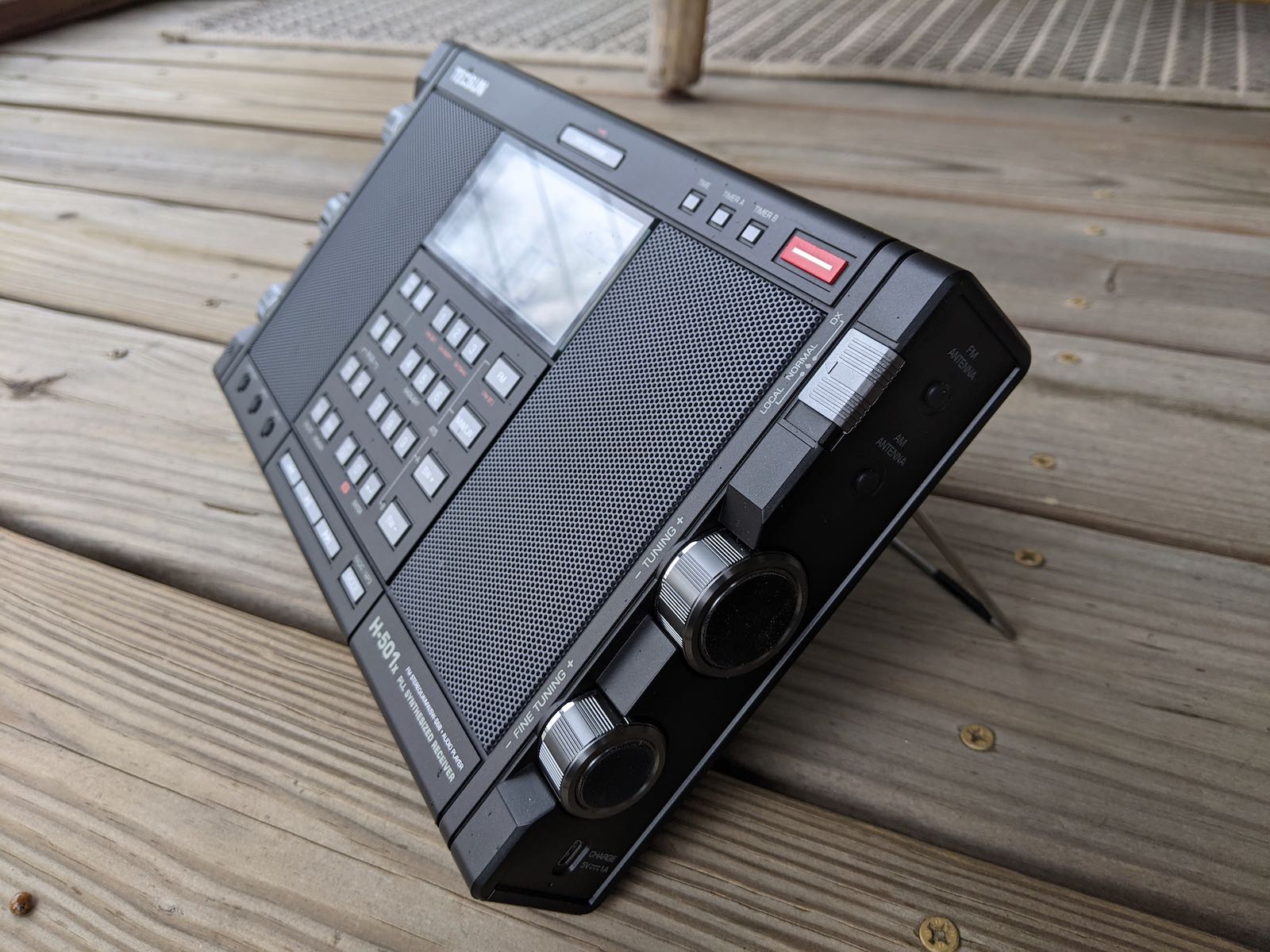 One odd design choice, though, is how recessed these knobs are. They just barely protrude from the sides of the radio (although they have a large surface area from the front of the radio). For the main tuning knob in particular, this can make band scanning a bit finicky since there's so little surface area to grasp when turning the encoder on the end. I have to assume Tecsun chose this unusual design approach to protect the knobs when/if the radio is dropped (ahem…I also "tested" this, but not by choice! More on this incident later). At least Tecsun did insert a rubber-like protective pad in the middle of both the tuning and fine tuning knobs, obviously to give the user a bit more grip.
The H-501x has separate external AM and FM antenna ports on the right side of the radio. While not entirely unique to the H-501x, I do value having dedicated AM/FM ports.
Finally, though it's becoming much more popular in modern portables, the H-501x sports both Bluetooth and digital file playback. To have Bluetooth on a radio with the H-501x's audio characteristics is a true bonus; it makes the radio so much more useful in this era of numerous Bluetooth devices. I'll often pair the H-501x with my laptop to cruise the world via the Radio Garden website/application. Digital file playback is done via a small MicroSD card slot––one that I'm willing to bet some H-501x owners may not have even noticed yet, because it's recessed into the bottom of the radio! To be clear: the MicroSD card can only be used for playback, sadly, not for off-air recording.
Nice touches, Tecsun!
Ergonomics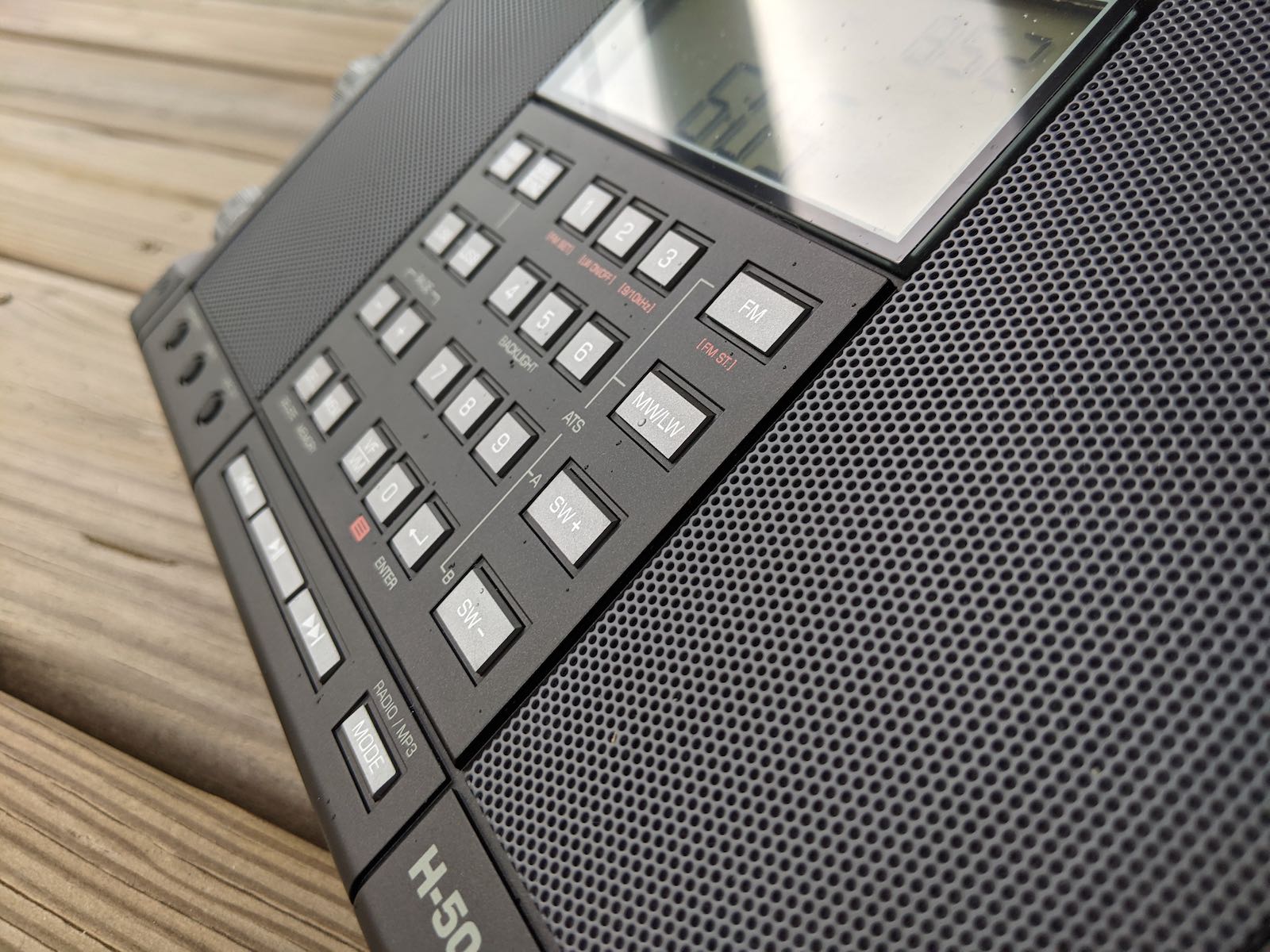 In my opinion, the H-501 has excellent ergonomics, recessed tuning knobs notwithstanding. The front control panel is large and the buttons are all spaced out generously. This is an easy portable to operate while wearing thin winter gloves.
I like how easy it is to call up a frequency:  want to listen to the Voice of Greece? Simply punch in 9420 while in shortwave mode, and you're transported to Avlis. No pressing buttons to tell the radio you're about to key a frequency, and no need to even hit the enter/return button; just enter the frequency––love it.
I'll admit that I also love the fact that the H-501x's display is quite large and backlit (which can be toggled on/off). No need for reading glasses to operate this radio. The chunky buttons also have a nice tactile response indicating that they've been pressed. They're not backlit, but Tecsun did put a tiny orange LED in the center of the keypad to make it easier to find your position in low light.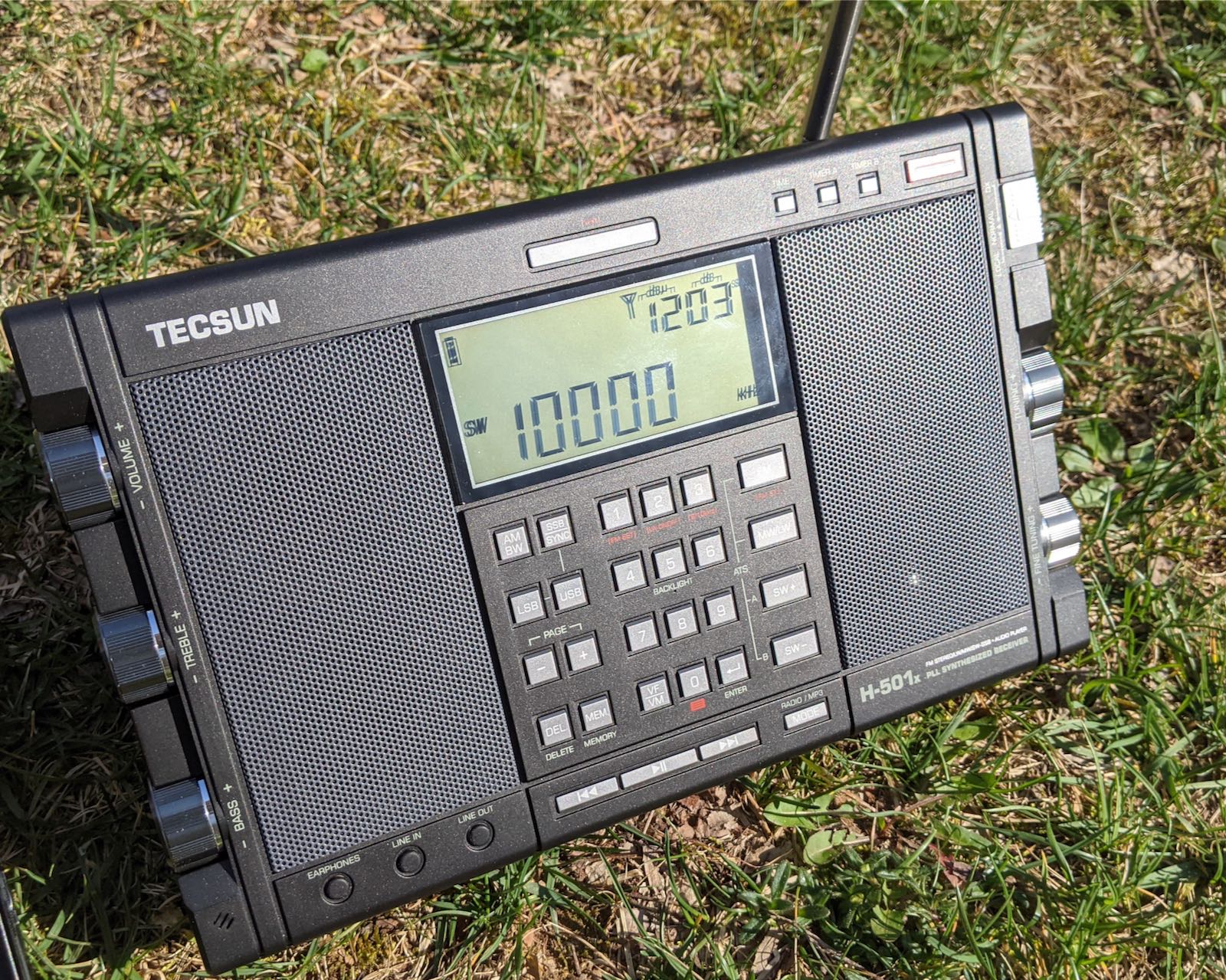 If you're familiar with Tecsun radios, you'll quickly find your way around the controls and features. As with many of their radios, you can change frequency bands by pressing the AM, FM, and SW+/SW- buttons.
Although I'm not a heavy user of auto-tune functions, the H-501x does feature ATS tuning. In addition, memories can be organized into Pages, a feature I prefer.
Hidden stuff
One odd thing about recent DSP chip-based Tecsun radios is that many come off the production line with a host of hidden features. When the PL-880 was first released, users ended up finding and documenting many of these features, which included things like sync detection, calibration, antenna control, and more.
Hidden features are an odd product strategy, in my opinion, and I assume Tecsun may use hidden functionality as a means for advanced users to tweak their radio listening experience. I suspect––especially in terms of sync detection on the PL-880––these features are likely to be less refined and less functional, but can still be engaged. Almost all of the recent Tecsun models have a host of hidden features.
The H-501x is no exception, of course. Here's a short list:
Sideband calibration
FM De-emphasis (change between US and EU)
Dynamic Noise Reduction (DNR) toggle
Muting Threshold
Output Line Level Adjustment
Add seconds to the clock display
Toggle between the whip antenna and ferrite rod in MW/LW
Bluetooth (for some unknown reason, a hidden feature on the base)
Bluetooth is barely hidden, in truth: simply press the Mode button and it toggles between radio, Bluetooth, and MicroSD card playback. Pairing was easy and the Bluetooth functionality works brilliantly.
Audio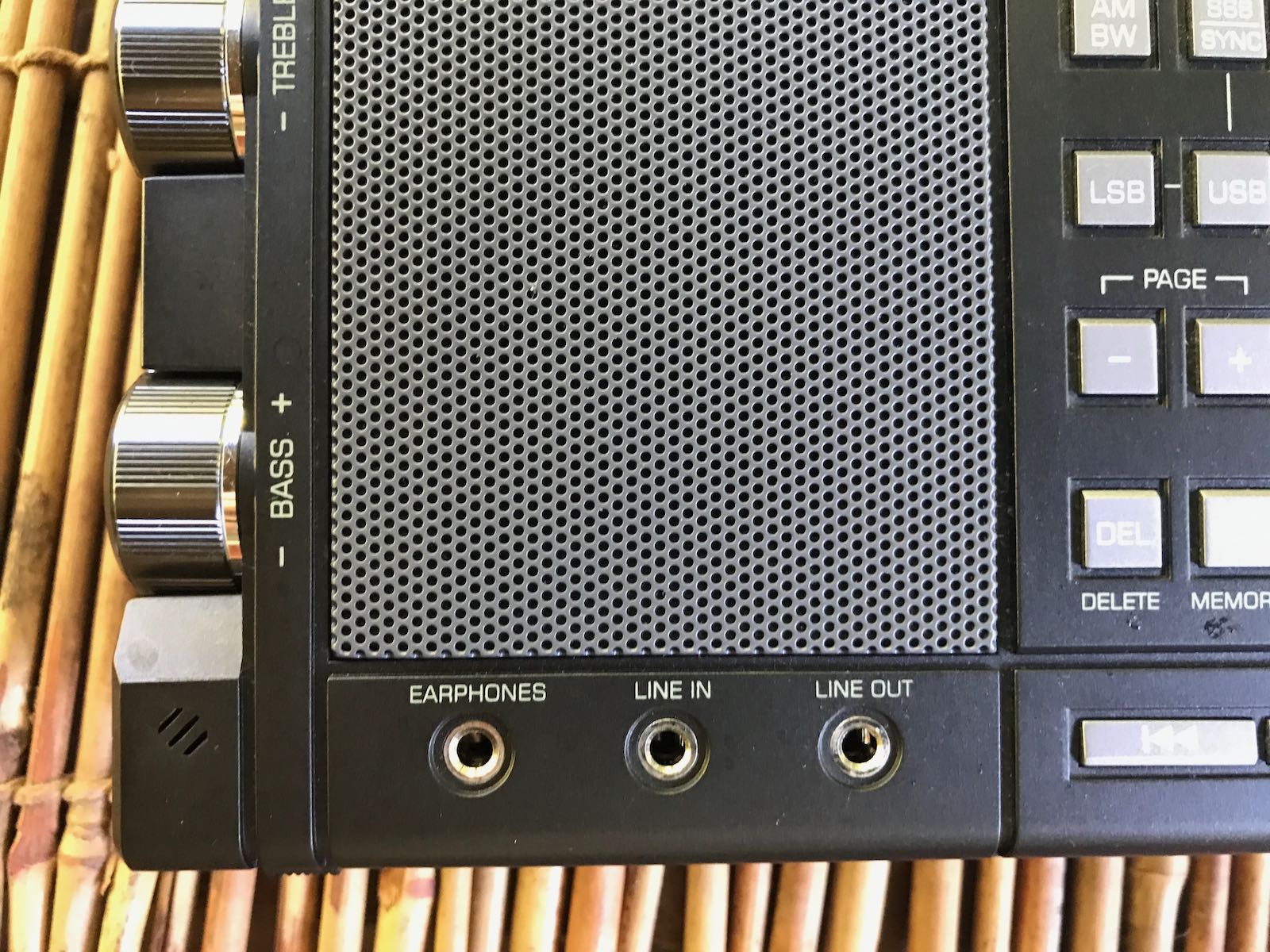 Speaking of Bluetooth…If other SWLs are like me, the real attraction to the H-501x might be those large, front-facing stereo speakers. While I tend to use small travel radios with mediocre audio fidelity while travelling, and don't complain, at home I enjoy robust, full-fidelity audio.
Once I'd unboxed it, the first proper audio test I gave the H-501x was to use the Bluetooth mode to pair the H-501x to my MacBook, and play "The Spirit of Radio" by Rush.  You know, a proper "breaking-in" of the radio!
And how was it?  In short: the speakers are wonderful.  
The H-501 has some of the best speaker audio of any modern portable radio––save, perhaps, the venerable PL-880 (which I still feel holds its own even with one speaker) and the large S-8800.
Fidelity is also great, but let's be honest: it simply can't compare with the likes of 1970s- and 80s-era solid state portables from Sony, Panasonic, and Grundig, that in some cosmetic ways, it follows.
Performance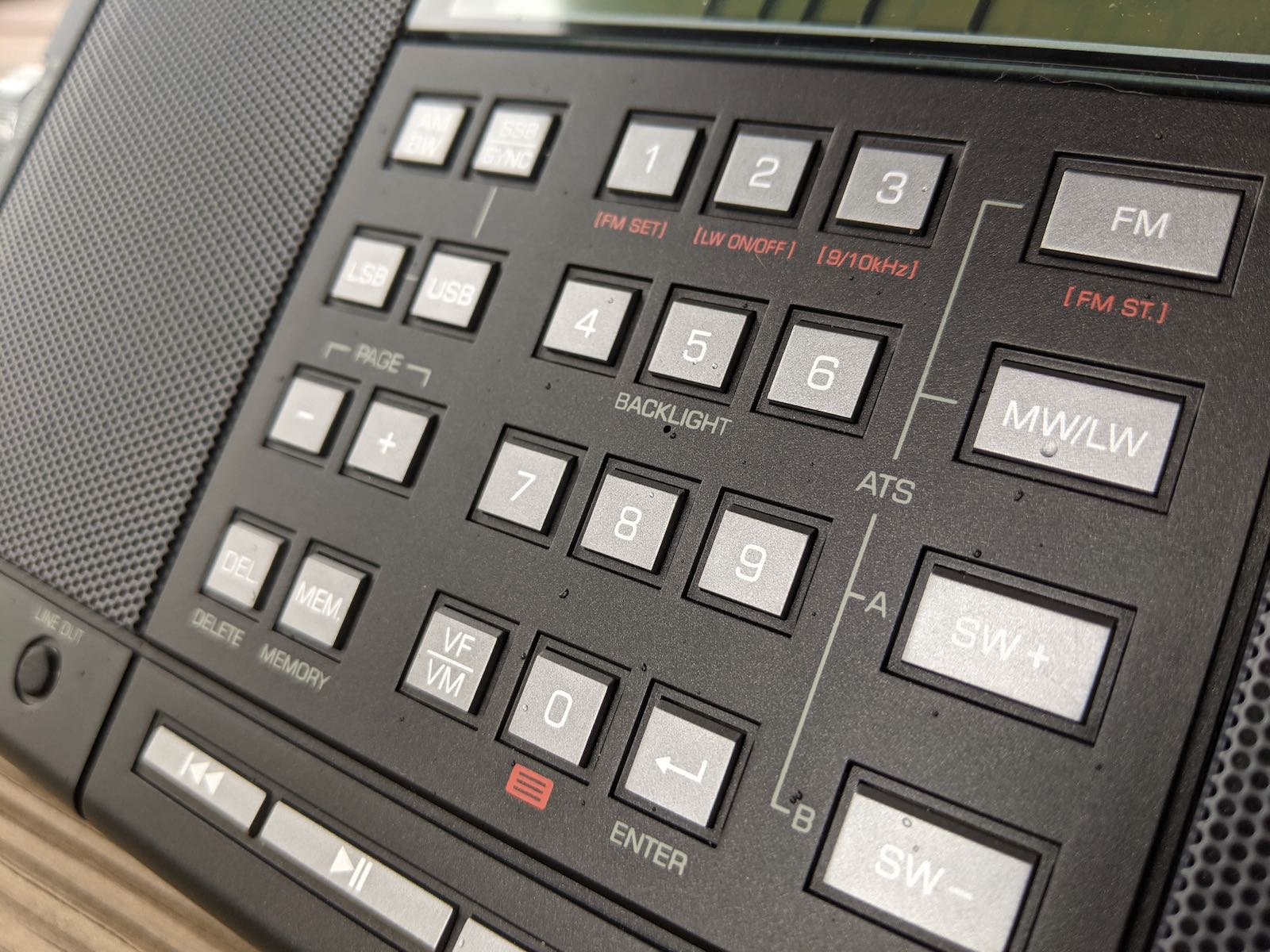 I spoke with a fellow SWL friend recently about the H-501x, which he also owns. He asked what I thought of the performance and I found myself saying, "It's predictably good."
He asked what I meant by that. I realized that when I evaluate a new Tecsun radio, my expectations are at a benchmark now well-established by Tecsun, particularly in terms of overall sensitivity and selectivity.
This has much to do with the fact that most new portables are based on DSP chip technology, and Tecsun (along with C.Crane), in my opinion, is one of the best of the manufacturers now implementing DSP chips.
The H-501x's performance is on par with the new PL-990, although as I understand it their DSP chips are actually slightly different. In my comparisons, the H-501x held its own when compared with the PL-990, PL-880, and PL-680 on shortwave.
On the AM broadcast (mediumwave) band, the H-501x performed quite well and was better at locking in a few of my regional mediumwave DX stations between 1600-1700 kHz than the PL-880 or PL-990. I still wouldn't place the H-501x in the league with the C.Crane CCRadio3, CCRadio EP Pro, or any of the benchmark solid state AM performers of yesteryear. I wouldn't buy the H-501x for mediumwave DXing, although I'm sure it could work well especially if inductively coupled with an external MW loop antenna. Then again, it's probably a little unfair to compare a radio that covers longwave, mediumwave, shortwave, and FM with AM/FM portables that were specifically designed around AM performance.
If you like FM radio, you'll love the H-501x. It's one of the most sensitive FM radios I own. I find that it locks onto my benchmark regional DX signals with ease. Indeed, I've come to rely on the H-501x to dig out my favorite NPR station, which is a very tough catch for the rest of my portable receivers.
If there's an elephant in the room when it comes to the H-501x's performance, it is its limited AM bandwidth: the H-501x's maximum AM bandwidth is just 6 kHz.
If the H-501x were as small and compact as, say, the new PL-330 or the C.Crane CC Skywave SSB, I would think much less of a 6 kHz bandwidth because their small internal speakers are the real limiting factor for enjoying great AM audio. But as the H-501x sports two speakers and dedicated––and conspicuous––treble and bass controls, I would have thought that the maximum AM bandwidth would be closer to 9 or even 10 kHz to enjoy better fidelity from strong mediumwave and shortwave broadcasters. This bandwidth choice almost seems like a mistake or oversight on the part of Tecsun, as if they'd forgotten to set the maximum bandwidth wider. Then again, their other large portable production radio, the S-8800, also has a maximum bandwidth of 6 kHz. Perhaps they share the same DSP chip and, thus, same limitation?
With that said, the H-501x audio still sounds quite good, I just think it could sound much richer as with the venerable PL-880, which widens to 9 kHz. This, alone, might be the reason the PL-880 still holds the audio fidelity award among late-model production portables.
In addition, keep your expectations in check when it comes to synchronous detection. Although the H-501x has a sync feature, I find that using the ECSS method (zero-beating a station in SSB mode) is much more effective. Audio quality simply takes too much of a hit when the sync detector is engaged. Frankly, I don't use sync a lot even with my portables that have a solid sync detector (the ICF-SW7600GR and PL-660, for example). I primarily turn to sideband selectable sync to eliminate interference that might affect one sideband of an AM signal. I rarely use it to compensate for fading or QSB.
Big impact
One test I never (intentionally) put my radios through is an impact-resistance test. But one month ago, while reaching for something behind my H-501x which was simply standing up vertically without the bail deployed, I knocked it off the shelf and it fell three feet to my concrete floor. Indeed, the only thing between it and the concrete was a rather thin outdoor rug––scarcely what I'd call padding. It landed on the upper right corner of the body with such force that, the moment it hit the floor, I expected to find plastic pieces flying. Instead, it sort of bounced and hit the wheel of a movable cart.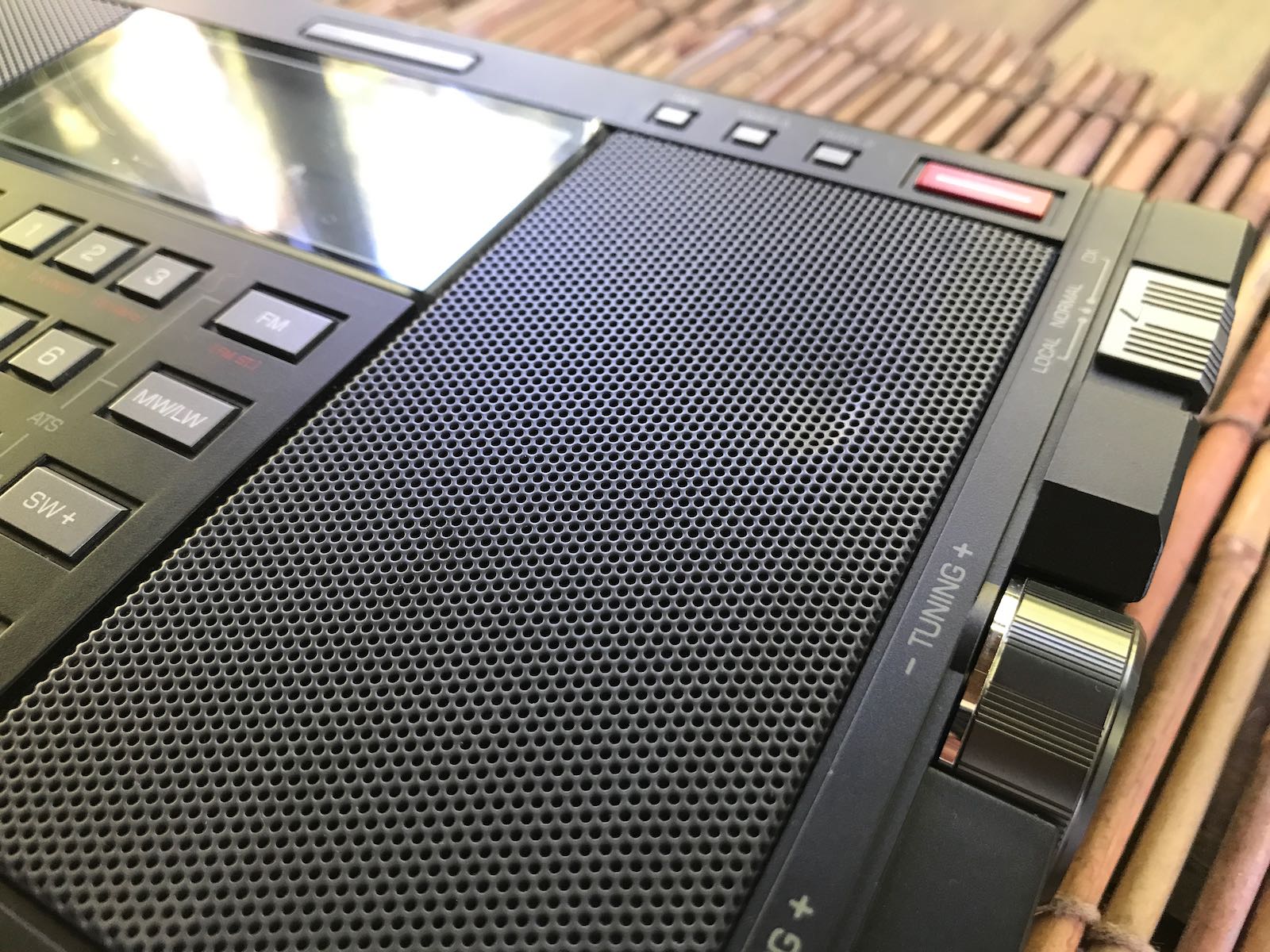 When I picked up the radio, I was pleasantly surprised. The only visible damage was a dent in the right speaker where the radio hit the cart's wheel. That was all. It continues to work as before.  Maybe I'm lucky, but I suspect the plastic body on the H-501x is more durable than I would have suspected!
Summary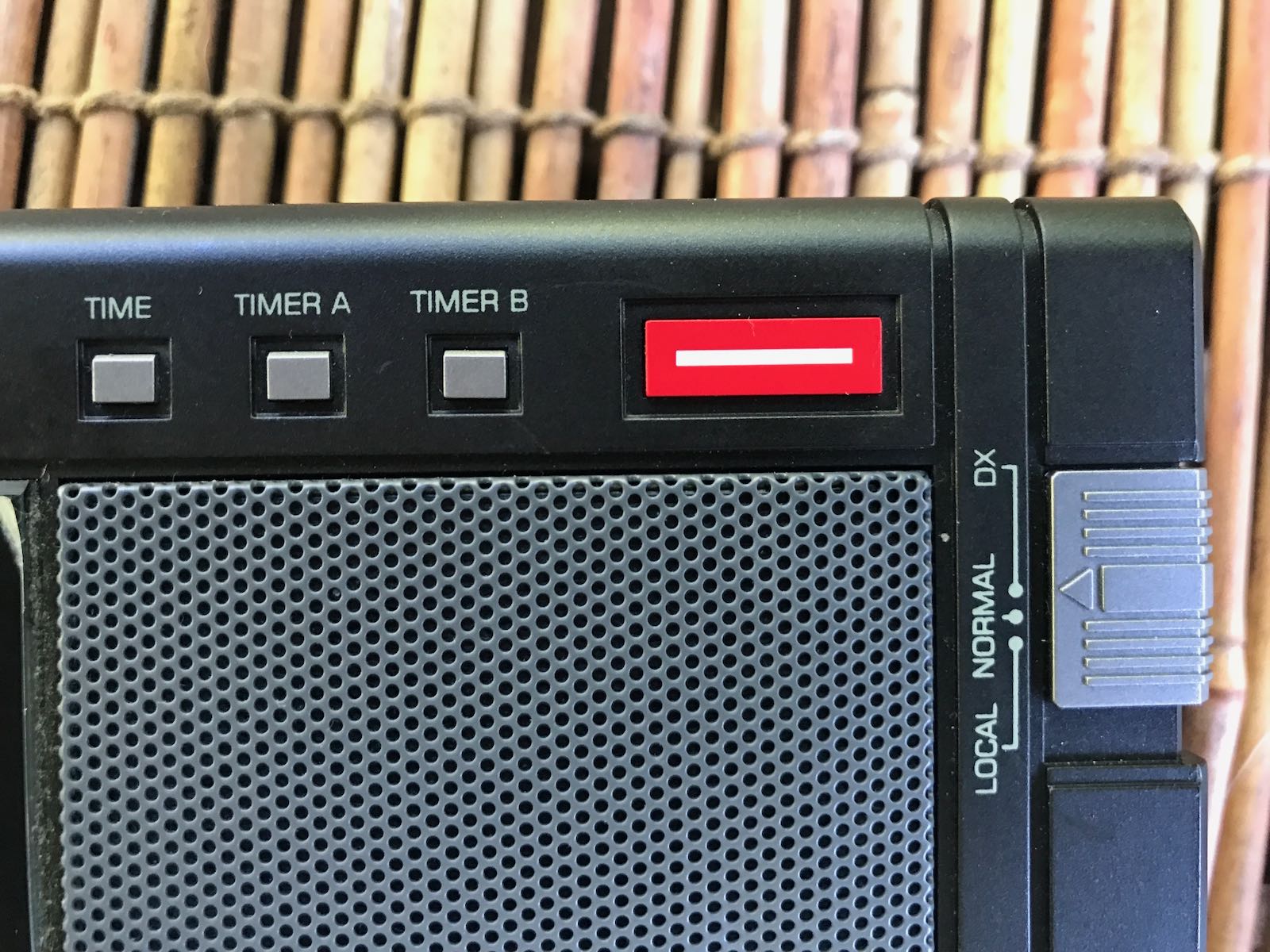 Every radio has its pros and cons. When I begin a review of a radio, I take notes from the very beginning so that I don't forget some of my initial impressions. Here is the list I formed over the months I've spent evaluating the H-501x:
Pros:
Overall excellent shortwave performance
Excellent ergonomics and a large easy-to-read backlit display
Dedicated treble/bass controls
Dedicate tuning/fine tuning controls (see con)
Full Bluetooth functionality (see con)
Dual 18650 batteries that can be independently charged internally
Dedicated ports for earphone, line in, line out, FM antenna, and AM antenna
Three position prominent mechanical attenuation switch (DX/Normal/Local)
Large fold-out wire bail (see con)
Quality construction and somewhat impact-resistant (though I wouldn't test this yourself!)
A host of hidden features to tweak settings and SSB calibration
Cons:
Tuning knobs are somewhat recessed and cumbersome to use for rapid band-scanning (see pro)
Despite focus on audio fidelity, AM bandwidth is limited to 6 kHz
AM sync detection is poorly implemented
Bluetooth is a "hidden" undocumented feature––many H-501x owners may not realize their radio sports such a useful function
Fold-out wire bail only has one position, so angle cannot be adjusted
Conclusion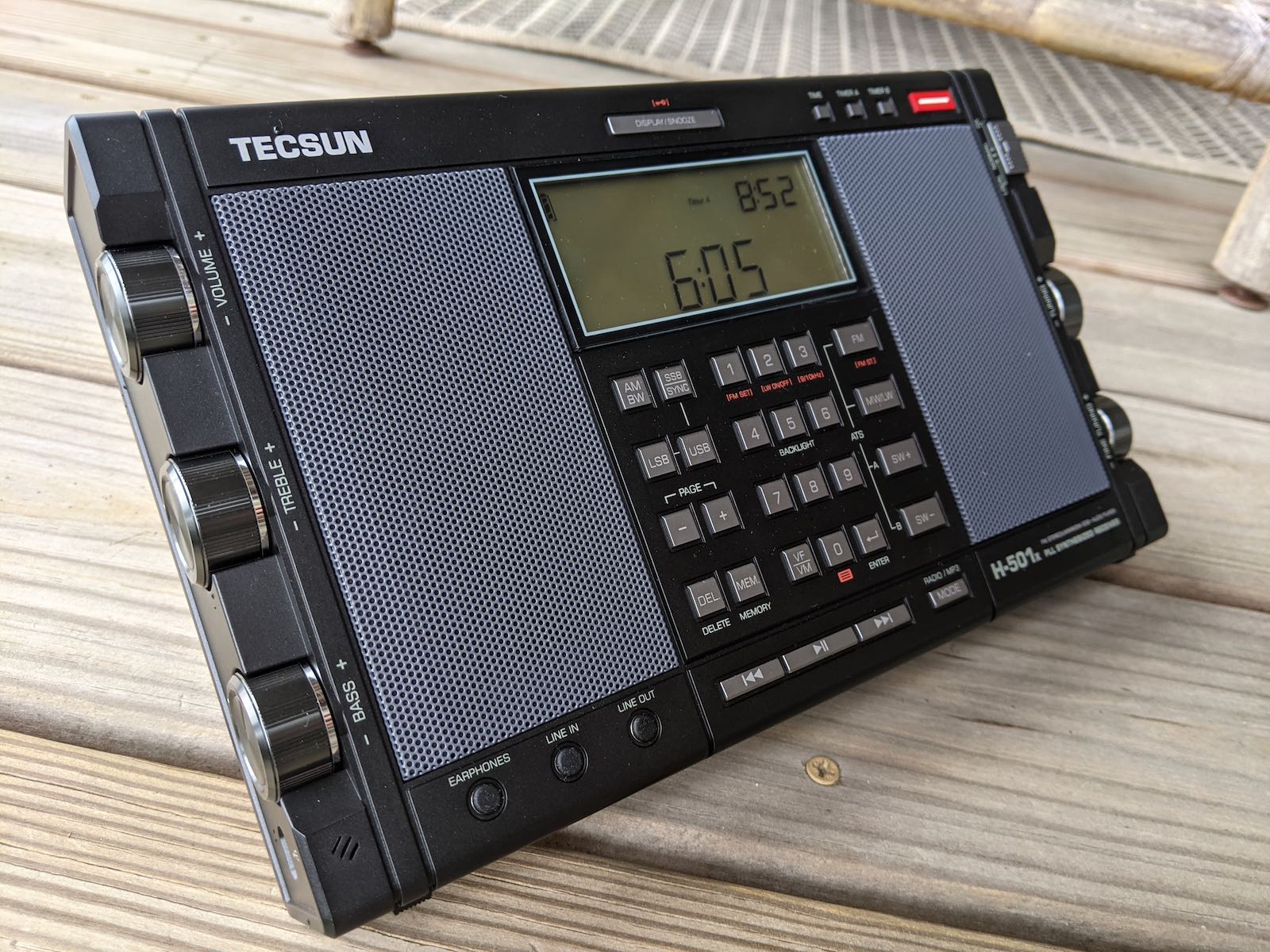 If you're in the market for a new shortwave portable with great performance, respectable audio, and a host of big radio features, I would encourage you to consider the H-501x.
Tecsun considers this their "flagship" portable, and it feels like one. I can't help but imagine what I would have done with a radio like this back when I first discovered shortwave listening in the early 1980s: truly,  it would have been a dream machine. Although shortwave broadcasting is in a state of decline in terms of large international broadcasters, receiver technology and innovation is pressing forward. No doubt, Tecsun is in the forefront of portable radio technology and I feel pretty fortunate any time they produce new models.
I've found the H-501x to be incredibly useful around the house; it's a strong FM performer that can pick up my favorite distant stations, I use it to listen to my favorite regional AM broadcaster on 1600 kHz, and routinely take it outdoors to enjoy the wide range of independent music programming transmitted from WRMI. In addition, my H-501x is paired via Bluetooth with both my iPhone and MacBook laptop so that I can stream my favorite online broadcasters pretty much anytime, anywhere.
The H-501x is a 21st century portable that is incredibly functional and useful.
I'd like to thank Anna at Anon-Co for providing this H-501x at no cost to me. She sent this model to me for a preliminary evaluation prior to the first production batch being offered for sale. I do this for a number of manufacturers and retailers who want real-life product testing to flesh out any issues prior to taking orders. I found no issues with the H-501x, but in truth, it's "non x" version, the H-501, had been in the wild in China a few months before the export version was finalized.
At time of review, the Tecsun H-501x costs $298.00 US via Anon-Co.