Many thanks to SWLing Post contributor, Dan Robinson, who shares the following guest post:
---

Tecsun PL-330:  The Powerful Mini With One Serious Design Issue
by Dan Robinson
As SWLing Post readers know, I have a huge radio collection – including premium receivers and portables, now nearly 100 in all.
So, these days I am hesitant to add too many, but I continue to take interest in what companies such as Tecsun and Sangean are doing in the way of stuffing the latest chip technology and capabilities into portables radios.
The last receivers I reviewed included the Tecsun PL-990x, which has developed quite an enthusiastic following since its consumer version was released in 2020, and the Tecsun S-8800.
Out for some time now is the Tecsun PL-330.  By now there are many reviews of it on You Tube and elsewhere.
It's become a familiar observation for many of us – if this were still the 1960's and 1970's – even into the 1980's, which could be considered the golden days of shortwave and we had receiver technology like this, well what a joy that would have been.
When I traveled around the world both before and after college, and professionally for Voice of America in the 1980s and 1990s, wow what a good time I could have had with today's portables!
Some world band portables radios back then were superb performers.  The Grundig Satellit series 500/700/600/650 come to mind – but these were not exactly what I would call small portables.
Paging through Passport to Worldband Radio from 1990 (wow, that's 30 years ago!) you see others such as the SONY SW-1, Panasonic RF-B65, and of course, the SONY ICF-2001D/2010 which introduced killer synchronous tuning technology in the 1980s and remains popular today decades after it first appeared.
Also available were the SONY ICF-SW55 and later in competition with the 2010, the SONY ICF-SW77.  Today, I have four SW-55s and two SW-77s and still use them regularly.
Tabletop receivers back in the good ol' days offered multiple selectivity positions.  One of those was the Lowe HF-225 (and later Europa version) along with the HF-250, Kenwood R-5000 and R-2000, ICOM IC-R71A, and Yaesu FRG-8800 among many others.
But as far as smaller portables go, features such as synchronous detection and multiple selectivity were still pretty limited, and a number of receivers didn't offer selectable synchronous as was eventually offered on the Drake R8B and later production of the SW-8.
The RF-B65 by Panasonic – which today remains sought after for its amazing sensitivity – was hobbled by having a single selectivity position.  Same with SONY's SW-1 and SW-100, and 7600GR, though SONY's PRO-80 had two bandwidths.
Indeed, it wasn't until Eton brought out the E-1, with its three bandwidths combined with Passband Tuning (though no notch filter) that a portable finally reflected capabilities of some of the better tabletop radios (though lacking a notch filter).
The Grundig Satellit 800 was close in competition with the E-1 (though the earlier Sat 600/650 series also had multiple bandwidths) but was bulky.
Fast forward to 2021 – credit due to Tecsun and more recently to Sangean with its 909X2, for some years now we have enjoyed Asia-originated portables with multiple selectivity and synchronous mode, though sync implementation on some has left much to be desired.
Which is where the PL-330 comes in.  When I look at the 330, I am reminded of one of the now ancient SONY portables, the ICF-4920 which was a super small slide-rule receiver that nevertheless was quite sensitive.
Like the 4920, which you could easily slip in a pocket, the PL-330 is a perfect travel portable.  Only the Belka-DX SDR and still wonderful SONY SW-100 compete in terms of performance and size.
The 330 is basically a PL-990x in miniature:  smaller speaker obviously, shorter antenna, no bluetooth capability or card slot.  But as many people who frequent the Facebook groups have observed, pretty much anything the 990x can do, so can the 330.
This radio has ETM/ATS tuning, synchronous detection, multiple bandwidths in AM, SSB and MW, FM mono-stereo speaker control, alarm/timer functions, external antenna jack, display light, and other features.
Tecsun decided to go with a BL-5C battery here – the same with the new PL-368.  I think this is unfortunate, since it requires one to obtain a number of those flat batteries if you want to travel and not have to re-charge.  On the other hand, this is not a crippling design decision.
What is an unfortunate design problem, in my view, involves the simple question of tuning the receiver.
The main and fine tuning knobs on the right side of the PL-330 are embedded into the cabinet just far enough as to make easy rapid finger tuning of the radio nearly impossible.
In fact, in my testing it's impossible to thumb tune the radio more than 10 kHz at a time.  The same applies to using the lower knob which controls volume.  When in FM mode, this issue make tuning just as frustrating almost forcing one to use rapid scan mode.
Another puzzler:  Tecsun limited bandwidths in AM SW to three, while in SSB you have 5 bandwidth options.  In AM mode, you have a 9 kHz bandwidth, another puzzling choice.  Longwave too is limited to 3 bandwidths.
But overall, none of these problems really knock the PL-330 down very far.  This is one mini powerhouse of a radio, one that makes you think "wow, if I had just had this back in 1967 or 1973 or 1982.
Some additional thoughts.  My particular PL-330 was supplied by Anon-co but is a pre-production version and so does not have the latest firmware.  Thankfully, I have not experienced the issue of SSB tuning running in reverse as others have.
NOTE:  As most users know by now, but some newer users may not, you cannot charge one of these radios – whether Tecsun or Sangean – using the mini-USB port and use them at the same time. . . there is just too much noise introduced from the charging process.
This little mentioned feature:  just as the Tecsun 909x has a re-calibration function, so does the PL-330.  Tecsun itself initially declined to acknowledge this, but finally confirmed through Anon-co.
The procedure: Switch to LSB/USB.  If the station is not zero beat, hit STEP button once and then quickly again to move the flashing display down arrow so it's above the far right digit.  Then fine tune the station for zero beat.  Hold LSB or USB in for a couple of seconds.  The LCD blinks.  You then have zero beat – but be sure to repeat the process for LSB and USB.
I should mention that just like on the 990x, the re-calibration process doesn't mean the receiver is then zeroed up and down the shortwave bands.  You will likely have to repeat the process from, say 25 meters, to 19 meters, to 49 meters, etc.
I have come to enjoy using the PL-330 here in my house, though like other portables in my collection I need to position it in one particular corner of my home away from incoming cable TV lines.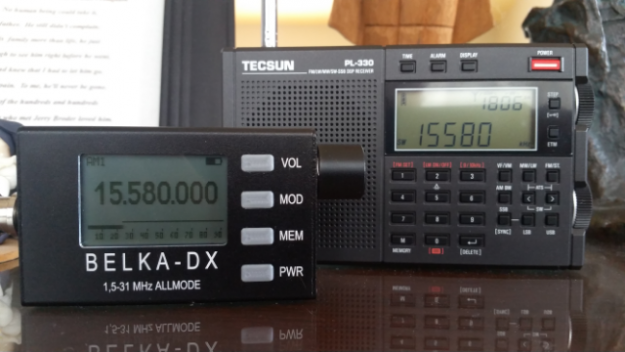 The PL-330 and the Belka DX are currently king of the pile when it comes to my smaller travel portables.
I fully expect there will be no further receiver development by Tecsun after the PL-330/990x/H-510 radios – but that company will certainly have left us with some great receivers as the days of shortwave approach an end.
Video