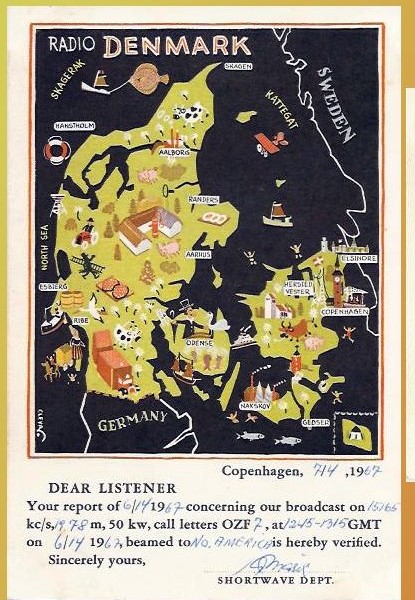 Radio Waves:  Stories Making Waves in the World of Radio
Welcome to the SWLing Post's Radio Waves, a collection of links to interesting stories making waves in the world of radio. Enjoy!
---
A collection of over 150 "QSL cards", QSL? chronicles a moment in time before the Internet age, when global communication was thriving via amateur, or "ham", radio operators.
Discovered by designer Roger Bova, the distinctly designed cards follow the international correspondence of one ham, station W2RP, who turned out to be the longest-standing licensed operator in The United States.
TAIPEI, Taiwan — On Tuesday nights, BX2AN sits near the Xindian River, motionless but for his thumb and middle finger, rhythmically tapping against two small metal paddles. They emit a sound each time his hand makes contact — from the right, a dit, or dot; from the left, a dah, or dash, the building blocks of the Morse code alphabet.
"Is anyone there?" he taps.
The replies come back in fits and starts: from Japan, then Greece, then Bulgaria. Each time, BX2AN, as he is known on the radio waves, jots down a series of numbers and letters: call signs, names, dates, locations. Then he adjusts a black round knob on his transceiver box, its screens glowing yellow in the dark.
There can be no doubt that this is his setup. That unique call sign is stamped across the front of his black radio set, scrawled in faded Sharpie on his travel mug and engraved in a plaque on his car dashboard. On the edge of his notepad, he's absent-mindedly doodled it again, BX2AN.
In the corporeal world he is Lee Jiann-shing, a 71-year-old retired bakery owner, husband, father of five, grandfather of eight and a ham radio enthusiast for 30 years. Every week, he is the first to arrive at this regular meeting for Taipei's amateur radio hobbyists.
[…]The self-governing island, about 100 miles east of China, is weighing wartime scenarios in the face of growing military aggression from its vastly more powerful neighbor. If cell towers are down and internet cables have been cut, the ability of shortwave radio frequencies to transmit long-distance messages could become crucial for civilians and officials alike. [Continue reading…]
CARACAS, Oct 26 (Reuters) – In July officials from Venezuela's telecommunications regulator entered the Moda 105.1 FM radio station, in the northwestern state of Cojedes, accompanied by members of the national guard and demanding to see all the station's licensing.
Hours later they stopped it broadcasting – making Moda one of at least 50 stations in Venezuela's interior which have been closed so far this year by the Conatel regulator because it says they lack valid licenses.
The accelerated closures are a new step in efforts by the government of President Nicolas Maduro to control information and give state media hegemony over communications, journalist guilds and non-governmental organizations say, continuing a policy begun under his predecessor Hugo Chavez. [Continue reading…]
We have arrived at a milestone. The 100th edition of The ARRL Handbook for Radio Communications is here: Handbook 100. How do you celebrate the most widely used one-stop reference and guide to radio technology principles and practices? By continuing to fill the pages of another edition with the progress and achievement of radio amateurs. Handbook 100 is written for everyone with a desire to advance the pursuit of wireless technology. Here is your guide to radio experimentation, discovery, and innovation.
What's Inside
Each chapter is filled with the most up-to-date knowledge representative of the wide and ever-expanding range of interests among radio amateurs. There are practical, hands-on projects for all skill levels — from simple accessories and small power supplies to legal-limit amplifiers and high-gain antennas.
Key topics:
Radio electronics theory and principles
Circuit design and equipment
Signal transmission and propagation
Digital modulation and protocols
Antennas and transmission lines
Construction practices
Updated with new projects and content, including:
An all-new chapter on radio propagation covering a wide range of bands and modes
New and updated sections on electronic circuit simulation
New cavity filter and high-power HF filter projects
New coverage on digital protocols and modes
New material on RFI from low-voltage lighting and other sources
Revised sections covering new RF exposure limits
New content on portable station equipment, antennas, power, and assembly
New material on ferrite uses and types
New section on how to use portable SDR to locate sources of RFI …and more.
Click here for more information and to place an order.
---
Do you enjoy the SWLing Post?
Please consider supporting us via Patreon or our Coffee Fund!
Your support makes articles like this one possible. Thank you!