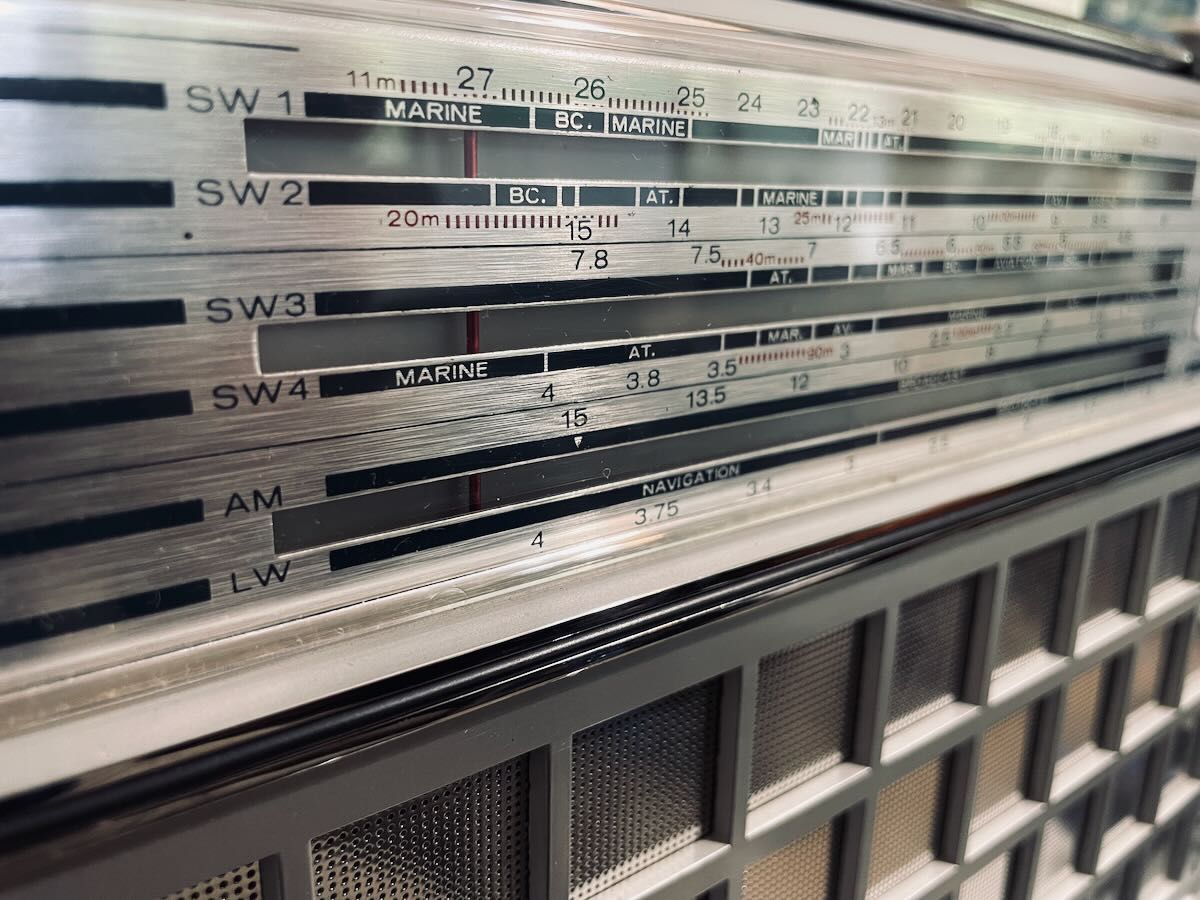 Radio Waves:  Stories Making Waves in the World of Radio
Welcome to the SWLing Post's Radio Waves, a collection of links to interesting stories making waves in the world of radio. Enjoy!
Many thanks to SWLing Post contributors Dennis Dura, David Iurescia, John Palmer, Gareth Buxton, and Mangosman for the following tips:
---
The international service of the Sri Lankan Sri Lanka Broadcasting Corporation (SLBC) recently doubled its Tamil Service airtime to two hours, on 873 kHz AM (medium wave) from Puttalam transmitter. The new schedule is 0130-0330 UTC (7.00 am to 9.00 am IST). This is partly in response to individual efforts of listeners, many in the southern part of India, in Bengaluru. Introducing this change, Colombo International Radio also announced that shortly they are going to use DRM on 1548 kHz! This will be done by is using the old transmitter of Deutsche Welle located in the north of Sri Lanka at Trincomalee. The Sri Lankan public broadcaster has started airing the DRM announcement:
The publicity for the new DRM service is in full swing. See video:
On the occasion of Czech Radio's centenary, we asked our listeners to let us know where they heard our special programme on that day in order to map Radio Prague International's broadcast reach today. Here are at least some of the many letters and photos which you have sent us. Thank you to all our loyal fans.
George Jolly, who was listening to our special programme over the internet, wrote from Houston, Texas:
"Thank you so much for the special program today celebrating your 100 years of radio. If I were not so far away, I would surely visit you on Saturday. It means a lot to me that you continue the tradition of the 'radio magazine'. Hearing the opera excerpt and other recordings from the past was wonderful!
"I love old music and old technology like radio, and I love that you are keeping their spirit alive and new again for today's world. I am so grateful to celebrate your centenary with you from afar."
Another listener from the United States is Timothy Marecki, who wrote us from New Port Richey in Florida:
"Congratulations on the 100th anniversary of radio broadcasting in your country!  I very much enjoyed hearing your special program today via the internet. I have been listening to Radio Prague since 1977, and still have some glossy black and white QSL cards sent out during that time! I listened to your special broadcast via the internet, but usually try to hear it on shortwave relayed by WRMI."
Richard Langley, who has been listening to Radio Prague International since the mid-1960s, also sent a reception report from Florida:
"I am pleased to report reception of Radio Prague International's special broadcast in English celebrating the 100th anniversary of Czech Radio. It was received at a rented house on Grassy Key in the middle of the Florida Keys where I'm currently on holiday enjoying the sun and warmth.
"Usually I listen to Radio Prague International at my home in Hanwell, just outside Fredericton, New Brunswick, on the east coast of Canada. I am a professor at the University of New Brunswick in Fredericton where I teach and do research in geodesy, precision navigation, and radio physics.
"By the way, I first heard Radio Prague International's predecessor Radio Prague in 1964 on the SW radio I built from a kit as a teenager."
And this answer came from Larry Szgatti, who lives in Lethbridge, Alberta, Canada:
"Congratulations on your 100th year anniversary. I have been a loyal listener since 1972. I did listen to your broadcast on May 18 on WRMI from Miami. But nowadays the quality of reception is not very good. I normally listen to the satellite broadcast and podcasts."
Andrew Kuznetsov listened to Radio Prague International's special programme from Riga, Latvia:
"I began to listen to your transmissions in the second part of 80's on shortwaves and was Radio Prague Club of Listeners member. I still remember your "Inter-Program" easy listening broadcasts on short waves in German, French and English.
"I remember Radio Prague closing for one month in April 1990 to break from the past and about plans to move the overseas service from Ceskoslovensky Rozhlas to the foreign ministry. And, of course, I remember Oldrich Cip, who worked in the English section under the name of Peter Skala. Great times! Great heritage!"
Ranjit Darnal, who has been listening to Radio Prague International since 2014, sent his greetings from Syanga, Gandaki in Nepal:
"I heartily congratulate Czech Radio team on 100 years' amazing milestone celebration. Thank you for broadcasting news, culture, history, entertainment and facts. I really enjoyed the archive audios that broadcast on special programme."
And finally, Alan Gale sent his best wishes to Czech Radio from Whitworth in the United Kingdom:
"I don't send many reception reports these days, but how could I not do on such a special occasion, so a very happy 100th birthday to your venerable station, and may you be around for at least another 100 years!
"Radio Prague was the first international broadcast station that I ever heard, thanks to hearing your Interval Signal on Medium Wave back in the early 1970s, and this was what made me want to discover more about the world of International broadcasting.
"One of the really nice things about Shortwave is that you learn so much about other countries, and you also develop an affection for them along the way."
Ham radio users, from teenagers to eightysomethings, are ready to communicate in the next crisis – be it a wildfire, pandemic or 'the big one'
by Amanda Ulrich in Palm Springs
here's an ancient fable that Glenn Morrison, a pony-tailed, 75-year-old who lives in the California desert, likes to tell to prove a point. As the lesson goes, one industrious ant readies for winter by stocking up on food and supplies, while an aimless grasshopper wastes time and doesn't plan ahead. When the cold weather finally arrives, the ant is "fat and happy", but the grasshopper starves.
In this telling, Morrison is the ant, and those who don't brace themselves for future emergencies – they're the grasshoppers.
Morrison is in the business of being prepared. He's the president of the Desert Rats (or the Radio Amateur Transmitting Society), a club based in Palm Springs that's dedicated to everything ham radio.
The old-school technology has been around for more than a century. In lieu of smartphones and laptops, ham radio operators use handheld or larger "base station" radios to communicate over radio frequencies. The retro devices can range from the size of a walkie-talkie to the heft of a boxy, 20th-century VCR.
Generations after its invention, one of ham radio's biggest draws for hobbyists is its usefulness in an emergency – think wildfires, earthquakes or another pandemic. If disaster strikes and internet or cellular networks fail, radio operators could spring into action and help with emergency response communications, and be able to keep in contact with their own networks. [Continue reading…]
The launch complex acknowledges the FCC letter about unlicensed FM signals
Spaceport America says those unlicensed FM broadcasts that drew a warning from the FCC won't be heard again without proper authorization.
As we reported, the commercial launch complex recently received a notice of illegal pirate broadcasting from the commission about a pirate radio station heard on its property last year.
The organization issued a statement from Executive Director Scott McLaughlin: "A past Spaceport America customer used unauthorized frequencies for transmission while operating on-site. The low-power FM system (with a range of only a few miles) will not be in use again at the spaceport without proper authorization." [Continue reading…]
AM is in a fast decline, but FM isn't far behind
The current talk over the water cooler at radio stations is the prediction of the demise of AM, with carmakers removing AM reception from many new vehicles. We hear about station owners choosing to sell their antenna sites because the real-estate value is higher than the short-term value of the broadcast station. High-power stations are diplexing with others and coverage is suffering. AM stations that have FM translators are promoting the FM frequency with no mention of the AM frequency.
The broadcast industry is killing AM.
Recently I purchased a new car. Yes, it has HD Radio. Yes, it plays streams while connected to a phone. Here are my observations:
The auto dealership was not knowledgeable about HD Radio. Its staff did not know or care that there are stations in digital.
When they were showing me the car, the radio kept buffering. When I mentioned this to one of the mechanics, he recommended turning off the HD. Yes, analog won. When I was then shown the apps that play streams, we noticed that the analog radio playing music sounded superior to the stream. [Continue reading…]
It will be open to the public and streamed live
That House of Representatives subcommittee hearing about AM radio that we told you about earlier will be held on the morning of Tuesday, June 6.
The Energy and Commerce Committee and its Communications and Technology Subcommittee have given the hearing the title "Listen Here: Why Americans Value AM Radio."
The hearing will be open to the public and streamed online at 10 a.m. (EDT). Find the link to the live stream here.
The Republican chairs and senior Democratic members of this committee and subcommittee have all issued comments supportive of AM radio. Bills have been introduced in both houses of Congress to make AM radio mandatory. [Read the full article here.]
---
Do you enjoy the SWLing Post?
Please consider supporting us via Patreon or our Coffee Fund!
Your support makes articles like this one possible. Thank you!