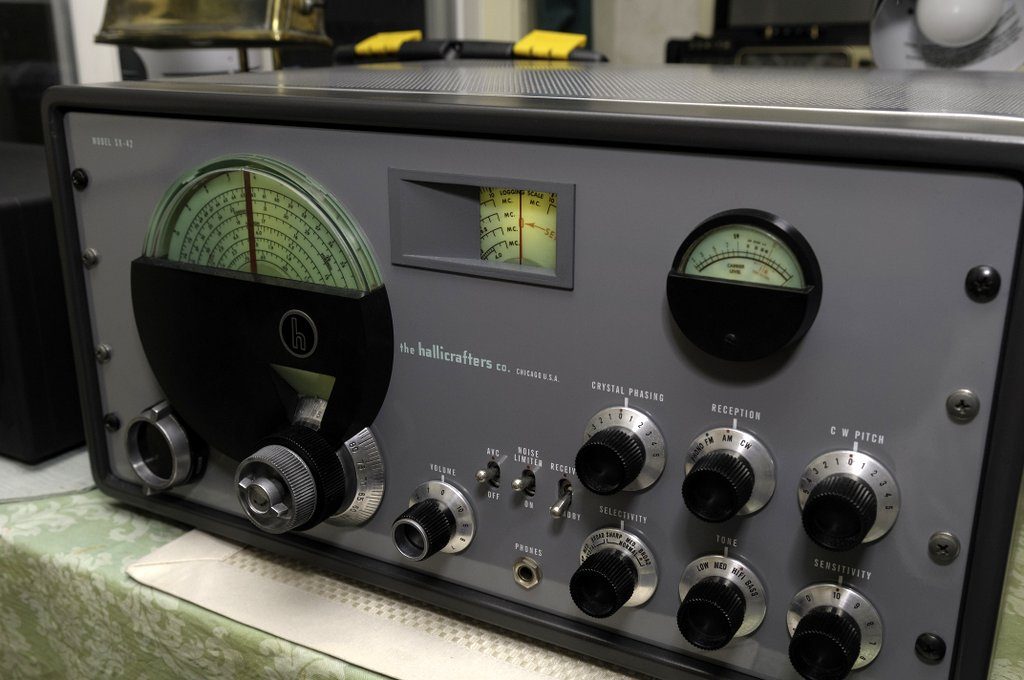 Many thanks to SWLing Post contributor, Arthur Smith, who shares the following guest post:
---
The Story And Restoration Of My Hallicrafters SX-42
by Arthur Smith
As a junior high student way back in 1978, I had a natural interest in radios. My dad was a ham radio operator, electronics engineer, and designer. We always had cool, exotic radios and electronic gadgetry around the house. He was also in the Korean War, in the US Army Corps of Engineers, with access to a wide variety of equipment. He often told me the story of how he became interested in radio at an early age, and how he saved up for expensive radio gear, with a little help from my grandparents. Back in 1946, Hallicrafters was THE brand to own, and their postwar designs from Raymond Loewy, were catching the eye of many enthusiasts. The SX-42 was being hyped up in Hallicrafters ads as the ultimate radio to own, one that could tune the shortwave and ham bands, and beyond. I don't know the complete story, but prior to acquiring his SX-42, my dad also purchased an S-38 and S-40. Never satisfied with "good and better", my father wanted "the best". All 15 tubes and 50-plus pounds of boatanchor.
Always ambitious and industrious, he mowed lawns, repaired motorcycles, and did odd jobs for neighbors in his suburban Boston neighborhood. He worked smart, and worked hard. And that fall, bought his SX-42.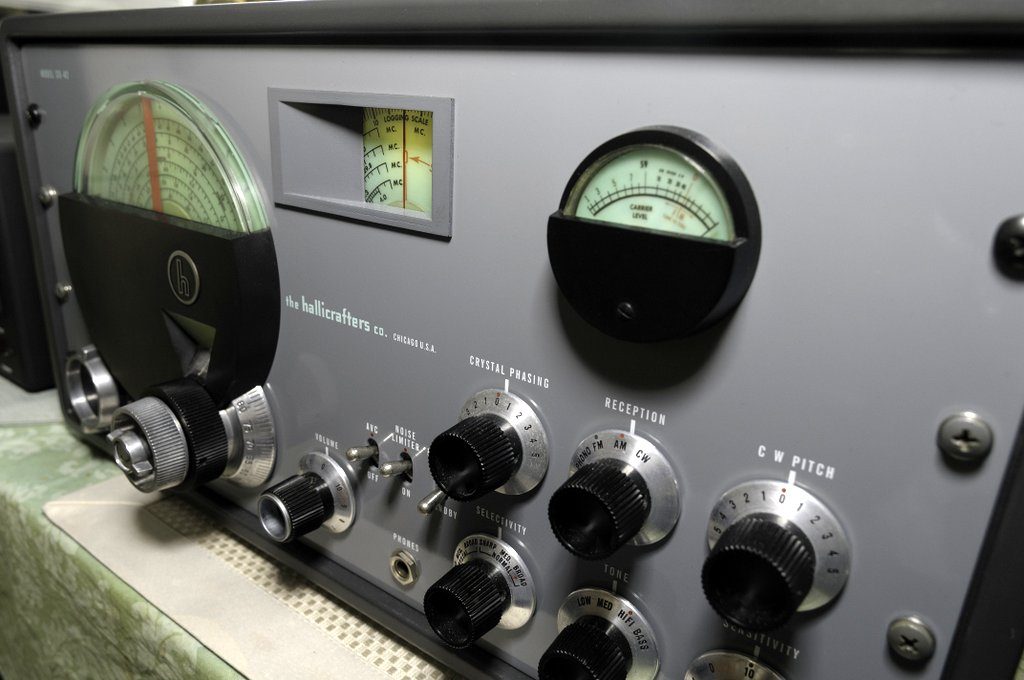 The radio, we think, was about $279, which would make it the equivalent of almost $3500 in today's dollars. He heard the start of the Cold War, and the Soviet Union's Sputnik. And the birth of Rock and Roll on FM! He graduated high school, went away to the Korean War, serving two Tours of Duty. He came back home, and became an electronics engineer. And a licensed ham radio operator.
Moving ahead to 1978, and yours truly had the radio bug, in the worst way. Not as ambitious or as savvy as my father, a classmate, who was also a ham radio operator, told me about a National HRO he had, with some coils, and maybe needing some work. My Dad came home from work, and I just had to tell him about this great opportunity, which of course, would require his financial backing. At this point, the SX-42 and his other two Hallicrafters were seeing "backup" duty, having long since gone solid state in his post. "Hey, I've got an idea!" When a Dad says that, a son usually wants to run. Not in this case. "How about we give you my SX-42?!" Gee, twist my arm. I had loved watching those mesmerizing green back lit dials, S meter, and geared tuning knobs. Unfortunately for my classmate, he had to keep his National. Fortunate for me, I had my father's SX-42!
That radio logged my first 100 countries, including QSL cards from countries and stations no longer in existence. It heard the fall of the Berlin Wall. And, it was at the heart of my school Science Project, which made Science Fair, featuring an experiment on longwire shortwave radio reception.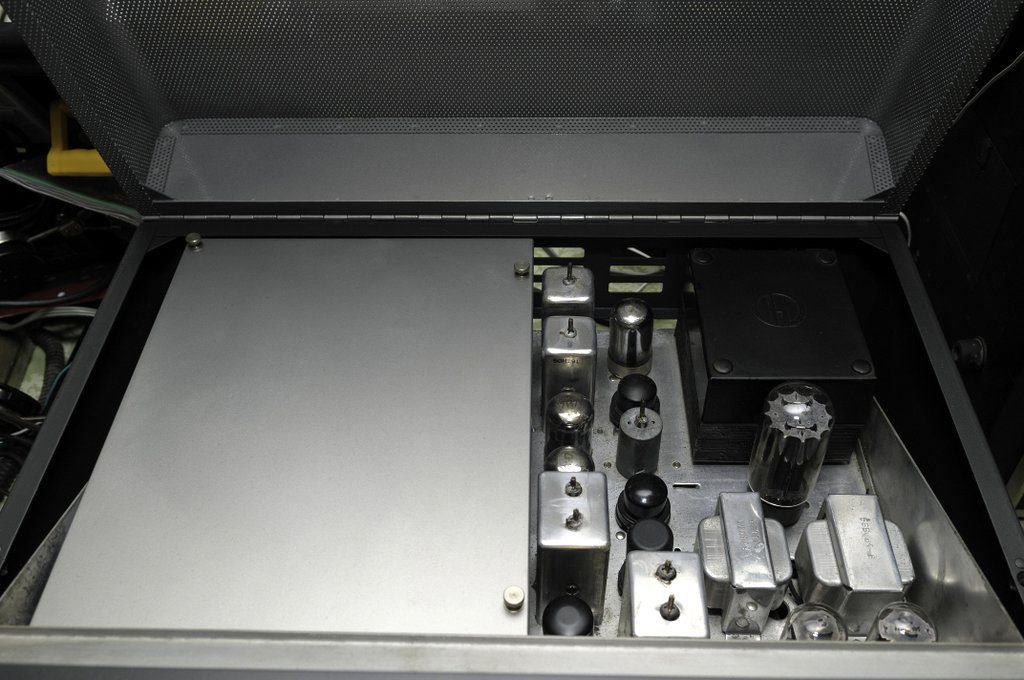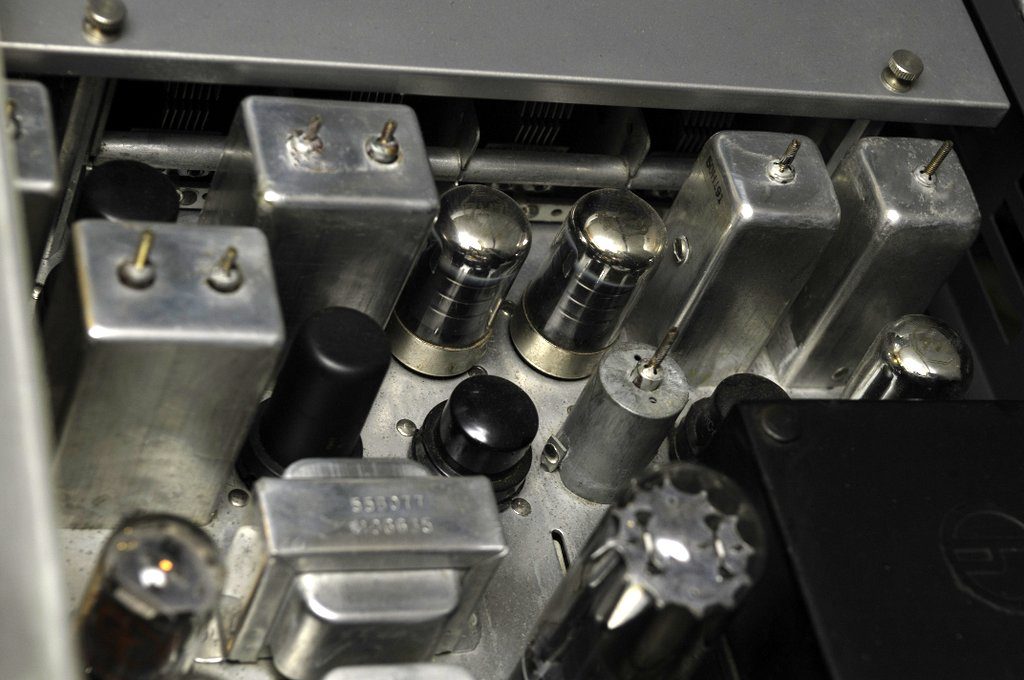 Years later, the focus became family, a child, and a house. The SX-42 and siblings came with me, but this time, in boxes. After having seen a WW2 vintage Hallicrafters S-20R at a consignment shop a couple of summers ago, I thought how cool it might be to have Dad's radios electronically and cosmetically restored.
The S-38 and S40 were in a box in my damp basement. While intact, they had a considerable amount of rust. Luckily, I was able to find a gentleman with great electronic and mechanical skills. He brought the S38 back to life, working and looking beautiful. And is working still on the S-40. As for the SX-42, that was upstairs in a box in my son's closet. Dry and somewhat preserved, but with some corrosion on the control panel. And sadly, that iconic lock knob that switches between main tuning and brandspread tuning, had been lost in the move. I had to find someone who could take this project on.
After an extensive search, I found my man. An engineer with his own business, who was moving into retirement, and shutting his business down. He had restored an SX-42 a few years back, with amazing results. I had to lure him out of retirement! Which I did after a few emails back and forth. And, he was within driving distance! First warning was "do not power the radio back up under any circumstance- you'll fry the wafers on the bandswitch!" I resisted temptation, as I had read online that these were notorious for failure, usually to some original capacitors that leak over the decades.
After 13 months replacing every capacitor, virtually every resistor, and vacuum tube, the iconic radio was coming back to life, in a great way. The transmission and gears in the tuning was re-lubricated. During the restoration process, a date was found stamped on the chassis of October 25th, 1946. Could it be?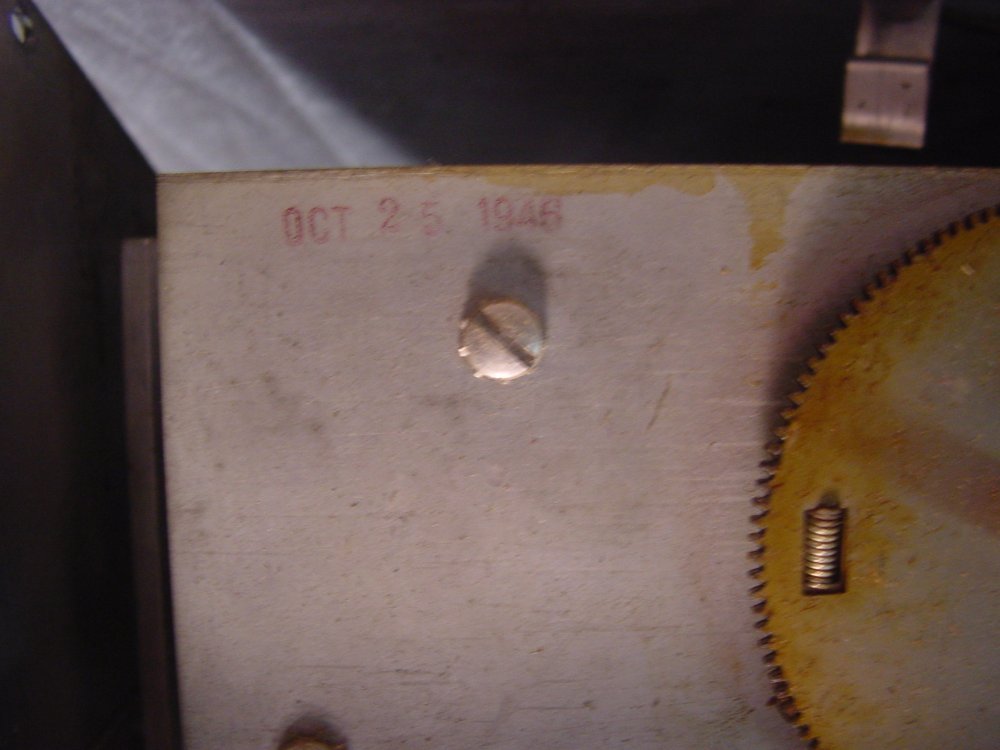 Hallicrafters had advertised in the Oct, 1946 issue of Radio News that "The first hundred are always the hardest to build." This, coupled with the fact that none of the chassis circuit had been modified, lead my restorer to believe that my radio was one of the first 100 SX-42's that Hallicrafters had built!
The front panel was stripped and treated, professionally painted and silkscreened. The cabinet and apron bead blasted, repainted, and clear coated. It came back home with me last month. A month after it turned 70.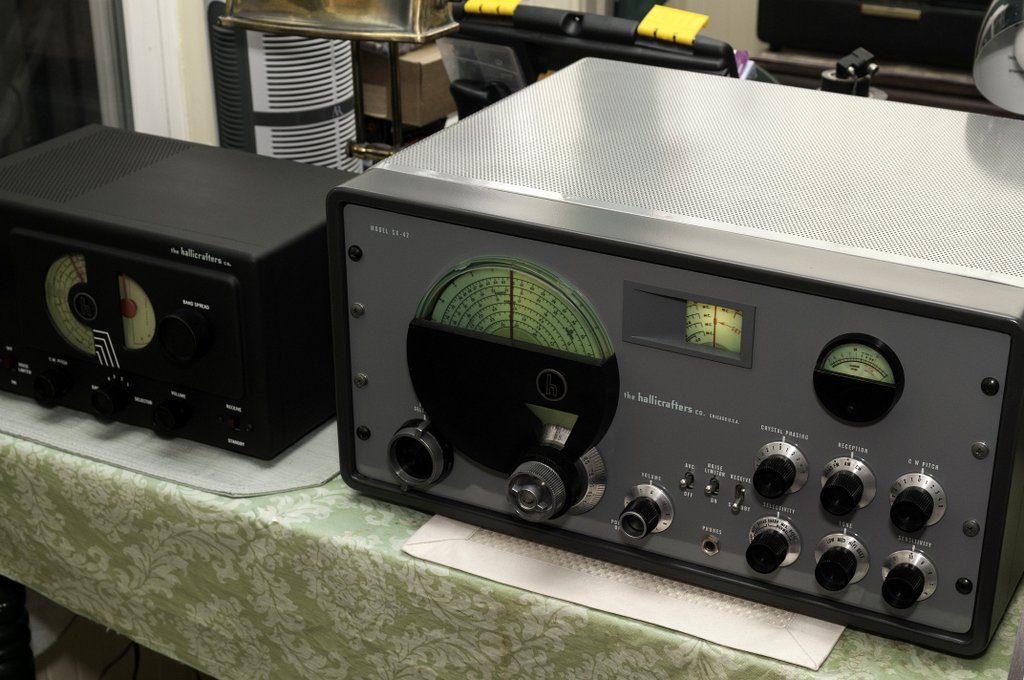 As you can see here, the radio looks stunning. And, with all the Hallicrafters Service Bulletin mods implemented, sounds and performs better than I remember. Maybe more importantly, we were able to locate a replacement brake lock knob for the tuning shaft, even with the "Lock" decal and arrow showing to rotate it counterclockwise. It just would not have felt complete without that little knob- and, it works!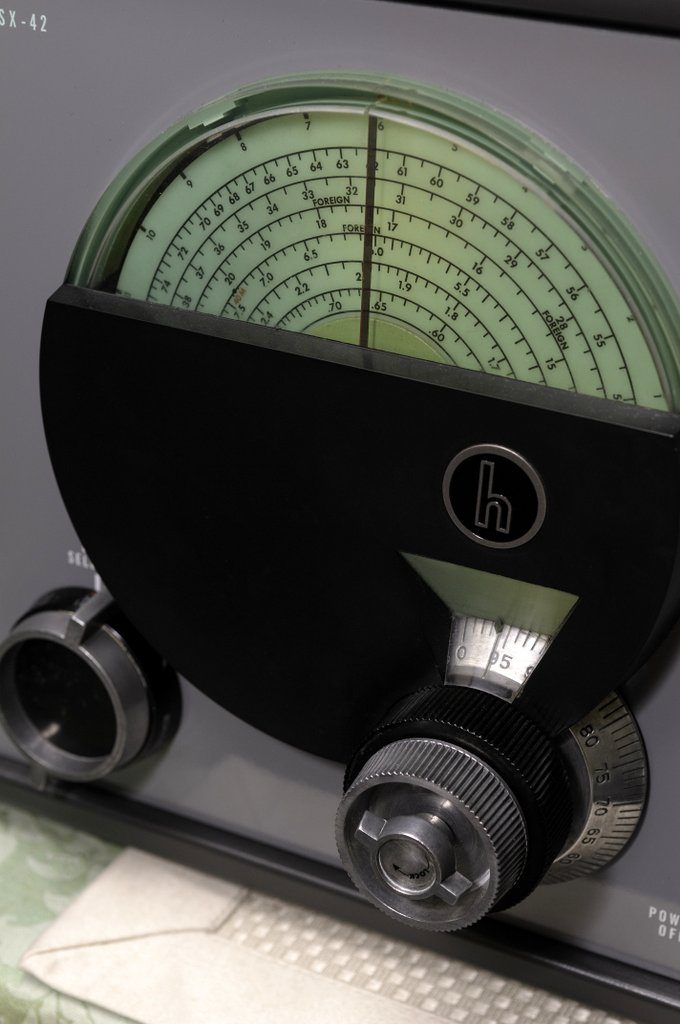 Engaging a set of what essentially are brake pads, you rotate it once to disengage the main tuning and engage the bandspread tuning. Again, and you're back to main tuning.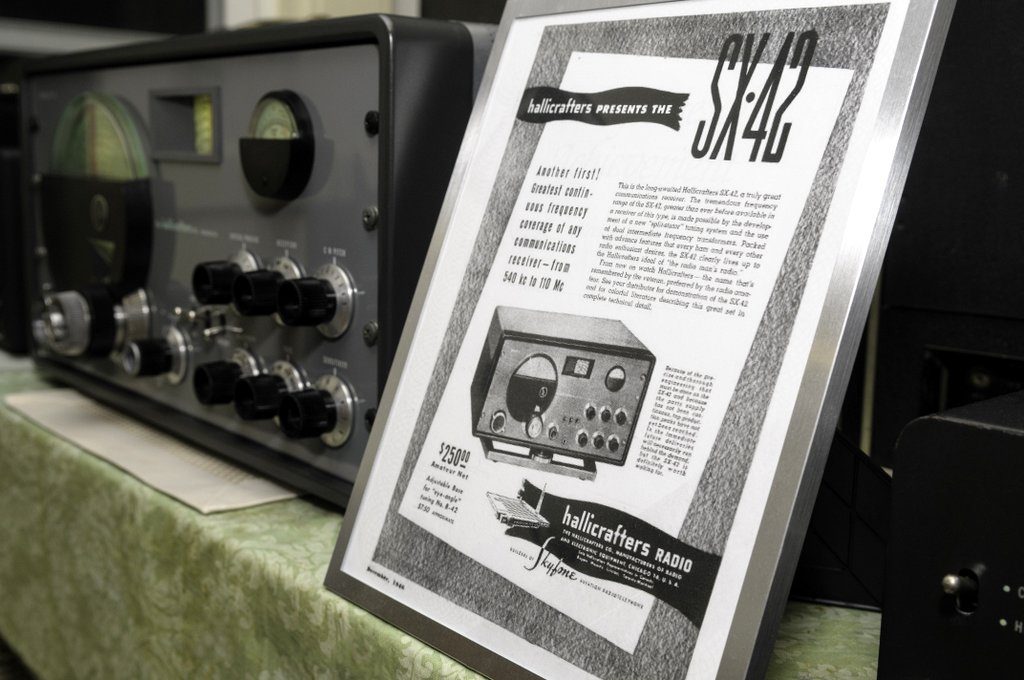 This radio will always remain a truly cherished family heirloom, and will be my son's someday. Complete with the original owner's manual, and Darth Vader-like R42 Reproducer (speaker).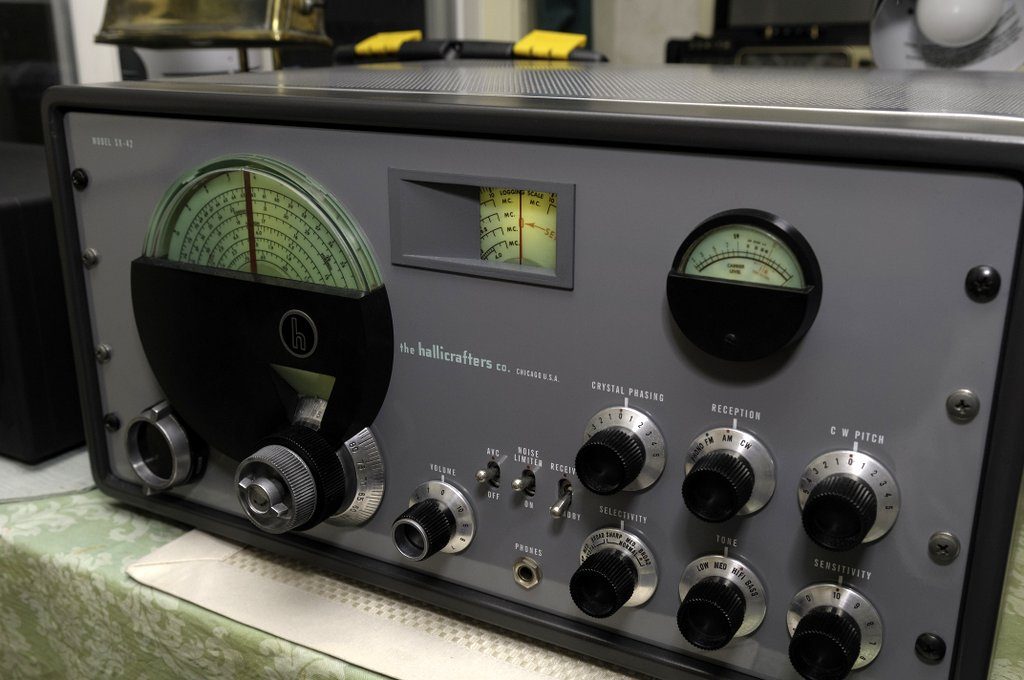 Hopefully to live on for another 70-plus years, and hear more history along the way.
-Arthur Smith Worcester, MA
---
Wow–!  Thank you so much for sharing your story with us, Arthur. No doubt, your SX-42 will certainly outlive all of us and will hopefully continue to be passed down through your family. What a wonderful story.