Many thanks to SWLing Post contributor, Troy Riedel, who shares the following guest post:
---
Review: DoxyTronics Portable HF Magnetic Loop 8020CA
-by Troy Riedel
Before I purchased the DoxyTronics 8020CA antenna, I emailed the owner/manufacturer and asked if he felt this antenna would be a good choice with the radios that I own. He promptly and courteously answered my question and I purchased the antenna on September 30th. I received the antenna approximately 6-days after I ordered it.
I have been evaluating the antenna for 5-6 weeks mostly on my Grundig Satellit 750 and my Grundig G3. I have used other portables but the two aforementioned Grundigs were the radios I used most.
The antenna control box has a ¼-20 hole on the bottom so it can be mounted to a video camera tripod. The assembled antenna weighs 3 lbs. I tried using a light duty DSLR tripod that I own, however that was nowhere near sturdy enough. I had to use a heavier duty tripod (Ravelli AVT) that I use for astronomical purposes. This Ravelli has a weight capacity of 16 lbs and it easily supported the antenna. I'm confident a much smaller and lighter duty tripod than the Ravelli could be used, I simply don't own anything in-between as my astronomical binoculars and binocular telescopes weigh 5 – 14 lbs.
The 8020CA Antenna consists of a large tuning knob and control box. The control box has switch settings of 3-5 Mhz and 5-15 Mhz. In testing, I found that I could "tune" up to 17.840 MHz.   No batteries are needed to operate.
The antenna worked equally well with all of the "portable" radios that I tested (I am a SWL'er, not a ham).
I can summarize the antenna's performance as this: it is not a magic elixir that will allow you to capture signals too faint to recognize without the antenna attached, but it definitely enhances the signal and "stabilizes" it to the point where the level of the signal remains relatively constant (less peaks & troughs in signal strength).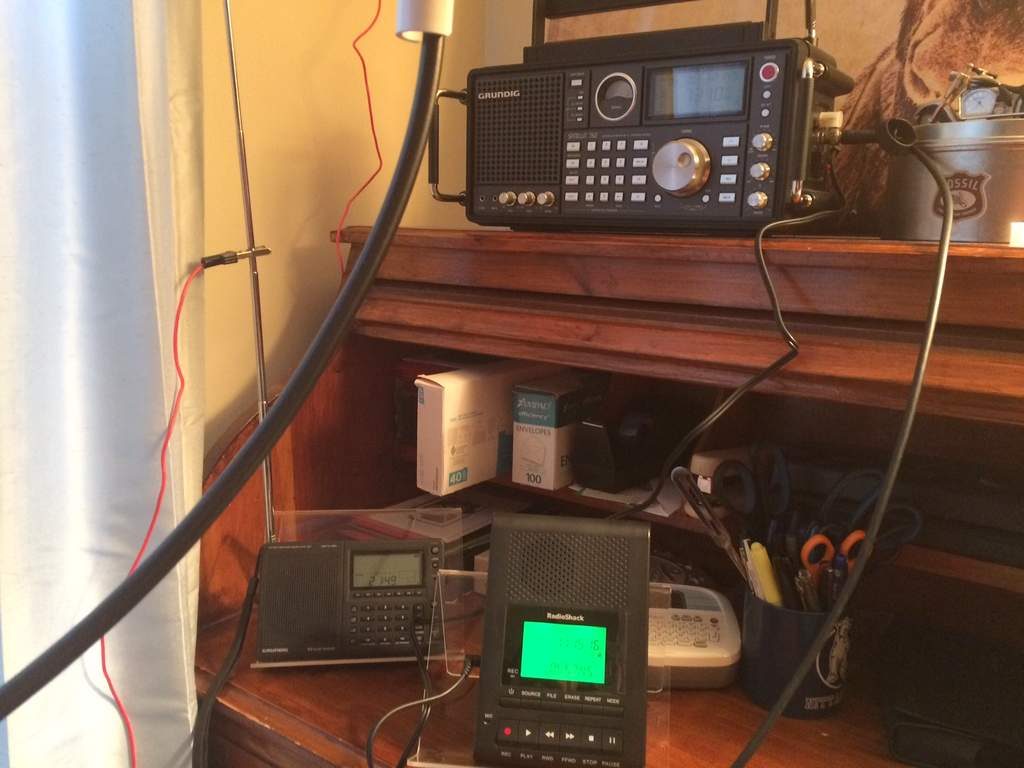 Hopefully you can hear what I have summarized and concluded. I have included a two and one-half minute recording of the following:
Radio: Grundig Satellit 750
Recorder: RadioShack 140-214
Freq: 7.310 MHz
BW: Wide
Broadcaster: Radio Romania International
Date of Recording: 15NOV2016
Time: 2309 – 2313 UTC
Click here to download as an MP3.
00:00 – 00:30: 8020CA Antenna Attached
00:30 – 01:00: Radio's Whip Antenna
01:00 – 01:30: 8020CA Antenna Attached
01:30 – 02:00: Radio's Whip Antenna
02:00 – 02:30: This last 30-second segment is with the 8020CA attached, however I am panning the Ravelli tripod 360-degrees in the horizontal. You will hopefully notice that there is a "sweet spot" where the signal and reception is the best of the entire 2:30 recording. I had set-up the antenna and I completed a quick, test recording of Radio Romania. But conditions changed slightly and the best signal during the recoding was approximately 50-60-degrees away from where the best reception was earlier. This is a positive for the antenna: you can pan the tripod head where the antenna sits to null and/or find the best signal.
Note: this is my first shortwave and radio-related review I have ever done. I have done many astronomical reviews – where I have much more experience – so please be kind towards this first attempt.
---
No worries, Troy! We're kind and appreciative here–especially since guest posts are all about sharing our experiences and experimentation!
I must say, the DoxyTronics loop is doing a fine job mitigating the local QRM/interference that is easily heard when only the telescopic whip is being used. I'm also impressed that a passive loop this modest in size has so much gain without amplification. 
Thanks, again, Troy for sharing your review! 
Click here to view and/or purchase the DoxyTronics 8020CA magnetic loop antenna.