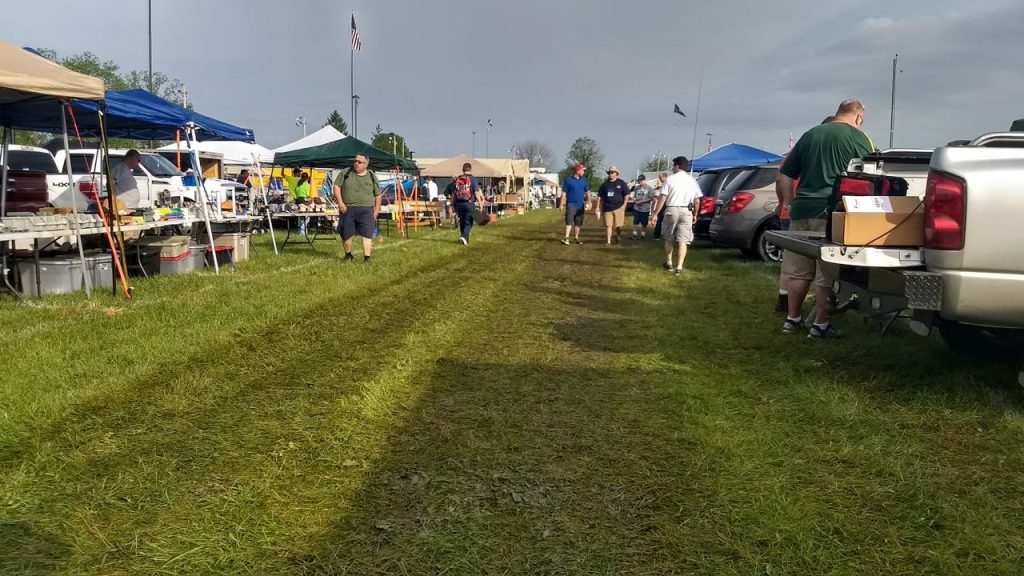 I'm finally back from a week of travels which included the 2017 Hamvention held a the Greene County Fairgrounds in Xenia, Ohio.
As an inside exhibitor, I was quite busy at Hamvention–indeed, my voice is only now recovering.
I did manage to sneak away from our table on several occasions to visit with vendors, friends, and check out new innovations (thanks to ETOW volunteers Eric McFadden, Miles McFadden and Robert Gulley!). I also attended the NPOTA (National Parks On The Air) forum on Sunday.
This year, I posted hundreds of photos of the event here on the SWLing Post: both inside exhibits and flea market booths.
I've also already started a re-cap/review of the 2017 Hamvention which I plan to post in the next few days. Stay tuned.
In the meantime, though, a number of readers have asked what I brought home from the Hamvention. Though I had no intention to buy stuff this year–seriously–I did manage to come home with a few treasures.
Panasonic RF-2200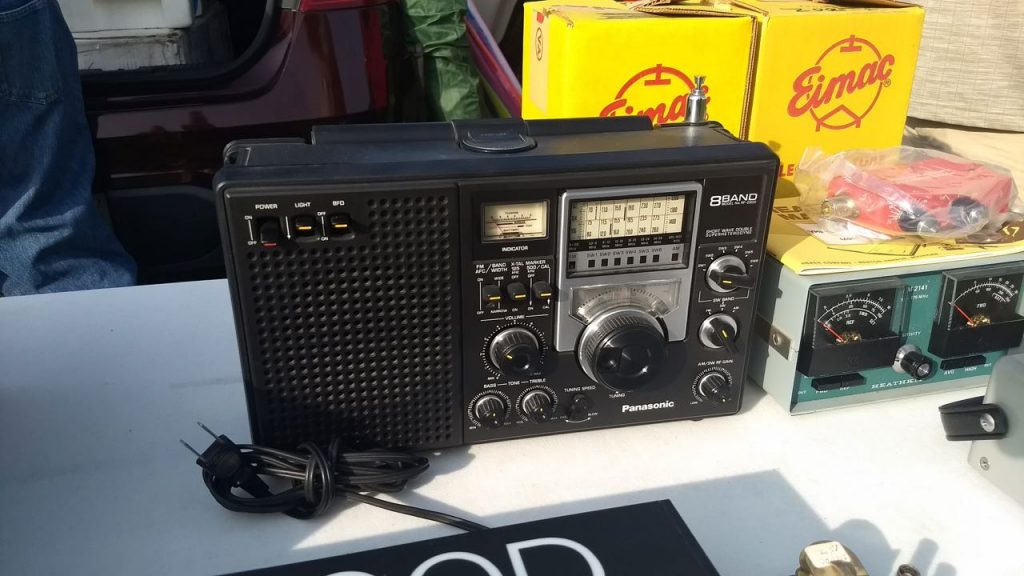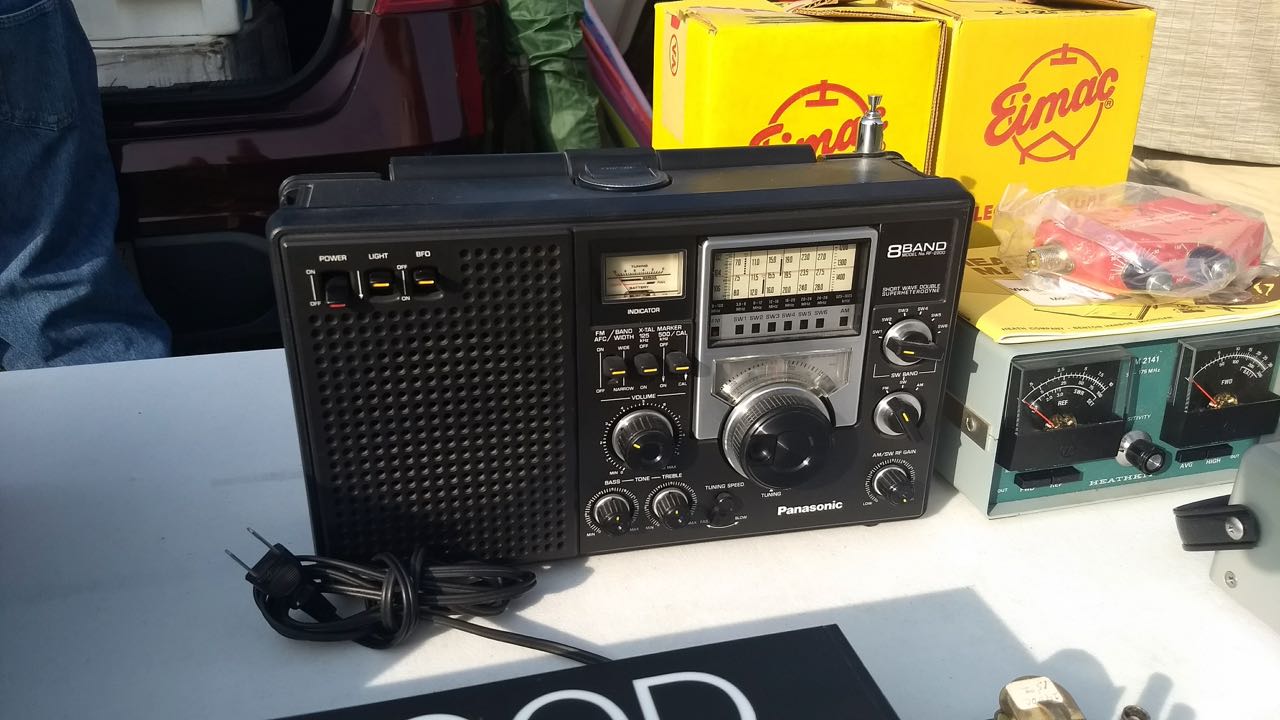 If you've been reading the SWLing Post for a while, you'll know I'm a big fan of the '2200. On the shortwaves, it's a great performer even though the analog tuning can be a bit squirrelly.
Where it really shines is on mediumwave, though. It's easily the best AM portable I own.
My buddy, Eric (WD8RIF), pointed out this RF-2200 (see photo above) in the flea market. Since I already own an RF-2200, I had no intention of buying one.
While taking a photo of it, the seller started telling giving me details. He said he'd never used batteries in it, and only used a small external wire antenna connected on the back (his homebrew connector was still attached). He then mentioned that he also had the original box, manuals, accessories and packing materials.
I put my camera phone away and picked it up to take a closer look. It had obviously been taken care of over the years. The battery compartment was immaculate and the telescoping whip didn't have any bends or missing sections–it was straight, clean and original.
Out of curiosity, I asked how much he wanted for it.
He wanted $70.
Sold!
With absolutely no hesitation, I reached for my wallet. Sure, I've already got an RF-2200, but one can never have too many RF-2200s. Right?
I took a few photos of the RF-2200 this morning:
Without a doubt, this was my exciting 2017 flea market find. .
MFJ-8121 Analog Shortwave Portable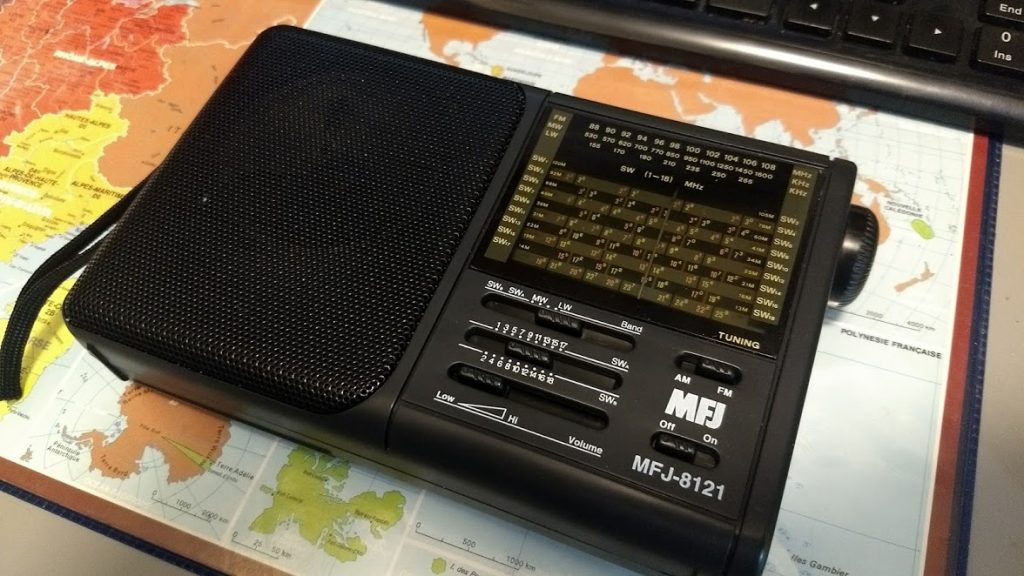 While browsing the inside exhibits late afternoon on Saturday, I spotted this analog portable from MFJ Enterprises.
In truth, I didn't realize MFJ even had a shortwave portable in their product line.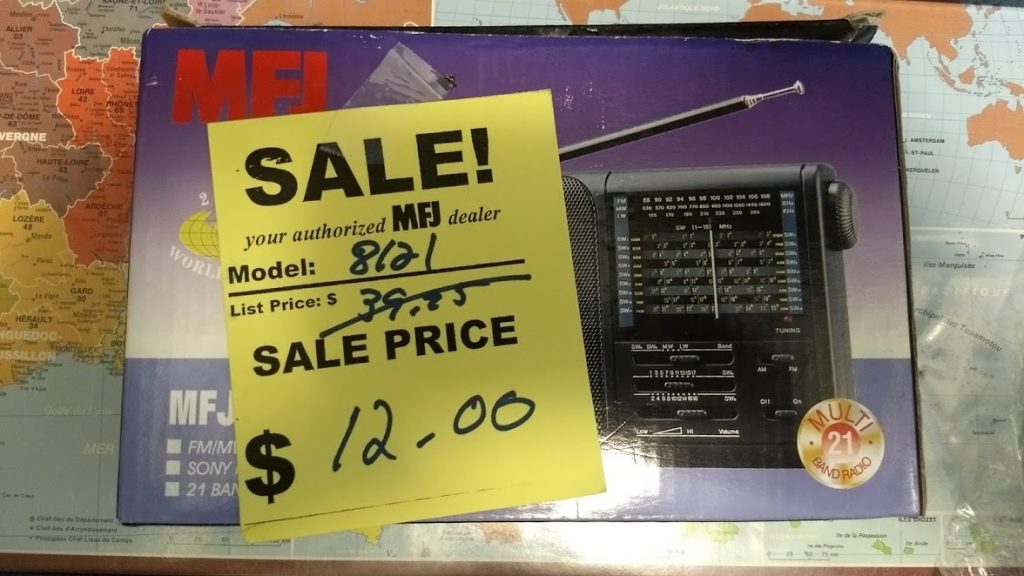 This particular unit was on the clearance table and was labeled as a "factory second." The sales person told me it was likely due to the damaged box (the unit inside had no visible blemishes).
At $12, I decided to purchase it.
You see, I get a lot of requests from readers asking for recommendations of simple analog portables. I thought I might eventually review this MFJ unit.
Last night, I popped some AA batteries in the radio and, sadly, it produced no audio. The tuning indicator works, but the speaker doesn't even produce a hiss. I suspect this is the real reason it was being sold on the clearance table.
I might contact MFJ and let them know about this, or I might simply pop the radio open and see if it's a broken connection.
HamSource flashlight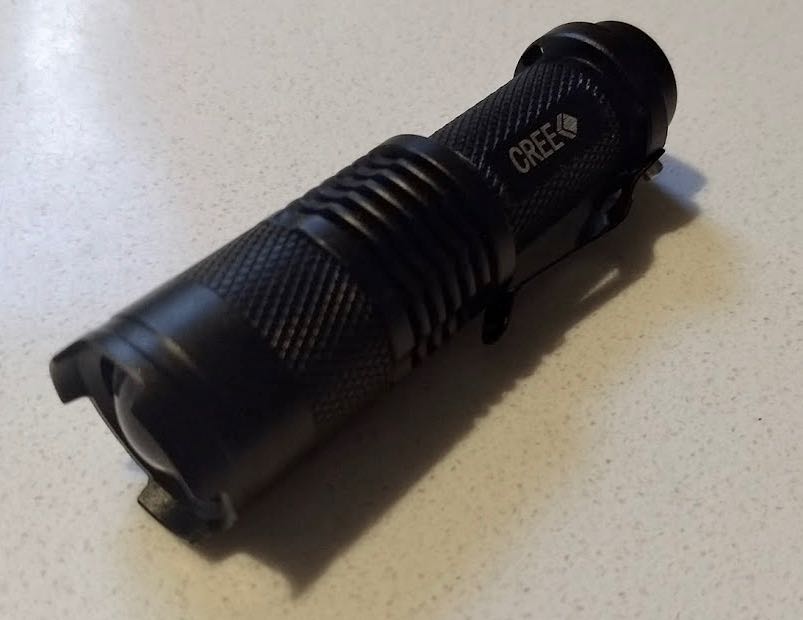 And finally–while not a terribly exciting purchase–I did also pick up this CREE LED flashlight at the Ham Source booth. It's small, bright and runs on one AA battery. It has three settings: high, low and flashing. It appears to be very durable and the beam can be focused. For eight bucks, it's the perfect flashlight to live in my new Tom Bihn Synapse 25 backpack.
That's all, folks!
Looking back, I'm quite impressed with my self-control. I really didn't want to return home with any new finds. If anything, I'm trying to downsize right now.
But a Panasonic RF-2200?  I always have room for another FR-2200!
Post readers: Have you acquired any flea market finds recently?  Please comment!