China Radio International via Radio Havana Cuba
Each morning, I enjoy listening to Radio Australia on 9,580 kHz, but I'm forced to tune elsewhere due to interference when China Radio International starts broadcasting on 9,570 kHz, via Radio Havana Cuba's relay.
Hypothetically I should be able to mitigate any adjacent interference from CRI by listening to Radio Australia's upper sideband. But unfortunately, RHC's transmitters spew spurious emissions a full 20 kHz on either side of their carrier. It's most annoying.
Here's what RHC/CRI's 9570 kHz signal sounds like on 9560 kHz:
Here's what my waterfall looked like when CRI signed off: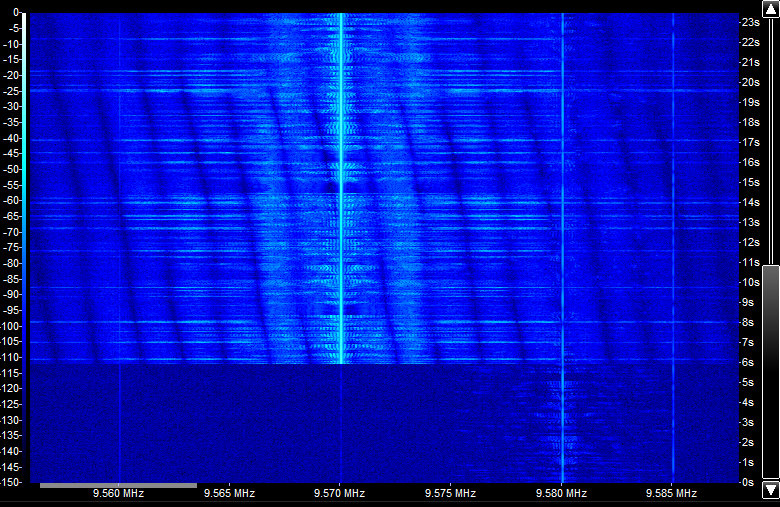 Notice how clear the 35 kHz waterfall window became (that's Radio Australia centered on 9850 kHz):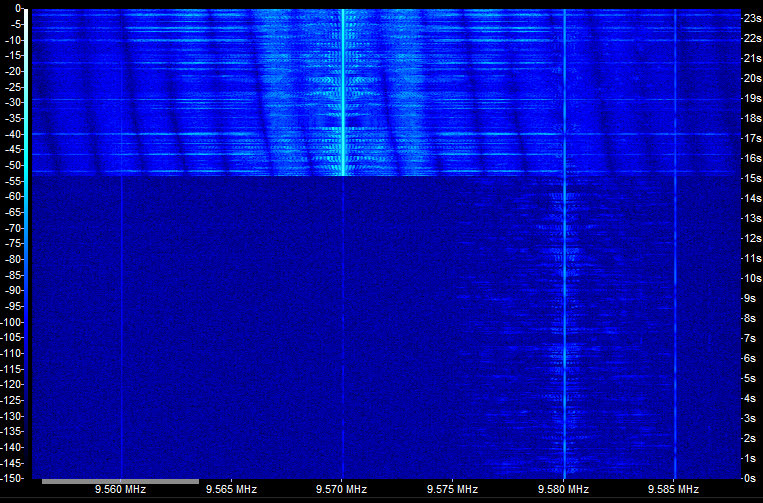 The reason for this is clear: obviously, some of RHC's transmitters are in need of care–and they're not the only ones.
Radio Cairo
I've received a number of requests from Radio Cairo to post notices about their English language broadcasts. Normally, I'm quite happy to post press releases, but in each case I've mentioned that their English broadcasts are almost impossible to understand. For years, RC has had a problem with AM modulation (I assume) and, to my knowledge, have never addressed it.
I've sent RC feedback on a number of occasions; in response, I've received only the inconclusive reply that they're "looking into the situation."
To underscore the point, on Sunday Andrea Borgnino shared the following video/audio of Radio Cairo via Twitter.
Radio Cairo & worst am modulation @SWLingDotCom @LondonShortwave @John_Northants @UlisK3LU pic.twitter.com/o0aRCkPtwt

— Andrea Borgnino (@aborgnino) March 20, 2016
There are other broadcasters that emit messy signals, but Radio Havana Cuba and Radio Cairo are the most noticeable in my listening area. And, it seems, neither broadcaster is in any hurry to address their ongoing problems.
In Radio Cairo's case, especially, the broadcaster is simply wasting money by attempting to broadcast a signal that can neither be received nor interpreted. It's rather sad. Ultimately, one has to wonder why they bother to broadcast at all…
Radio Havana Cuba, China Radio International,  and Radio Cairo (among others) take note: a little care of your radio transmitters will go a long way toward increasing your listenership. 
What you can do:  Consider contacting broadcasters when when you become aware of transmitter problems. Despite RC's notable exception, oftentimes a broadcaster may not be fully aware of the issue––thus your feedback is necessary to help correct the problem.