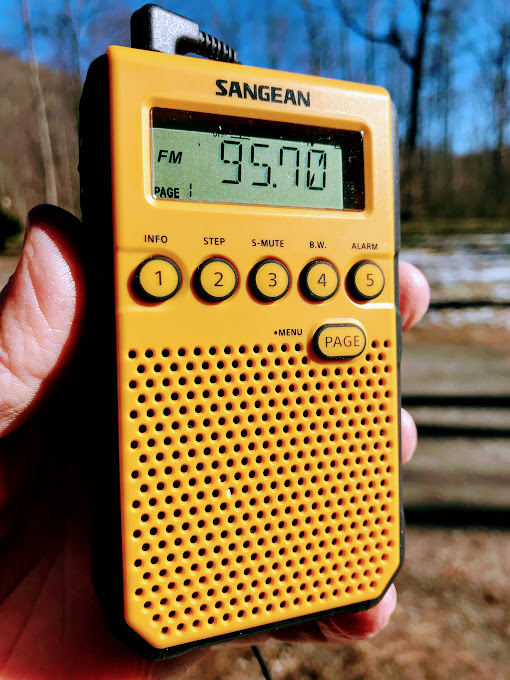 Two months ago, SWLing Post reader Paul Adler wrote to ask:
"Any reviews and comparisons of the Sangean DT-800?"
The Sangean DT-800? This caught my attention, as I wasn't, at the time, familiar with this recent addition to the Sangean product family.  So I promptly began investigating the new product, and checked out the manual; I found it has a few features that really intrigue me, namely:
The ability to turn off soft muting
The ability to internally recharge NiMH AA batteries
Multiple bandwidth on AM and FM
Weather band with weather alerts
FM RDS
No telescoping antenna––rather, an included wire antenna
In my mind, these features seemed to set it apart from other similar portables.  And with the ability to defeat the soft mute, I wondered if it could make for a formidable Ultralight DX radio?
I contacted Sangean, and they kindly sent me a review sample of the DT-800. It comes in two chassis colors: standard black and and a bright fire yellow. I chose yellow, which makes it easier to spot should this handheld be lost or dropped in an outdoor setting.
Thanks for the suggestion, Paul!
Giveaway!  By the way: since this is a product sample and was sent to me free of charge, I'm going to give it away to a lucky SWLing Post Coffee Fund or Patreon supporter next week, just to say thanks!
Now, let's get on with the review…
Initial impressions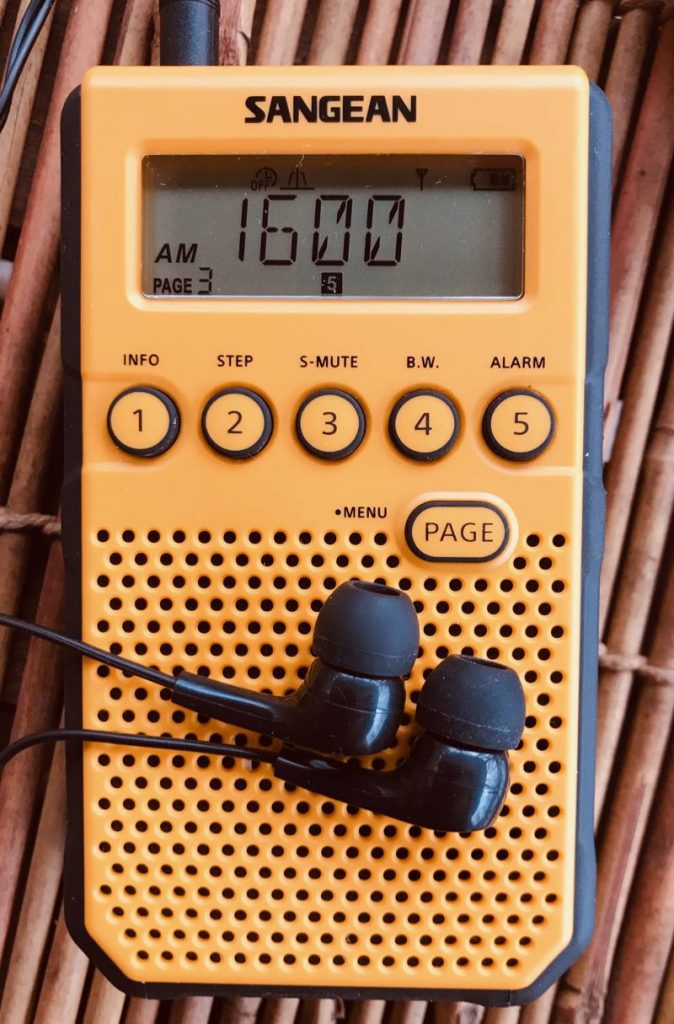 As with almost all Sangean products, the DT-800 arrives as a complete package, with all accessories. Inside, you'll find the radio, a full-length multi-language owner's manual, a warranty card, an AC adapter (with in-line RF chokes, nice touch), in-ear headphones, an external wire antenna, and a belt clip.
The DT-800 fits nicely in the hand, and the matte finish on the sides and bottom of the radio make gripping it quite easy, lessening the chance of dropping or losing the unit.
The front panel is simple: five multi-function preset buttons and a Page/Menu button. All of the buttons are tactile and have a matte finish, as well; they feel of good quality and have a great response.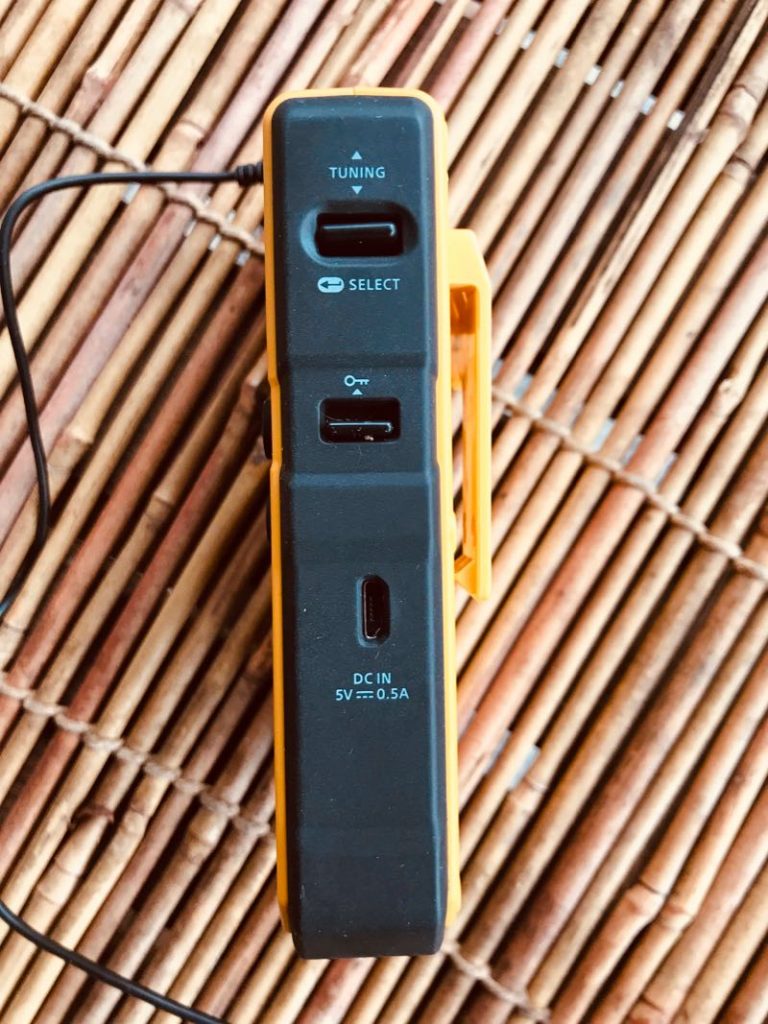 The right side of the radio (see side view, above) has a tuning/select up/down jog switch, a mechanical keylock button and a MicroUSB DC in port.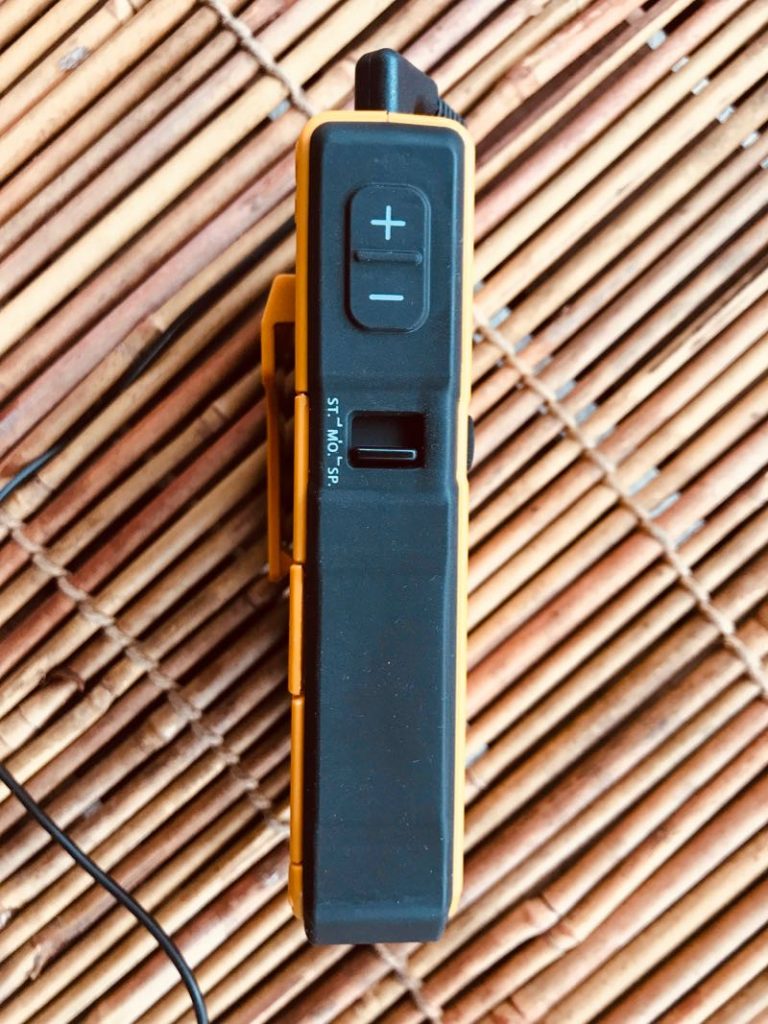 On the left side of the radio (see left side view, above) you'll find the volume up/down buttons and a stereo/mono/speaker mechanical switch which you can use to switch between the internal speaker and headphones.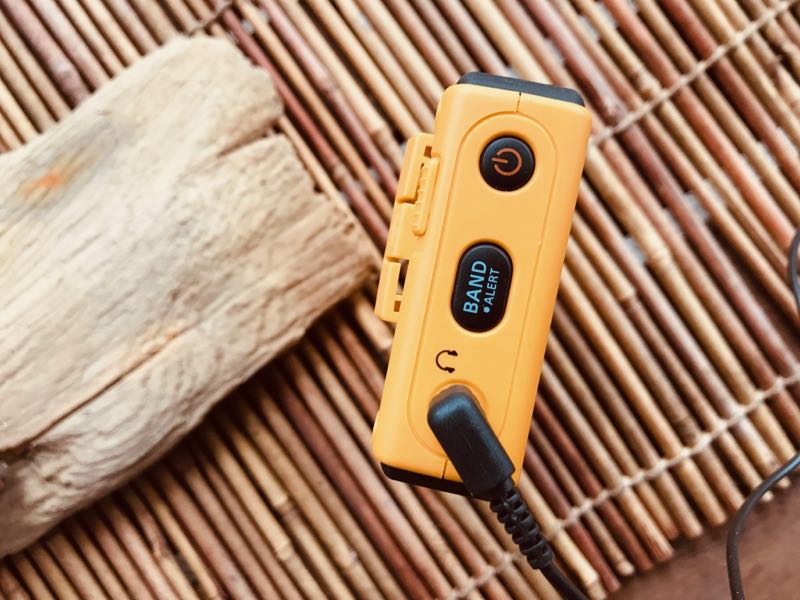 On top of the radio (above) you'll find the power button, band selection button and the headphones port, which doubles as the external antenna port.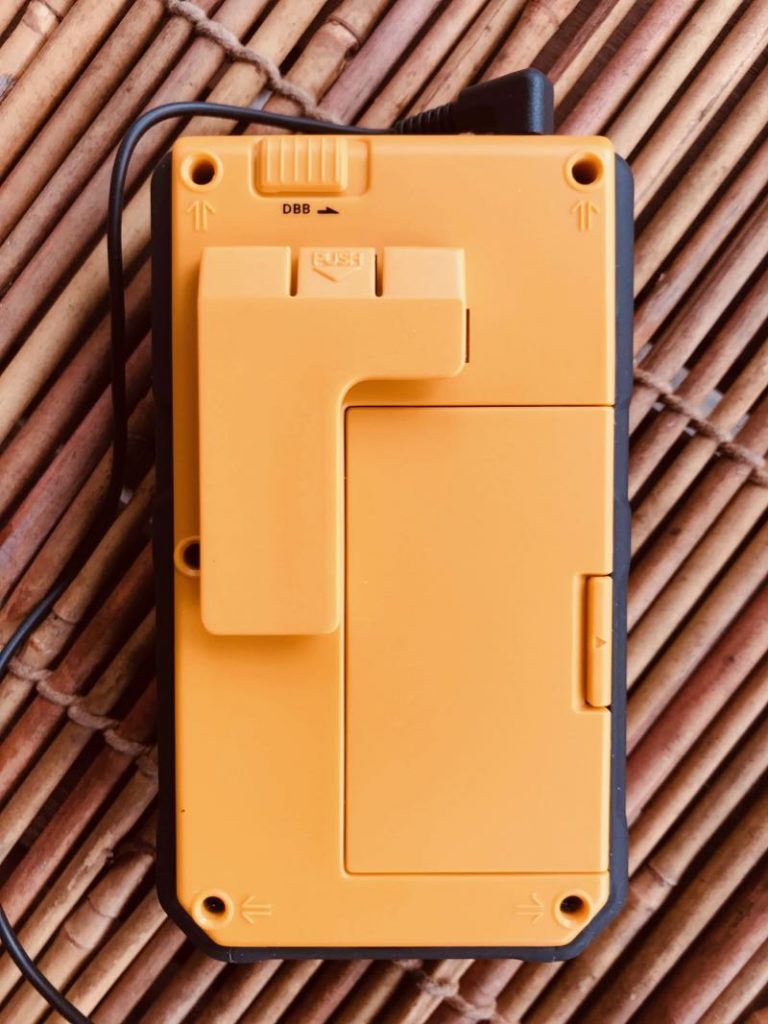 On the back of the radio you'll find the DBB bass-boost slider switch, the battery compartment, and a belt clip.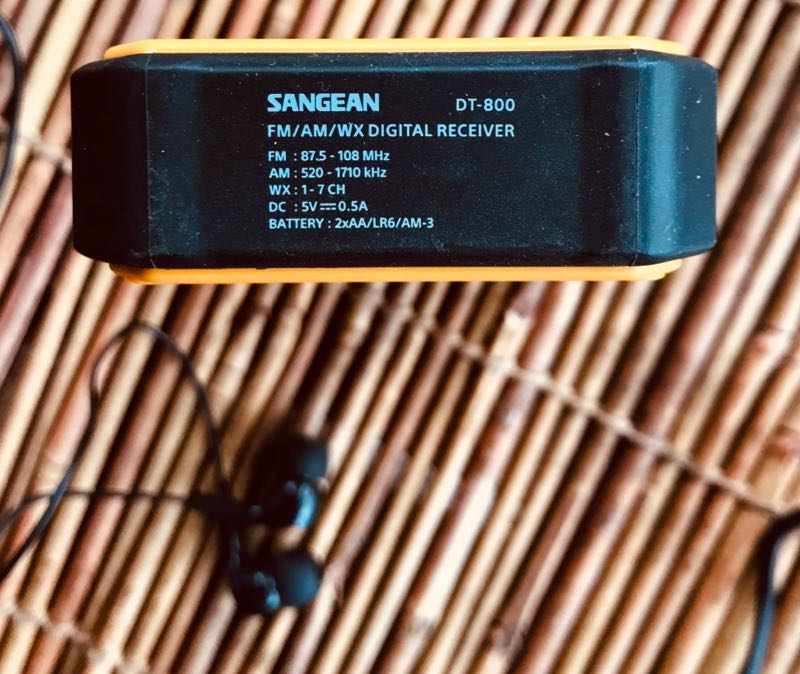 One thing you'll quickly notice is a lack of any telescoping whip antenna. Instead, the DT-800 ships with a wire antenna that's almost three feet long. I suspect that this is the same type of FM antenna that shipped with the Sangean WR-7 (click here to read review).
Design/Ergonomics
All in all, I'm very pleased with the DT-800's design: it fits well in the hand, the buttons and controls are easy to use, and it's small enough––and flat enough––to easily slip in a pocket, go-bag, or carry-on. A great portable for one-hand operation. It's also lightweight, even with the batteries inserted. Truly, this appears to be a quality little radio.
Tuning the DT-800 is a simple process: simply utilize the up/down rocker switch on the right side of the radio to increase by specified frequency steps (selectable 50/100 kHz FM or 1/9/10 kHz AM), or push and hold it in one direction to skip across the band. While the DT-800 does mute between frequencies, it's not annoying––in fact, muting is brief and audio recovery is rapid so you can actually carry out meaningful band-scanning, actually hearing stations between the steps. If you press the rocker switch, it will initiate an auto-scan in the direction you're tuning.
While the DT-800 lacks a keypad for frequency input (in truth, I would not expect such a thing on a walkman-style receiver)  it does make tuning to your favorite stations quite easy with 20 FM, 20 AM, and 5 WX presets. Saving a station to memory is truly a breeze: simply select the page you'd like to save it to, then press and hold the preset button to save it to one of the numbered presets. Really, it couldn't be easier.
To change the volume on this radio, you use rocker buttons on the left side of the radio to increase or decrease volume up to 25 levels. I particularly like the fact that level 1 is very quiet and 25 is as loud as you would ever want from a small radio. I mention this because, in the past, I have reviewed radios that had coarse volume steps, and the lowest setting is louder than I prefer: not so with this little rig.
Entering menu items on the DT-800 is quite easy, too.  Some are accessed by pressing and holding the Page/Menu button and then cycling through and selecting items with the tuning up/down switch. Others are accessed by pressing and holding the Page/Menu button, then selecting one of the five buttons on the front panel (note that each menu function is listed below the numbered button).
The DT-800's display is backlit and large, thus very easy to read at any viewing angle.
AC Adapter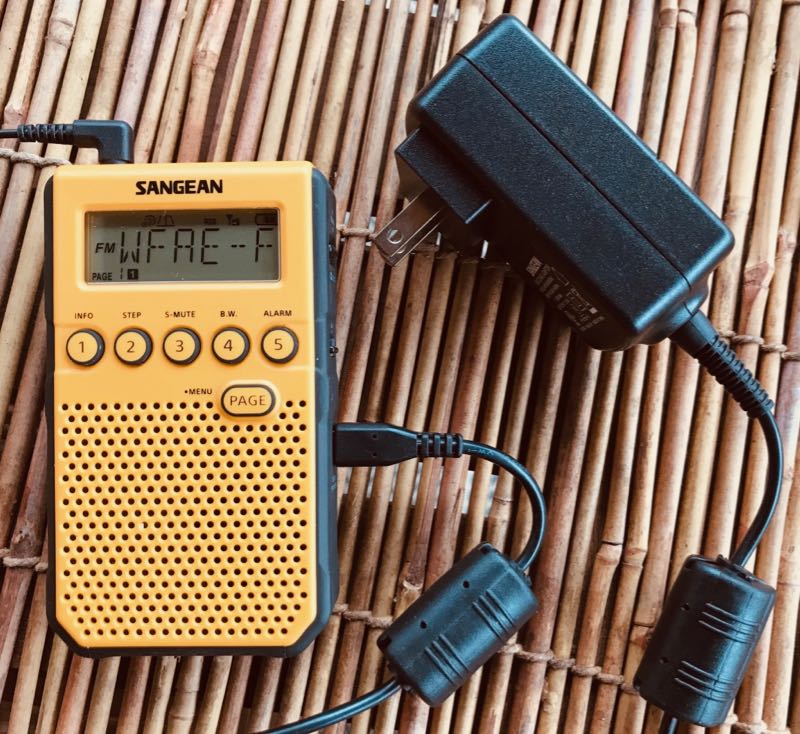 I can't think of the last time I gave an included AC adapter its own subheading in a review, but the DT-800 power supply deserves one.
Not only does the DT-800 ship with a power supply (AC adapter), but it's a quality one: the cord jacketing is thick and feels exceptionally durable––and though I'm not going to cut it apart to find out, I expect the wiring within it is a heavier gauge, as well. This adapter also has no less than two in-line RF chokes.
In a day and age when included "wall wart" power supplies are often of the cheapest quality and spew so much radio interference that they render attached receivers useless, the DT-800 adapter is a very welcome addition to this radio's kit.
Well played, Sangean! I hope other radio manufacturers follow your lead.
Batteries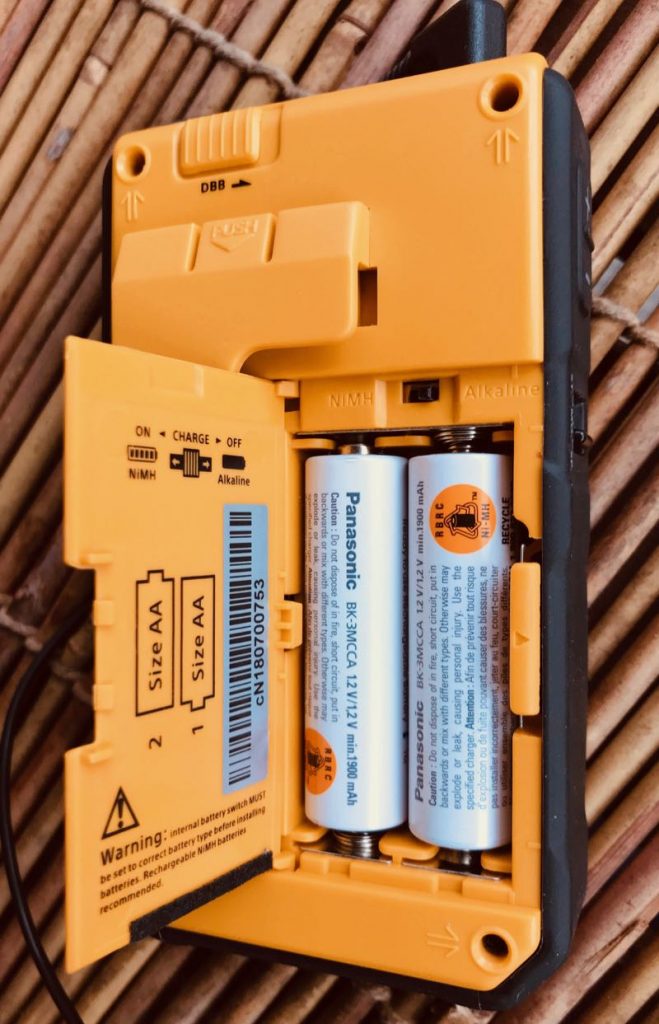 Lately, it seems most new radios are being designed to accommodate slim Lithium Ion battery packs. So, another welcome sight was opening the DT-800's battery compartment to find slots for two AA batteries.
While Li-ion batteries have advantages in terms of weight and size, I prefer AA batteries for pocket and travel radios, as AA batteries are so ubiquitous on this planet and are available in all but the most remote regions of the world.
And better yet? You can internally recharge NiMH batteries with the DT-800. The DT-800 ships with a default setting for alkaline batteries. But to internally recharge NiMH batteries, simply open the battery compartment and change the battery type switch from "Alkaline" to "NiMH."
This is an amazing and useful feature, but just be sure if you ever use the NiMH internal recharging function and then switch to alkaline cells, that you change the battery selection switch back to the alkaline setting. You certainly wouldn't want the DT-800 to attempt recharging your alkaline cells!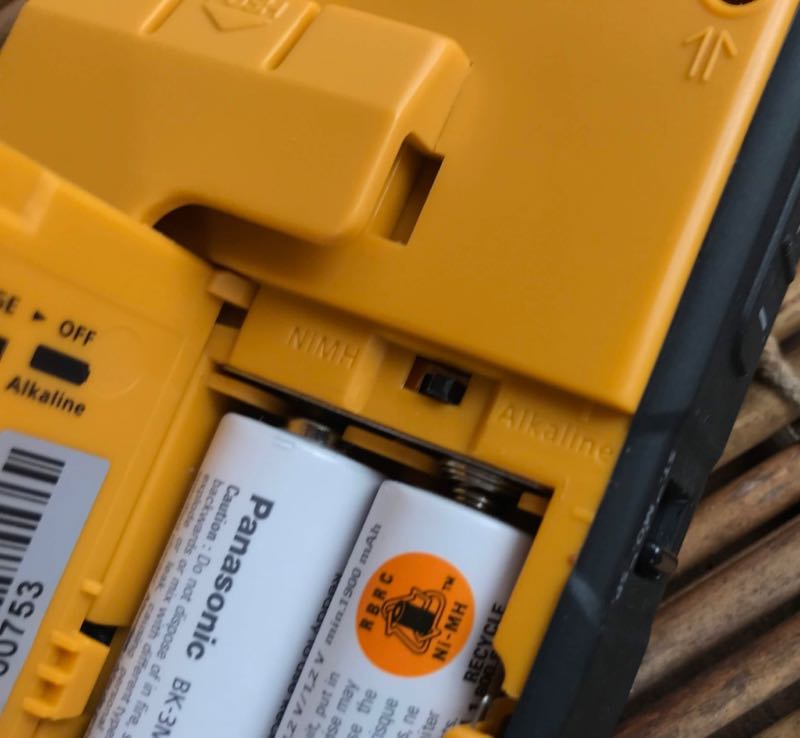 As you can see in this photo, I've been using Panasonic Eneloop NiMH batteries in the DT-800. I use a special charger for Eneloops, so have kept the battery selection switch set to alkaline so the DT-800 doesn't attempt to charge them. I might even put a small piece of colored tape on the switch to keep it in place for now.
Audio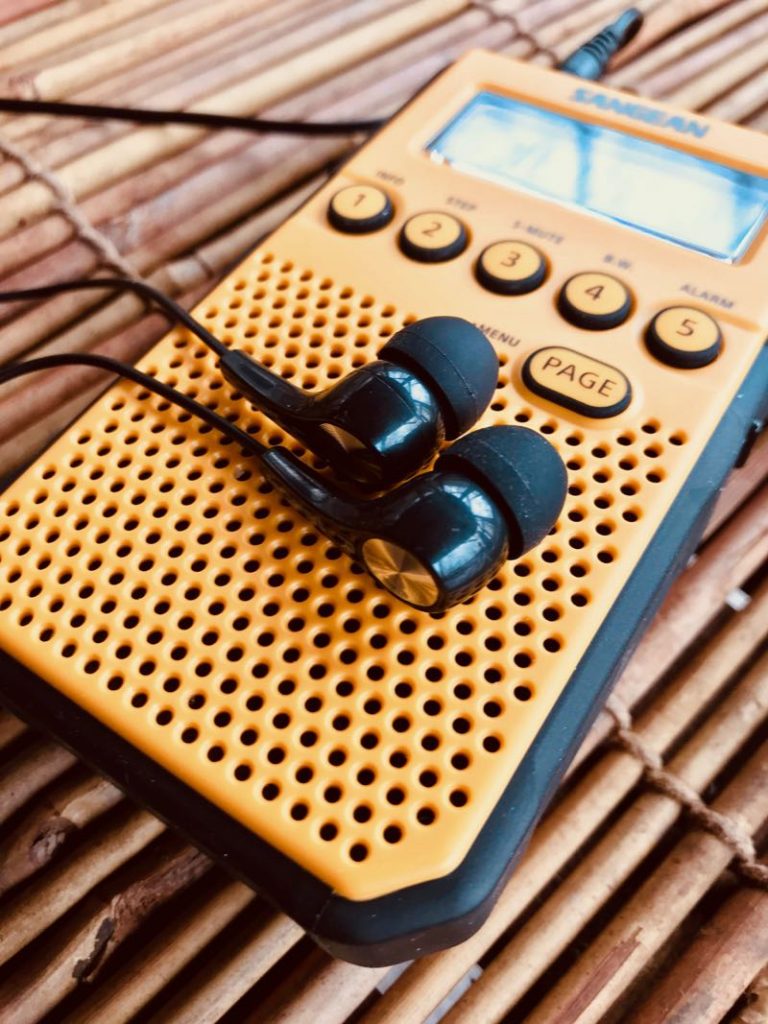 The audio via headphones? It sounds great on the DT-800!
Indeed, the DT-800's included in-ear style stereo earphones are a cut above most other included-with-a-product earphones, and as a result, produce more pleasant audio.
With the headphones engaged, FM offers selectable mono or stereo; mono, of course, makes marginal stations more stable since the stereo lock isn't struggling.
Like the Walkman radios of days gone by, the DT-800 uses the headphone cord as an antenna when it's attached. If you're using the internal speaker, you'll need to attach the included external wire antenna for FM and WX bands.
The DT-800 internal speaker produces decent audio for the size of the radio. The speaker is tiny, so the audio is somewhat tinny (narrow in range) when listening to music. But the DT-800 also has a DBB (Dynamic Bass Boost) switch––engaging this will increase the bass response a bit, most noticeable when using headphones.
Performance
The DT-800 has three bands: FM, AM (mediumwave), and WX (weather). Let's take a look at each.
FM Band
The DT-800 sports a unique feature on the FM band: the ability to select between a wide or a narrow filter. Since the dawn of the DSP chip, many a portable radio has enjoyed selectable bandwidth filters, but it's a rare portable that has FM filters. I do pretty much all of my FM listening with the wide filter engaged, but if you live in an urban area with a crowded FM band, choosing the narrow filter, even if it compromises audio fidelity a bit, will give you better selectivity. Nice touch, Sangean!
In terms of sensitivity, with the external antenna inserted, I've been very pleased with the DT-800. It receives all of my benchmark FM stations. With headphones inserted (used as an antenna) and stereo engaged, it has ever-so-slightly less sensitivity than several of my other DSP portables. With the headphones inserted and FM in mono, I find that it's on par with––or surpasses––my other reference DSP portables.
Here's a little wrinkle, though: when listening with the internal speaker, you must insert the external wire antenna to use this receiver on FM. Without the external antenna, sensitivity decreases by a good 70-80%, as you essentially have no antenna. If you live in an area with strong FM stations, you've nothing to fear, but if you live in a rural area, you'll certainly want to keep that wire antenna handy.
On one hand, the wire antenna is easier and more flexible to deploy than attached telescopic antennas, which can be bent or broken. But on the other, an external wire antenna is just another item you'll need to pack and take along with the radio if you plan to listen via the internal speaker.
If you plan to listen with headphones, however, no worries! I find the sensitivity with headphones inserted to be just as effective. In fact, instead of taking along the wire antenna you could bring the included headphones, and they'll double as an external antenna while listening via the internal speaker. In my tests, the headphones performed about as well as the external wire antenna.
My advice? If you purchase the DT-800, either keep the small wire antenna or a pair of headphones nearby to insure you're getting the best FM reception.
Weather Band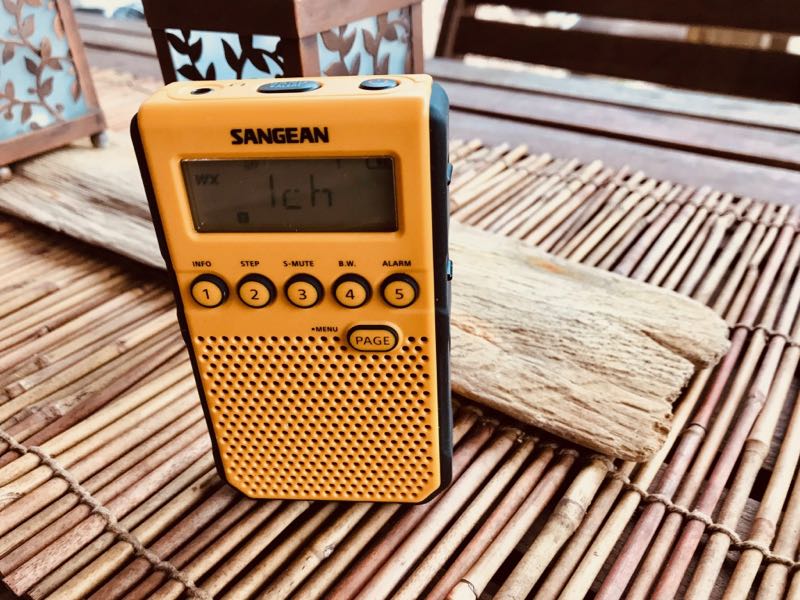 The same notes above about the necessity of an external wire antenna apply on the weather band as well as the FM band.
With the wire antenna or a set of headphones connected, weather radio reception is good. I was able to receive both of my local NOAA weather reference frequencies.
To be clear, the DT-800 is not as sensitive as my C. Crane CC Skywave or CC Skywave SSB––which are truly WX band benchmarks––but it will likely receive your local NOAA or Environment Canada broadcasts as well as most other weather radios.
The DT-800 also includes a Weather Alert feature, but as Sangean notes, you should only use this feature while the radio is plugged into mains power, as it will drain batteries about as effectively as if you were listening to an FM radio station.
AM/Mediumwave Band
If there's a weak point on the DT-800, I would say it's the AM band.
Don't get me wrong: at first blush, the DT-800 looks like a little Ultralight DXing dream, as it's loaded with great features, such as:
multiple bandwidths (wide/narrow),
9/10 kHz spacing,
well-balanced AGC (auto gain control),
as well as the ability to turn off soft muting.
Yes, the DT-800 has the ability to disable soft mute. Thank you, Sangean! So far, Sangean seems to be one of the only radio manufacturers that enables this DSP chip option in their product line. Another receiver with the ability to disable soft mute was the Sangean ATS-405 (check out our ATS-405 review). I wish other radio manufacturers would do the same because soft mute is what often makes listening to weak mediumwave signals so fatiguing. With soft mute disengaged, weak signals enjoy better audio stability as they're not fighting to stay above the muting threshold.
But, I'm sorry, DXers: unfortunately, the DT-800's weakness on AM is the same as the ATS-405 on AM (and shortwave): a higher-than-average noise floor. Somehow, internal noise is being generated and not being contained by shielding and grounding.
I made a short comparison video to demonstrate the noises heard via the DT-800. Before you ask: yes, these noises are present regardless of radio location, or whether or not there are other radios nearby. In addition, I made this video on a folding table far away from my house or any other potential sources of noise (with the exception of my iPhone which was used to make the video). This is the same low-noise spot I use to do comparison tests of all my portable receivers:
Click here to view this video on YouTube.
As I note in the video, the noise floor isn't consistent across the band––some parts are lower, other parts higher. One of the noise peaks is around 1600 kHz which, unfortunately for me, is where my favorite local AM station resides.
So is this a deal-breaker?  No…not necessarily.  For the casual AM radio listener––a listener primarily focused on listening to local AM stations––I think the DT-800 will please. In fact, I might not have noticed the elevated noise floor had I not: 1) listened to weaker AM stations, and 2) compared the DT-800 with other radios.
Since I've been using and listening to this radio for the better part of a month, I can state with confidence that most of my other portables outperform the DT-800 on mediumwave. I compared it with these rigs:
Sony ICF-S10MK2
Tecsun PL-310ET
CC Skywave
CC Skywave SSB
Radiwow R-108
To be clear, I believe the DT-800 has average MW sensitivity for a radio this size, but the noise floor sort of spoils any hopes of doing marginal or weak signal work, thus also making that awesome soft mute toggle less effective.
If you pair the DT-800 with a loop antenna like the AN200, which I highly recommend doing, it will help those weak signals rise above the noise. Otherwise, if your primary goal in purchasing the DT-800 is to listen to mediumwave, I regret to say, you might want to take a pass on this one.
Summary
Every radio has its pros and cons. Each time I begin a review of a radio, I take notes from the very beginning so that I don't forget my initial impressions and observations. Here's the DT-800's list, from the first moments I turned it on, to the time of writing this review:
Pros:
Great overall performance on FM
Quality construction and thoughtful ergonomics
Both clock and alarm for the traveler
Ability to switch between FM stereo/mono with headphones in use
Wide/narrow AM and FM filters
NiMH AA batteries can be recharged internally [make sure switch inside battery compartment is set to "NiMH"]
FM RDS (one mode)
Mechanical keylock switch
Ability to disable soft mute (other radio manufacturers take note!)
Small internal speaker providing quite decent audio
Comprehensive gear package includes radio, manuals, quality earphones, quality AC adapter, wire antenna
DC port is standard MicroUSB
Belt clip
Built-in speaker
Dynamic Bass Boost
Cons:
While listening via the DT-800's internal speaker without antenna wire or headphones inserted: FM performance is lacking, while weather radio performance is very much lacking
AM band: Noise floor is higher than on comparable radios
Conclusion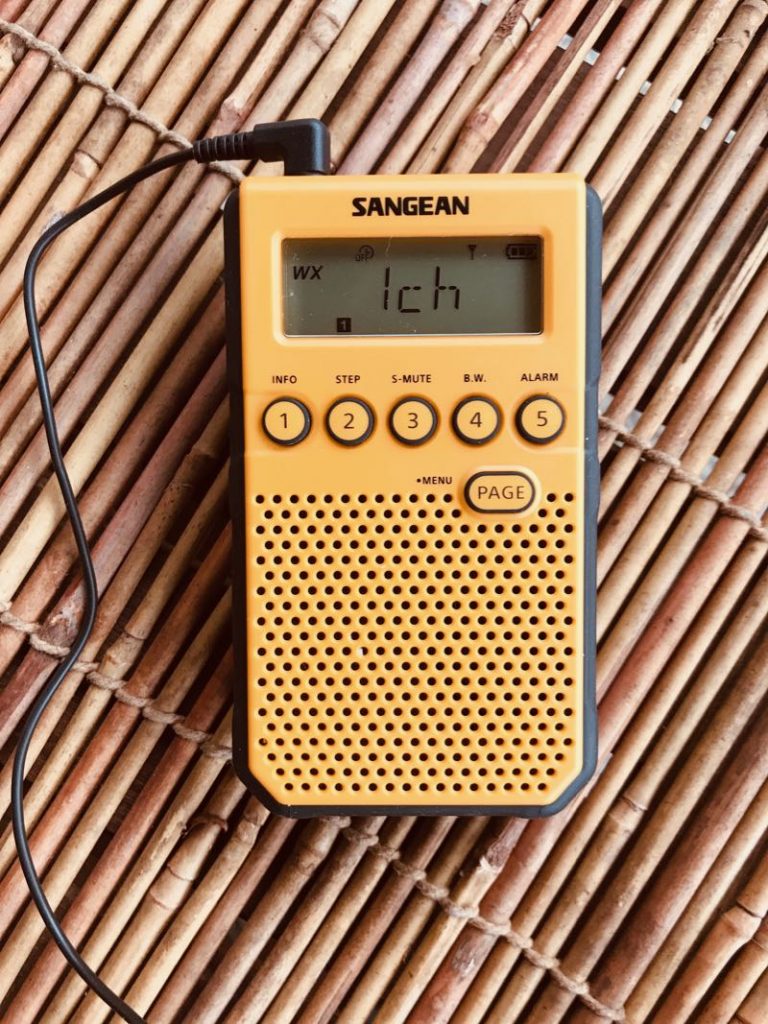 The Sangean DT-800 is a solid little radio: it's simple to operate and feels like a quality piece of kit. It's perfect for hiking, or any sport or task where you'd like one-hand operation.
The DT-800 also has a surprising amount of features and customization through the menu settings––much more than one would expect––which puts it firmly into what I would call the "enthusiast-grade" radio category.
It's for this reason that it's a bit disappointing AM reception on this Sangean isn't better.
The DT-800 has a lot of icing on the cake, otherwise: FM RDS, the ability to internally recharge AA batteries, built-in speaker, Dynamic Bass Boost, multiple bandwidths on AM and FM, the ability to disable soft mute–all of these are essentially pro features.
So, if you're looking for a quality portable radio primarily for FM and WX band listening and perhaps catching the odd local AM broadcast, the DT-800 is a great choice.
Sangean DT-800 retailers:
Do you enjoy the SWLing Post?
Please consider supporting us via Patreon or our Coffee Fund!
Your support makes articles like this one possible. Thank you!